'Coco' Clip And Featurette Reveals More Details Of Pixar's Colorful New Film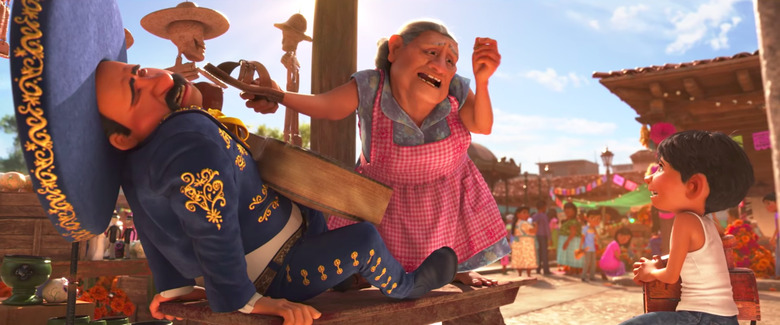 The Day of the Dead is nearly upon us, but before the festivities can start, we need to know more about Coco. The new Pixar film that follows a young Mexican boy named Miguel who accidentally finds himself stuck in the Land of the Dead, Coco is as much a love letter to the Mexico as it is to the holiday that the entire country celebrates in October.
Coco will be released a little after the actual Day of the Dead, which takes place from October 31 through November 2, but Pixar has dropped some charming clips and featurettes to get us in the festive mood.
Miguel (Anthony Gonzalez) loves music with every fibre of his being. But thanks to a past trauma that his great-great-grandmother underwent thanks to music, his entire family has banned music from their premises, even as the joyous tunes of the mariachi band float into their shoe-making shop.
That doesn't stop Miguel from running around the town square, absorbing as much of the musical atmosphere as he can, and learning the ropes from the local mariachi musician whose shoes he shines. But just as he's about to grasp his dreams, his concerned but domineering Abuelita interrupts in the new Coco clip.
Watch the Coco Clip
Grandmother knows best, even if it crushes aspiring musician Miguel's dreams.
Meanwhile, the featurette dives into much of what I covered in my set visit of Coco earlier this year. Featuring footage of the animators and directors visiting big cities and small towns throughout Mexico in their research trips over the course of five years, directors Lee Unkrich and Adrian Molina emphasize the importance of how the movie is "rooted in actual places."
"Those early research trips inspired not only the look, but they inspired the story," Unkrich continued. "And the importance of family."
But the story was just as much about music as it was about family, Unkrich said, so he and Molina tasked orchestrator Germaine Franco and consultant Camilo Lara with capturing the sounds of Mexico — which they did by recording and hiring tons of local musicians out of Mexico City. The music, the vibrant colors, and the quirky characters all seem to have been created with love and care — to the awe of the actors, including newcomer Anthony Gonzalez, who resorts to high-pitched squealing over the finished film in his interview.
"It's a dream come true to be able put my own family's experiences into a film that's as special as Coco. And I'm so excited to share this film with the world," Molina said.
Here's the synopsis of Coco:
Despite his family's baffling generations-old ban on music, Miguel (voice of newcomer Anthony Gonzalez) dreams of becoming an accomplished musician like his idol, Ernesto de la Cruz (voice of Benjamin Bratt). Desperate to prove his talent, Miguel finds himself in the stunning and colorful Land of the Dead following a mysterious chain of events. Along the way, he meets charming trickster Hector (voice of Gael García Bernal), and together, they set off on an extraordinary journey to unlock the real story behind Miguel's family history.
The cast of Coco includes Gael García Bernal, Anthony Gonzalez, Benjamin Bratt, Renée Victor, Ana Ofelia Murguía, Jaime Camil, Sofía Espinosa, Luis Valdez, Lombardo Boyar, Edward James Olmos, Alanna Ubach, Selene Luna, Alfonso Arau, Herbert Siguenza, Octavio Solis, Gabriel Iglesias, Cheech Marin, Blanca Araceli. The film is directed by Lee Unkrich (Toy Story 3) with co-director Adrian Molina.
Coco is set to open in theaters on November 22, 2017.