Frank Frazetta Kickstarter Will Bring Iconic Fantasy Art To Silkscreen Prints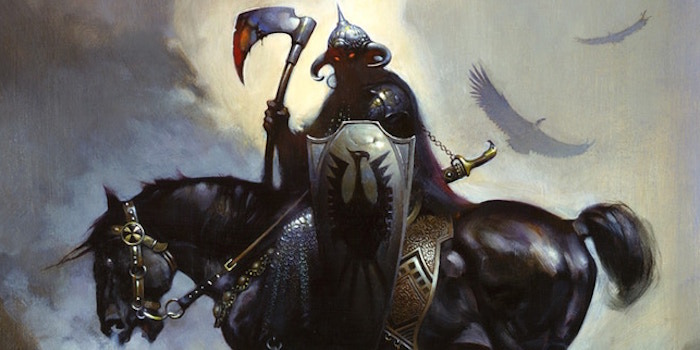 Even if you don't know his name, you know the work of Frank Frazetta. The legendary artist, who passed away in 2010, left lasting fingerprints on the world of fantasy art with his detailed, dramatic, bold, and yes, ridiculously macho depictions of warriors and creatures and damsels in distress. His work has been seen in books, comics, album covers, and just about every form of media you can imagine.
Now, a new Kickstarter sees the Frazetta family (who maintain the Frazetta Museum in East Stroudsburg, Pennsylvania) teaming up with the Austin-based Nakatomi Print Labs to bring his legendary art to the people in the form of cool silkscreen art prints.
The Frank Frazetta Kickstarter is looking to raise $12,000 to produce prints of "Death Dealer," "Barbarian," "Silver Warrior," and "The Huns." Chances are strong that anyone with a passing knowledge of American pop culture has seen at least one of these before. And in case you need some quick reminding, here they are:
For a little more context, allow me to quote the project's Kickstarter page:
Frank Frazetta is a name that all fantasy and comic artists know and revere. One of the founding fathers of fantasy art, the reach of his affect on popular culture cannot be underestimated. From movie posters, to album covers, to animated film- even to video game design, there is not an area of entertainment that hasn't felt his influence.
The goal of this Kickstarter project is to present four of Frazetta's most iconic, classic paintings into a medium they've never been adapted to- Collectable limited edition silkscreen art prints!
You'll have to pledge $125 to the Kickstarter to secure one of the prints. That's not cheap, but that's the price of quality when it comes to owning art. As the page explains, the silkscreen printing process isn't cheap or simple, but it's the perfect medium for art as colorful and detailed as this:
The silkscreen printing process (Serigraphy) gives rich, deep, and vibrant colors that just are not available through any other process. Each completed print is a unique art-object, produced through a labor intensive method where each hand-mixed color is laid down individually until the full image is revealed.
For those who want to participate in the Kickstarter but don't want to spend as much money, lower tiers offer rewards like t-shirts, pins, and sweaters. Higher tiers offer combinations of the prints and the lower-tier rewards, but the sweet spot seems to be the $325 tier, which gets you all four prints at a pretty fantastic discount. Fans with deeper pockets may want to drop $700 to get all four prints on Irridescent Foil paper (a limited edition of only 50). But if you're going to spend that much, why not drop $1,000 and get eight posters (in foil and regular editions) along with all of the other rewards?
Should the Kickstarter prove successful, prints are expected to begin shipping in March 2018.