'Black Panther' Trailer: Marvel Studios Takes Us To Wakanda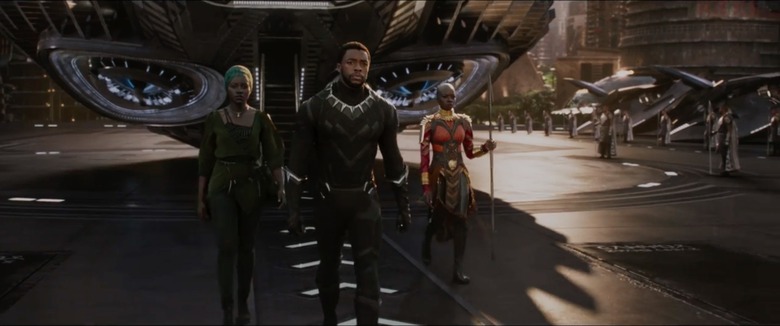 The new Black Panther trailer is here and, like the first preview for the movie, it looks like something that fits cleanly into the Marvel mold while also showcasing the unique talents of director Ryan Coogler (Creed). In other words: it looks pretty awesome. And unapologetic about being a Black Panther movie.
The new trailer is light on plot while being heavy on action, style, and a genuine sense of cool. Taking place after the events of Captain America: Civil War, the movie finds T'Challa (Chadwick Boseman) returning to Wakanda following the death of his father and walking straight into a situation torn right out of Game of Thrones. Political maneuvering, coups, and all kinds of opportunities to kick ass arrive.
Black Panther Trailer
Like many Marvel movies, Black Panther involves a murderer's row of talent, but unlike many Marvel movies, the African setting allows this movie to immediately stand apart. As we spoke about in a trailer breakdown for the first preview, Coogler and company are leaning hard on Afrofuturism – this is a science fiction superhero adventure that is proud of its blackness, from the hip-hop soundtrack to the mostly black cast to the way it embraces African culture and aesthetics. This movie looks wild and totally unlike anything else we've seen in the MCU so far. Only the action, glossy and stylish, looks anything like other Marvel movies.
Between this and Thor: Ragnarok, which is very much a Taika Waititi movie that just so happens to star superheroes, it feels like we're turning another corner in the Marvel Cinematic Universe. Yeah, directors are working within a tightly regulated sandbox, but it looks like they're allowed to do more and more of their own personal stuff with the sand itself.
Black Panther opens on February 16, 2017. Michael B. Jordan., Lupita Nyong'o, Danai Gurira, Martin Freeman, Daniel Kaluuya, Forest Whitaker, Andy Serkis, and Angela Bassett also star. Here's the official synopsis:
Marvel Studios' "Black Panther" follows T'Challa who, after the death of his father, the King of Wakanda, returns home to the isolated, technologically advanced African nation to succeed to the throne and take his rightful place as king. But when a powerful old enemy reappears, T'Challa's mettle as king—and Black Panther—is tested when he is drawn into a formidable conflict that puts the fate of Wakanda and the entire world at risk. Faced with treachery and danger, the young king must rally his allies and release the full power of Black Panther to defeat his foes and secure the safety of his people and their way of life.