Watch The Official 'Star Wars Rebels' Recap To Catch Up Before The Final Season Begins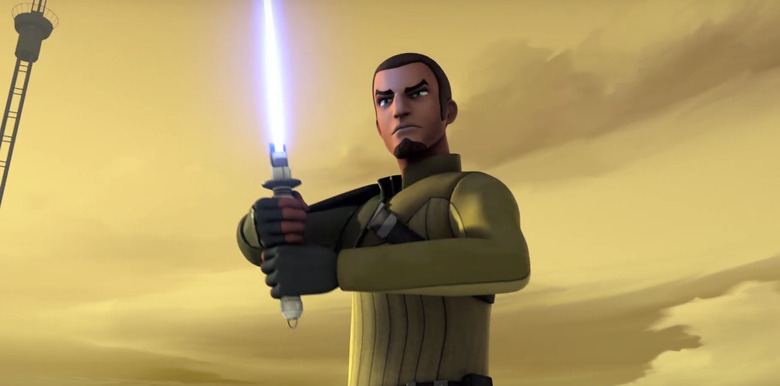 Monday, October 16 brings the first episode of the fourth season of the animated series Star Wars Rebels. Hailing from Disney XD, Star Wars Rebels was the first new TV program to be created at Lucasfilm after Disney had bought the company with a plan for revamping Star Wars and launching a barrage of new stories in various forms of media. Now the series is coming to an end with one final season.
If you haven't watched any of Star Wars Rebels, or maybe you've fallen behind, Lucasfilm has you covered with an official recap video that gives you all of the finer points of the first three seasons of the show in under five minutes. So if you want to jump on the Star Wars Rebels bandwagon, this is exactly the video you've been looking for.
Watch the Star Wars Rebels Recap Video
Star Wars Rebels hasn't quite reached the same levels of excitement as the films in the Star Wars saga, but the series has also never been bad. With episodes offering fantastic insight into the events between Revenge of the Sith and A New Hope, there are always interesting details to glean, even if the stories haven't always been remarkable.
Easily the best part of Star Wars Rebels has been the new characters introduced into Star Wars canon. There's the Jedi master and apprentice duo of Kanan Jarrus and Ezra Bridger, the Mandalorian warrior Sabine Wren, the Twi'lek rebel Hera Syndulla and the Lasat pilot Garazeb "Zeb" Orrelios.
Plus, Star Wars Rebels has magnificently used established villains like Darth Vader, Darth Maul and Grand Admiral Thrawn with great success, not to mention introducing new villains like Agent Kallus and The Inquisitors.
For the fourth season, we're hoping executive producer Dave Filoni pulls out all the stops and sends off the crew of the Ghost in a fashion that allows us to meet them again sometime down the road, either in a live-action form or a spin-off series sometime down the road. We know that we won't see the cast of Star Wars Rebels mixed up with any of the events of Rogue One: A Star Wars Story, but there are still plenty of exciting possibilities for this final season.
If you want to see more from Star Wars Rebels, check out the most recent trailers for the fourth season here and here. Plus, be sure to check out everything we learned from the panel for the fourth season from Star Wars Celebration earlier this year.
The final season of Star Wars Rebels gets an hour-long season premiere on Disney XD starting at 12:30am ET/PT tomorrow. It will air again at 3am, 7:30am, 5:30pm. and 9pm ET/PT throughout the day.