Theme Park Bits: Marvel Melee On A Disney Cruise Ship, Terminator 2 3-D Ride Closes, Last Flight Of The Star Jets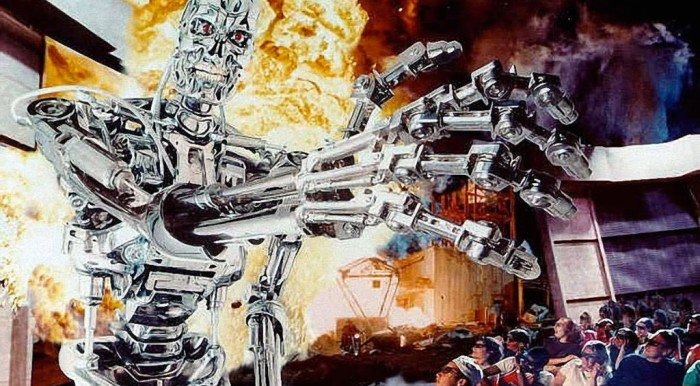 In this edition of Theme Park Bits:
Get details on a real-life battle at sea involving Marvel movie characters.
See what some of Universal's new theme-park-inspired emojis look like.
T2 3-D: Battle Across Time has closed at Universal Studios Florida.
The last remaining version of Disney's classic Star Jets has also closed.
Watch cartoons of Disney characters meeting Haunted Mansion ghosts.
And more!
First up this week, a couple of Marvel bits. As a tie-in with Monsters After Dark — the Halloween nighttime version of the Guardians of the Galaxy ride at Disney California Adventure — the Disneyland Resort has released a short viral video starring The Collector's assistant. Check it out above.
Have you ever wondered what it would like to be in the middle of an epic smackdown between superheroes and supervillains? Over the summer, Anthony Mackie teased that Avengers: Infinity War would contain a fight that dwarfed the scale of the airport fight in Captain America: Civil War. If that sounds like something you might want to experience in real life, Disney Parks Blog has the details on a new stunt spectacular that will cap off the Marvel Day at Sea, on board the Disney Magic cruise liner.
As fans will remember from Iron Man 2, Tony Stark is no stranger to wearing his armor at parties. The only difference with this deck show on the ship is that the party he is throwing is about to be crashed by Loki "and some sinister cohorts." Good thing there are a whole lot of other Marvel heroes on the guest list.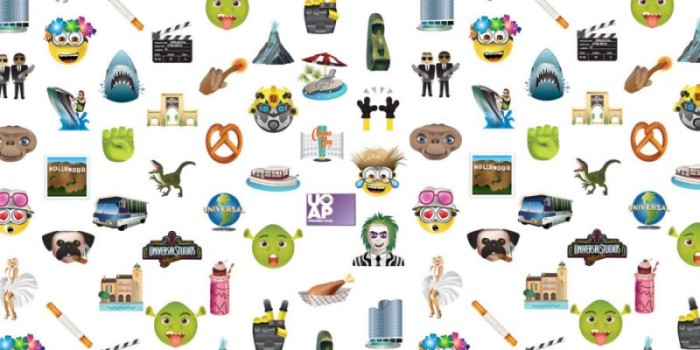 Now for some Universal news. Inside the Magic reports that Universal Studios Florida has a new nighttime lagoon show coming to it. This show will replace the old Cinematic Spectacular show.
Guests, including the actors who played the Weasley twins, have been announced for January's "Celebration of Harry Potter" event at Universal Orlando Resort. For more info on that, head on over to Inside Universal. And if you want to share this or any other Universal news with someone via text, consider using Unimoji, Universal's new emoji keyboard app, which includes all the regular characters like E.T. and Jaws, and even a few Halloween Horror Nights characters like Jigsaw.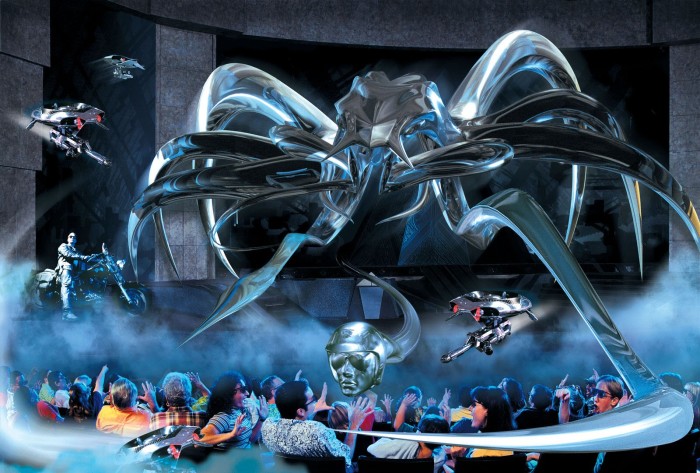 We all know what #1 and #2 are, but what's the third best Terminator movie? For a lot of people, including /Film's own Jacob Hall, it may very well have been the ride film for T2 3-D: Battle Across Time. This week, the attraction closed, after thrilling guests for 21 years at Universal Studios Florida. If you never had the chance to experience it personally, Jacob's description of the ride gives a good vicarious feel for what it was like.
In its heydey, T2 3-D was the Universal equivalent of what they would call an E-ticket ride at Disney. Yet as the new millennium rolled onward and the Terminator film franchise began to flounder, the ride only got further removed from its glory days. Keep in mind, this is an attraction that first opened back when Shaquille O'Neal was playing for the Orlando Magic. Shaq even made a cameo in the pre-show. In addition, Arnold Schwarzenegger, Linda Hamilton, Edward Furlong, and Robert Patrick all reprised their roles from Terminator 2: Judgment Day.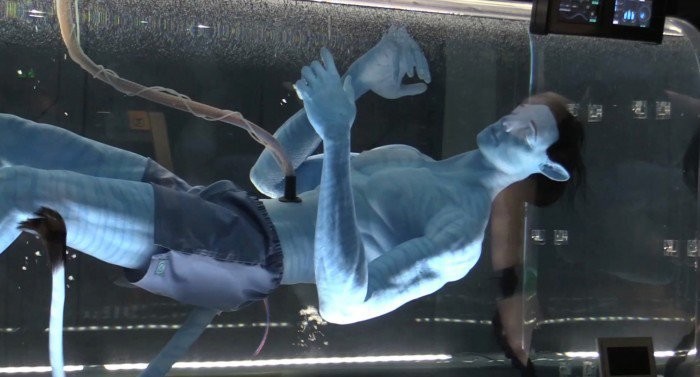 As cool as it was to have a ride film directed by James Cameron, there is a sense in which Cameron and the culture at large have moved on from Terminator. Whether or not they remain on the same page is a different question. Sure, Cameron is coming back to produce a sixth Terminator film, but even though he was the one who created this franchise based on an image that came to him in a dream, his days in the director's chair for Terminator are long over.
These days, he is pouring all his energy (and literally a billion dollars) into Avatar sequels, and as a theme park partner, he has jumped ship from Universal to Disney, overseeing the creation of Pandora – The World of Avatar at Disney's Animal Kingdom.
As the sun sets on Tokyo Disneyland's #Starjets, I'm fondly remembering my very last ride. I'll definitely miss the Starjets. pic.twitter.com/CNZMzcaJib

— Imaginat1on (@imaginat1on) October 10, 2017
Let's jump ship back to Disney now, as well. This week, Disney parkgoers were abuzz on Twitter about the closure of Star Jets. If you are confused by that sentence, you need not be. While it is true that the last stateside Star Jets did close over twenty years ago at the Magic Kingdom, to be replaced by Astro Orbitor, one unique facet of Japanese theme parks is that they are sometimes the last place in the world to showcase certain rides. This was true last year — over and above the aforementioned T2 3-D — with Back to the Future: The Ride at Universal Studios Japan. And it is true this year with Star Jets at Tokyo Disneyland.
Tokyo Disneyland's version of Star Jets has been flying high since the park's opening day in 1983. Or at least it had been flying high up until this week. Tuesday, October 10, 2017 marked the last flight of the classic iteration of Star Jets at Disney parks worldwide.
Of course, Astro Orbitor is basically the same ride, just a different look. But if you are feeling nostalgic about the old USA rocket with red-and-white space shuttles spinning around it, you can read a tribute to Star Jets over on TDRExplorer. (Full disclosure: this tribute was written by none other than yours truly, under his Twitter name, @TheGaijinGhost. But do not let that stop you from celebrating the life and times of Star Jets.)
Earlier this year, another opening-day attraction, Grand Circuit Raceway, also closed at Tokyo Disneyland. The reason rides are dropping like flies in Tomorrowland is because Tokyo Disneyland is currently undergoing a massive redevelopment project that will bring exclusive new rides to the park in time for the 2020 Tokyo Summer Olympics.
Finally, this is the time of year when everyone loves visiting the Haunted Mansion ... including other Disney characters, apparently. This week, Oh My Disney put the spotlight on a series of Disney XD video clips in which characters from DuckTales and Big Hero 6 run across ghosts from the spooky ride. Even with the Hatbox Ghost, Baymax stays true to his programming as a medical assistant.
Of course, at the Magic Kingdom, the ghosts are also out dancing in the streets. Forget about The Walking Dead; in the video above, you might find yourself getting "swept up into the spirit of the waltzing dead," as Disney Parks Blog gives a look behind-the-scenes at how dancers bring to life Haunted Mansion ghouls in "Mickey's Boo-to-You Halloween" parade.