WTF: 'Lucha Underground' Will Be The First TV Show Screened In 4DX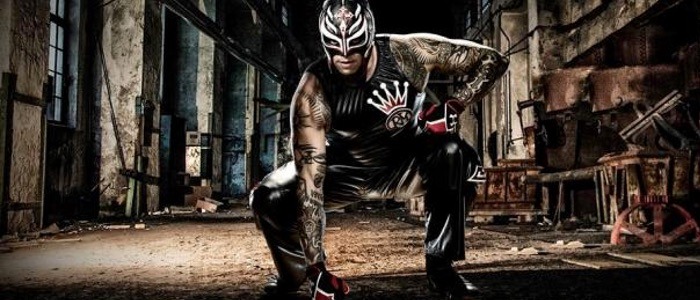 Why simply sit back and watch wrestling when you could actually feel it? That's what the folks behind El Rey's Lucha Underground are counting on, at least, as the wrestling reality show will be the first TV series to be screened in the 4DX cinema format. Climb into the ring and read the Lucha Underground 4DX information below.
Lucha Underground, a wrestling reality show from producers Mark Burnett and Robert Rodriguez, will make history when it becomes the first TV series to be screened in the 4DX format. For those of you who aren't quite sure that that is, 4DX theaters offer an experience the strives to turn passive movie goers into active participants. "Movies are no longer confined to the screen," proclaims the copy on the 4DX website. "4DX draws you into the movie as if you're living inside its world. We provide the largest number of multisensory signature effects industry-wide. With 20 different kinds of signature effects, 4DX creates the most outstanding environment for movies." The technology allows theater experiences to be heightened with "environmental effects such as seat motion, wind, rain, fog, lights, and scents along with the standard video and audio."
Sounds...fun? While this technology has only been used for films up until now, Deadline reports that Lucha Underground, a series where Luchadores "use their impressive athleticism and dynamic personalities to tell stories of good and evil through the tradition of freestyle wrestling," will screen the show's season 3 finale on October 17 at a "private event for media and fans in the 4DX auditorium at Regal's L.A. Live megaplex in downtown Los Angeles."
Daniel Tibbets, El Rey Network president and GM, had this to say:
"Lucha Underground features nonstop, highflying and hard-hitting action that makes it the ideal programming to showcase the state-of-the-art 4DX technology. We pride ourselves on getting viewers as close to the action as possible and now they can actually feel as if they are in the ring."
Brandon Choi, the COO of CJ 4DPLEX Americas, added:
"We are thrilled to finally be able to showcase a TV series on the big screen, bringing Lucha Underground fans into the all-sensory 4DX action."
The Deadline story doesn't make entirely clear what to expect from a 4DX Lucha Underground experience, but perhaps you'll be able to feel like the show's wrestlers are right there in front of you, ready to throw you out of your chair. Who wouldn't want that?
The first two seasons of Lucha Underground are now streaming on Netflix.