'Call Me By Your Name' Clip: Forget Your Troubles And Watch Armie Hammer Dance In One Of 2017's Best Movies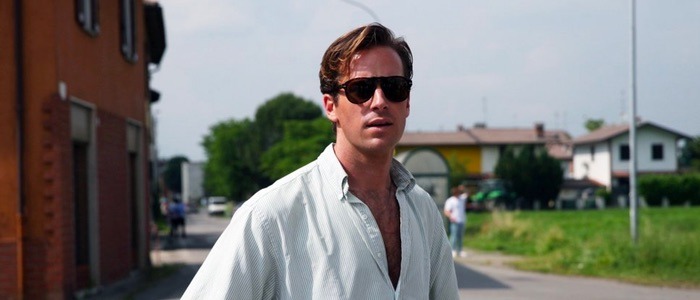 If you're having a bad week, and there's a good chance you probably are, here's something that might cheer you up: professional handsome man Armie Hammer dancing up a storm in a new Call Me By Your Name clip. It's Hammer time.
Listen, I'm not going to sugarcoat it: the last few weeks have been terrible. I don't want to bring you down, but it just seems like every day there's a new piece of soul-crushing news that drags everything further and further down into the muck. We could all use a pick-me-up. And thankfully, one has just arrived in the form of Armie Hammer dancing his ass off in Call Me By Your Name.
Call Me By Your Name is one of the years best films, a hypnotic, poetic adaptation of the novel by André Aciman. We raved about it from Sundance and we raved about it again from the Toronto International Film Festival. Luca Guadagnino helms the film, which follows 17-year-old Elio (Timothee Chalamet) as he idles away a lazy 1980s summer at his family's Italian villa. Everything changes, however, when his father's new assistant Oliver (Hammer) arrives, and awakens unexpected feelings within Elio.
Here's the official synopsis:
CALL ME BY YOUR NAME, the new film by Luca Guadagnino, is a sensual and transcendent tale of first love, based on the acclaimed novel by André Aciman. It's the summer of 1983 in the north of Italy, and Elio Perlman (Timothée Chalamet), a precocious 17- year-old American-Italian boy, spends his days in his family's 17th century villa transcribing and playing classical music, reading, and flirting with his friend Marzia (Esther Garrel). Elio enjoys a close relationship with his father (Michael Stuhlbarg), an eminent professor specializing in Greco-Roman culture, and his mother Annella (Amira Casar), a translator, who favor him with the fruits of high culture in a setting that overflows wit h natural delights. While Elio's sophistication and intellectual gifts suggest he is already a fully-fledged adult, there is much that yet remains innocent and unformed about him, particularly about matters of the heart. One day, Oliver (Armie Hammer), a charming American scholar working on his doctorate, arrives as the annual summer intern tasked with helping Elio's father. Amid the sun-drenched splendor of the setting, Elio and Oliver discover the heady beauty of awakening desire over the course of a summer that will alter their lives forever.
The clip in question, released by the Call Me By Your Name Twitter account for National Coming Out Day, occurs early in the movie, before Elio and Oliver have verbally acknowledged or acted on their feelings. Much dancing occurs, set to "Love My Way" by The Psychedelic Furs. I won't tell you this clip will cure all your problems. In fact, it won't cure any problems. But it is a nice 42 second bit of relief in what has become a truly stressful year. Just remember: you've made it this far, you can make it a bit further. Take a quick break, turn on this clip, and get down.
Call Me By Your Name opens in select theaters November 24, 2017.