Star Wars Bits: Daisy Ridley 'Spoils' 'The Last Jedi,' Space Battle Details, And Yes, More Porg News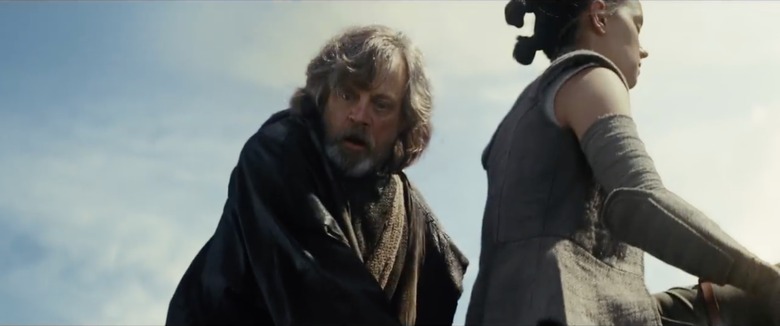 In this edition of Star Wars Bits:
Rian Johnson once again confirms who "the last Jedi" is.
Daisy Ridley spoils Star Wars: The Last Jedi (but not really).
An interview with new Star Wars actress Kelly Marie Tran.
Details on The Last Jedi's big space battle.
Domhnall Gleason's reaction to the Last Jedi screenplay.
Mark Hamill has seen your parody posters.
It's Luke.

— Rian Johnson (@rianjohnson) October 10, 2017
Rian Johnson has said it before and it looks like he'll keep on saying it: the last Jedi is Luke. That's it. It's no longer a secret. Sheesh.
For the real secrets, you need to turn to Daisy Ridley. Someone stop her before she spoils the whole movie!
For more serious interview with a Star Wars actress, you can look to People's chat with Kelly Marie Tran, who plays Resistance mechanic-turned-hero Rose Tico in The Last Jedi. While she's not a famous face yet (she's not featured in the new trailer), she is a major character in the movie and her days of being mostly anonymous are surely coming to an end.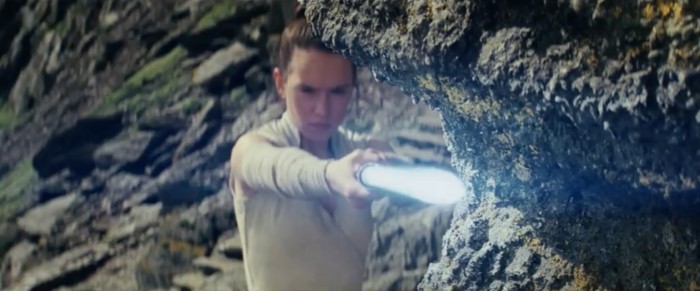 The arrival of the Star Wars: The Last Jedi trailer during Monday Night Football got a whole bunch of nerds to sit around and watch sports, but did that have an impact on the ratings? According to Deadline...no:
Snaring a 7.0 in metered market results, MNF was down double digits from last week's Kansas City Chiefs win over the Washington Redskins. Down 17% in the ratings, that's actually a regular-game season low for ESPN and matches the MM result of the second game of the doubleheader MNF opener on September 11.
But hey, at least that trailer was pretty great.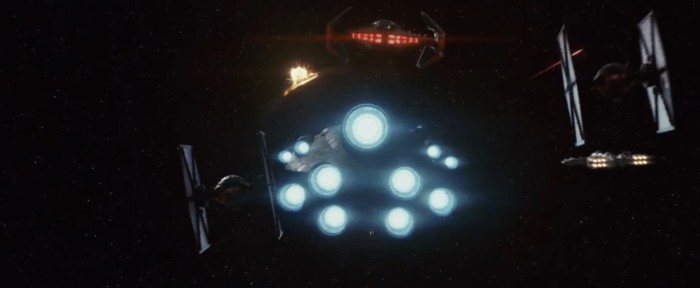 You know that huge space battle teased in the trailer for Star Wars: The Last Jedi? Thanks to a blurb in a new Star Wars book, we may know the context of that big fight:
After Poe Dameron's squadrons destroyed Starkiller Base, the First Order sought out the Resistance headquarters on the planet of D'Qar to enact their revenge. A-wings flew guard around the Resistance fleet and the transports fleeing the base. When three First Order warships emerged from hyperspace to attack, a squadron of A-wings, commanded by Tallie Lintra, assisted Poe Dameron and the Resistance's assault bombers in taking on an enemy dreadnought.
For those wondering, this comes from an awkwardly titled book/toy called IncrediBuilds: Journey to Star Wars: The Last Jedi: A-wing Deluxe Book and Model Set: Inside the Resistance's High-Speed Interceptor. Leave it to the merchandise to spill the beans.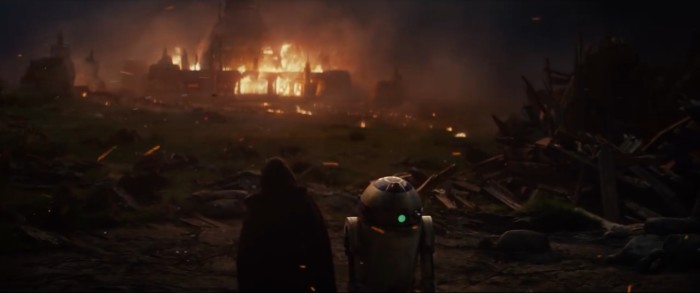 We've been hearing for some time that The Last Jedi will be a very different kind of Star Wars movie. Now, this Domhnall Gleeson interview (via Collider) only further confirms that we're in for something special:
"When I read it I needed to talk to him, and I think that's always a good sign. I was like, 'Wow there's some stuff there which is kind of—not scary but different to what I expected,' and that's a really, really nice thing. I think that's a really positive thing, I think that's important for those films that we don't repeat ourselves. So I just wanted to talk to him, and when I talked to him he was so clear and so confident, not in a brash way but he knew the film he wanted to make, and it was a really lovely thing."
There are shades of Mark Hamill reading the script and having a fundamental disagreement with writer/director Rian Johnson's take on Luke...
Please be advised: #Porgs are not on any #AhchToMenu-Luke hasn't been a meat-eater since Aunt Beru made that nice #WompRatBrisket back home. pic.twitter.com/KYBHECaRJ2

— Mark Hamill (@MarkHamill) September 30, 2017
After rumors arose that Luke Skywalker makes a meal out of those adorable Porgs in The Last Jedi, Mark Hamill had to take to Twitter to put the rumors to rest. It turns out that Luke is a vegetarian and has been for decades.
However, the Porgs aren't the only adorable creature in the Last Jedi trailer. There was also that strange ice fox/dog/cat on Crait! What's up with that guy? When asked whether it leans to the canine or feline persuasion, Johnson offered another answer altogether.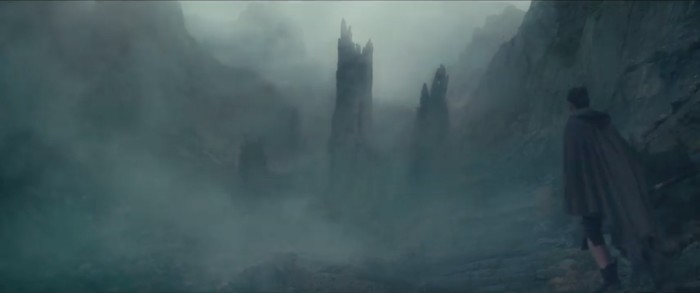 Speaking of Porgs, pages from a new Star Wars book (revealed by Star Wars News Net) offer up some interesting details about Ahch-To. Here's what they discovered:
Rey isn't on Ahch-To to train with Luke, she's trying to recruit him for the Resistance effort.
Luke has spent at least two years on Ahch-To; if we expand upon this bit with what we know about the canon, then this means that the time between Ben Solo's betrayal and Luke Skywalker's decision to set up shop on Ahch-To is as great as four years (since Bloodline mentions that Luke and Ben are still teacher and student six years before The Force Awakens), and as little as a few months. There seems to be a deliberate amount of vagueness here so that storytellers have a good amount of creative freedom with these stories.
Chewbacca fills in the emptiness in his life that Han's death created with a bunch of puffin-penguin-guinea-pig things.
Click the link above for even more details.
"I've seen this raw sarcasm only once before... It didn't scare me enough then... It DOES NOW!!!" #TheLastJedi #WitHappens #GoFarceYourself pic.twitter.com/A6dzkZS3aG

— Mark Hamill (@MarkHamill) October 10, 2017
Yes, Mark Hamill has seen your Photoshopped version of the Las Jedi poster. And yes, Mark Hamill is, as always, using Twitter better than just about everyone else.
The next batch of Star Wars "Black Series" figures have been revealed, showing off mostly familiar faces from both older movies and the new trilogy. The most interesting one, by default, is Benicio del Toro's "DJ," mainly because we know nothing about his character. But if his action figure promises anything, it's that he knows a thing or two about weapons.
It's been nearly a year since Rogue One: A Star Wars Story hit theaters, but ILM has released a new video showing off the creation of their breathtaking digital effects. If you're a fan of videos that are all like "here's a shot before the visual effects and now here's the same shot after a bunch of genius artists got through with it," this is for you.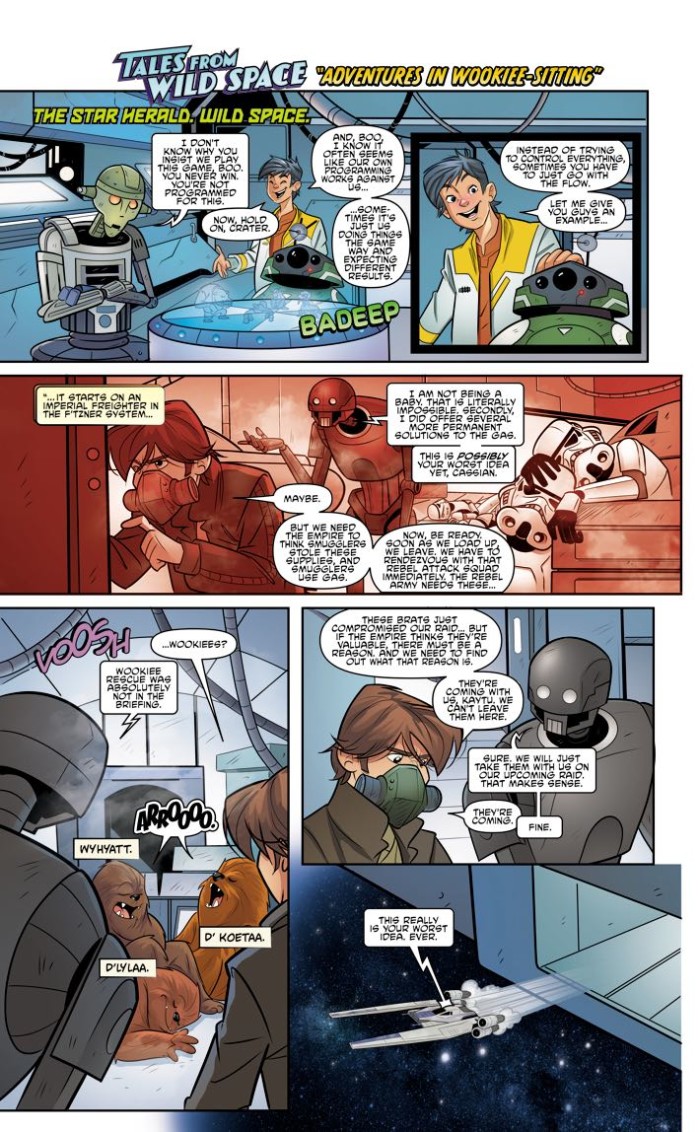 Speaking of Rogue One, K-2SO actor Alan Tudyk co-wrote a back-up story with Shannon Eric Denton for an issue of the Star Wars Adventures comic. Tudyk downplays his involvement in the comic, saying that he contributed dialogue to the droid he memorably portrayed via motion capture on the big screen, but it's nice to see him continuing to take ownership of the character. You can check out the quick, silly little story above.
BB-8 has arrived in the Star Wars: Galaxy of Heroes mobile game. While he doesn't look like much a powerhouse fighter (because of course he doesn't), he does look like a valuable ally on the battlefield, buffing your other heroes and de-buffing your enemies. Also: he makes your squad look so much more adorable.
There have been rumors that Thandie Newton is playing Grand Admiral Rae Sloane in the upcoming Han Solo movie. If you don't know what that means, this episode of Star Wars Explained will get you sorted.
Let's wrap things up with this episode of The Star Wars Show, which takes a look at the Star Wars Battlefront II beta, goes behind the scenes of Forces of Destiny, and more.