How Fox's 'The Exorcist' Is Changing Horror Television For The Better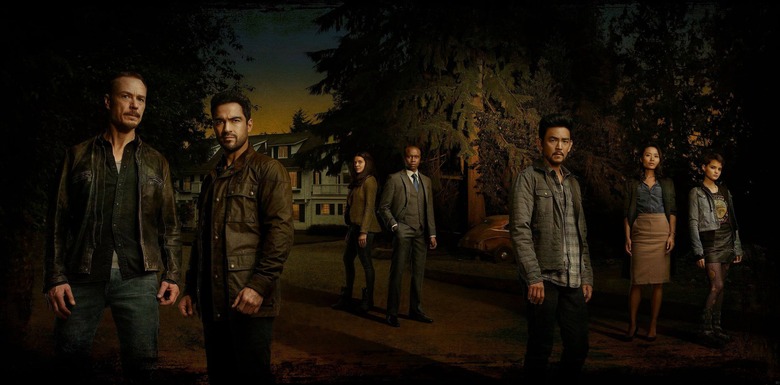 When it was first announced that Fox was adapting The Exorcist into a new genre series, I was nervous. Did we need another movie-to-TV remake? Was there room for another demon-hunting show on network television? Was it even possible for another cutting edge horror series like Hannibal to grace network television? Thankfully, The Exorcist, now in its second season, proved all my doubts wrong.
Fox's longform take on William Friedkin's classic horror movie is boldly going beyond the usual "horror on television" template, with thrilling results. You really should be watch the Exorcist TV show.
The First Season
The first season presented a horrific (and familiar) family scenario: a new demonic possession grips the Rance Family and threatens to tear them apart. The horrific events pushed them all to their limits while giving substantial screen-time to showcase the talents of Geena Davis, Hannah Kasulka, Brianne Howey and Alan Ruck.
And then it turned out that the series was neither a reboot or remake of the original 1973 film. In the middle of season 1, a huge story twist revealed that Angela Rance (Davis) was really a grown-up Regan MacNeil (Linda Blair) — firmly connecting the series to the original cinematic adaptation of William Peter Blatty's novel. That, in and of itself, was a huge moment for genre television and for horror fans alike. The Exorcist was back in an exciting and unexpected way.
Right from the beginning, The Exorcist explored a variety of complex characters and storylines, and the Rance family was just one small piece to a grandiose puzzle. The real story ended up centering on the complex relationship of two demon-fighting priests: Father Marcus Keane (Ben Daniels) and Father Tomas Ortega (Alfonso Herrera).
Instead of resting solely on the celebrity clout Geena Davis brought to the show, the story explored polarizing issues such as race, politics, gender identity, the role of religion in modern day society, and the lasting effects of physical and mental abuse. If that wasn't enough, a demonic church conspiracy was introduced into the mix, acting as a sinister through-line connecting everything together.
The first two episodes of season 2 have continued the mission of Tomas and Marcus as they do their part to protect America (and the world) from a sinister uprising of epic proportions. It's delightfully good genre programming and one of the best horror shows in a television landscape choking with horror shows.
Diversity in a Demon-Hunting World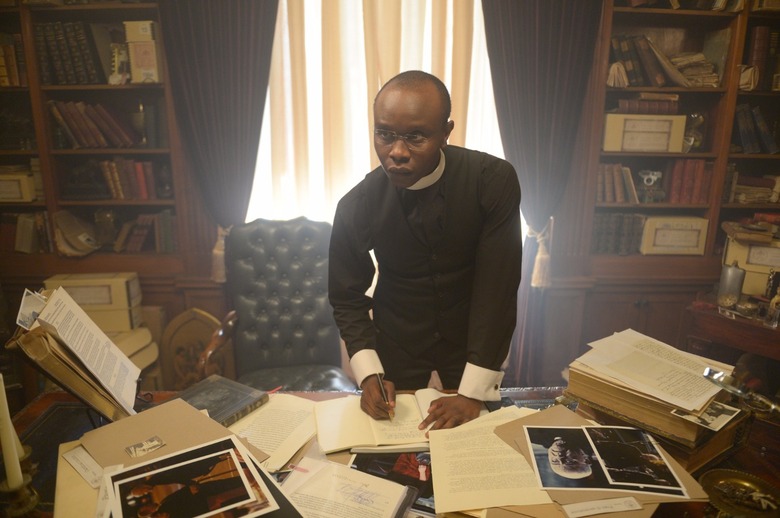 Season 1 of The Exorcist is kind of an anomaly. The majority of the possession tale focused in on the Rance family (especially the women) as they fought, tooth and nail, to prevent the demon Pazuzu from destroying everything they held dear. When it comes to female characters in horror, it's expected that "the final girl" trope will eventually come to fruition. Instead, the series gave these characters more substance to work with, helping to break some genre monotony, giving each family member a rest once it was all said and done.
But the series' focus on diversity expands beyond the exciting female characters. I'd be remiss if I didn't mention how strong the ensemble is here and how executive producers Jeremy Slater and Sean Crouch fill the series with diverse faces and tackle subjects that other shows would flat-out avoid. The first season gave a glimpse into Father Tomas' complex Mexican heritage and hinted at Father Marcus' homosexuality. It seems the program has only just cracked the surface.
"To be part of a show that doesn't portray Latinos as a stereotype is something that I really celebrate," Herrera explained during a recent press conference for the series. "I thank [Jeremy Slater and Sean Crouch] who allow me as an actor and allow me as a Latino to give something more real and grounded about my culture, about who I am as a Mexican, and Tomas [is] as a Mexican."
Season 2 tackles the growing conflict between Tomas and Marcus, but the series has doubled down on its global aesthetic. Kurt Egyiawan's Father Bennett will have a bigger role this season, investigating the church conspiracy as it hits the Vatican. As well, actors Li Jun Li ("Blindspot," "Quantico"), Brianna Hildebrand ("Deadpool," "The Tragedy Girls") and John Cho ("Sleepy Hollow," "Star Trek") have all joined the cast.
"I just couldn't think of an Asian face in American horror, and I thought it was just interesting to do that," Cho explained. "I thought it seemed fresh, and the show was already diverse. When you have a diverse world on camera, my personal reaction is that it feels more real, and therefore I'm more inclined to care about that world and the characters in it a little more because it feels like the world I walk around in. So I'm into it."
Changing the Narrative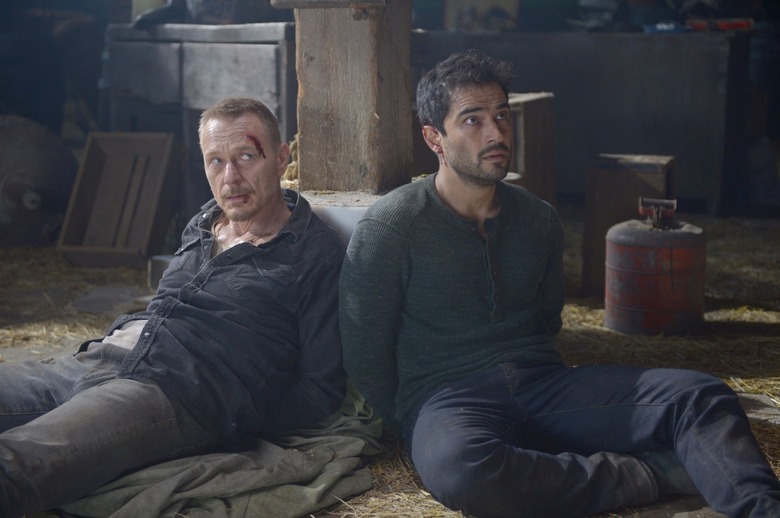 Another detail that makes The Exorcist an intriguing series is its unconventional narrative structure. As Jeremy Slater previously told THR, each season will focus on a new story, with new characters, as Father Tomas and Father Marcus act as the heroes that connect everything.
The concept of demon-hunting is nothing new for genre TV. Supernatural has been doing it for 13 years and Ash vs. Evil Dead is giving a fun spin on familiar subject matter. Heck, there are some definite similarities between the world-building aspect of The Exorcist and what Cinemax has accomplished with Outcast, the surprisingly great adaptation of Robert Kirkman's comic series. But while the landscape may be getting a bit crowded, the Fox series has stepped away from certain expectations.
"I don't think we'll ever become a monster-of-the-week show," Jeremy Slater explained to THR. "I also believe in stories that have a beginning, middle and end. I think it's always better to leave people wanting [more], as opposed to being the last person at the party after they turn the lights on."
Slater and Crouch have a seven-season story mapped out for the series, which is a refreshing detail, to be sure. The creative team is already working out season 3's story beats, which would take Marcus and Tomas to Mexico, a territory and culture begging for further exploration.
There's something ideal about watching a story play out to its fulfilling end before the formula gets stale and predictable. What I'm saying, is, we probably won't ever find Marcus and Tomas teaming up with the Scooby Doo gang.
A Horror Homage to Genre Films of the Past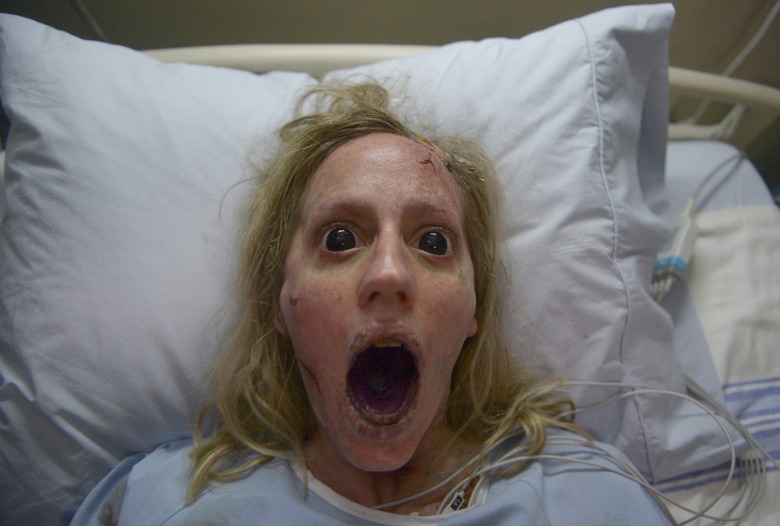 With (hopefully) five more seasons to look forward to, it's hard not to wonder just how future episodes of The Exorcist will connect the show canon to that of the big screen sequels. Unfortunately, though, there's not much one can really draw on that would fit the tone of the series – no offense to (the truly baffling and insane) The Exorcist II: The Heretic. However, Slater and Crouch may be looking to The Exorcist III for a little frightful inspiration.
As each season aims to tell a different possession story, a variety of sub-genres will be explored as well. Season 2 already has a new look and feel, separating itself from Chicago's cold claustrophobia of season 1. With hints of the backwoods aesthetic of The Texas Chainsaw Massacre and the ghostly forest qualities of Japanese horror, Slater and Co. are aiming to capture a different type of old-school magic this time around, giving a nod to the classic works of Stephen King and Steven Spielberg .
With director Ti West ("The House of the Devil," "The Sacrament") bringing his indie talents to episode 3, titled "Unclean," it feels like The Exorcist is on a mission to continue blending new school frights with a plethora of old-school sensibilities. If ever there was a winning formula to keep horror relevant in the turbulent television landscape, this would be it.
"The Exorcist" season 2 airs Fridays on FOX. After all, it's the right season to discover a great new horror show.