The New 'Star Wars: The Last Jedi' Poster Is Here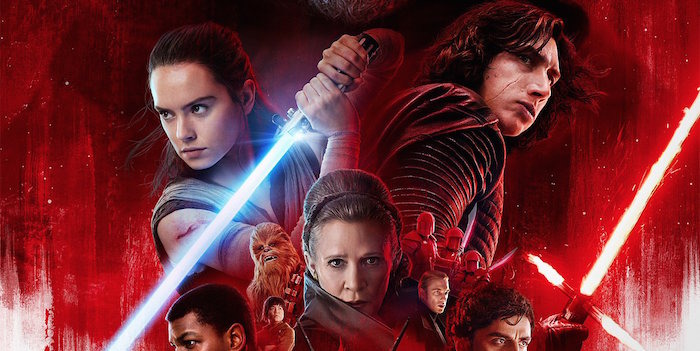 The next trailer for Star Wars: The Last Jedi is set to arrive this evening, but Disney and Lucasfilm are here to whet your appetites with the new poster for director Rian Johnson's highly anticipated sequel. This one-sheet follows in the footsteps of that stunning first poster, which managed to evoke classic Star Wars iconography while also promising something new and different. But what about this one? Doe the new Star Wars The Last Jedi poster live up the promise of the first one? Let's take a look.
While not as pretty as the first poster, this one gets the job done. Sure, it's just a bunch of floating heads (this would look so much better painted rather than Photoshopped), but the splashes of red are a great touch and lend it a dark personality we haven't seen in a Star Wars poster before. It's not a work of art, but as far as multiplex-friendly one-sheets that exist to remind people that this movie exists go, it certainly gets the job done. I especially like how Luke is at the top of the image, looming over the whole thing, while Leia anchors the poster in the middle.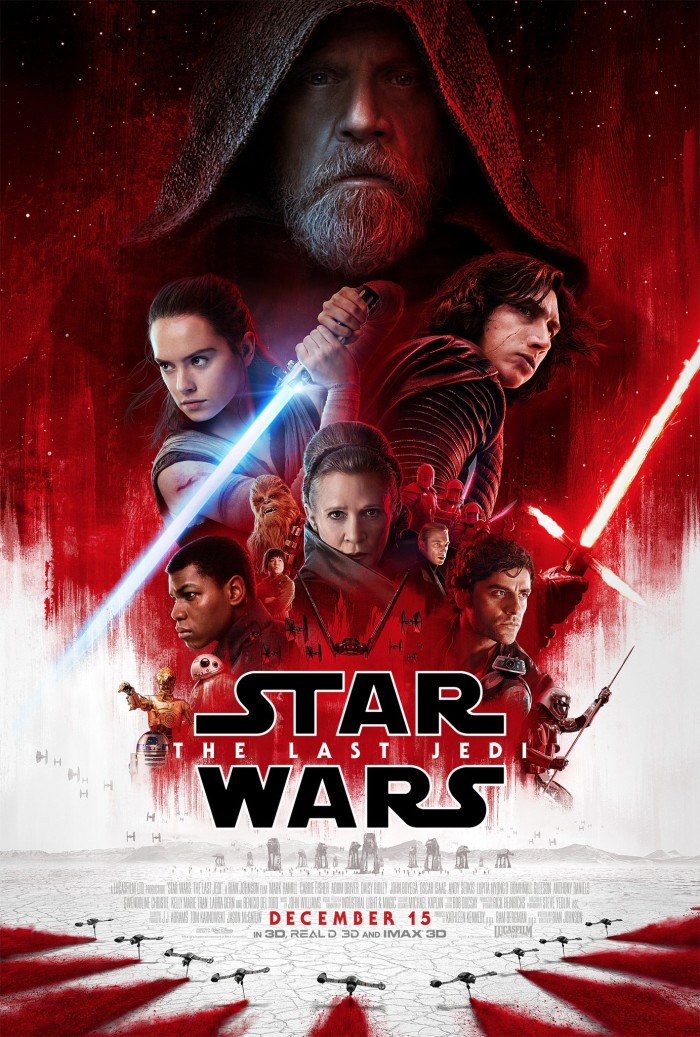 The title of Star Wars: The Last Jedi may refer to Mark Hamill as Luke Skywalker, who spend 99% of Star Wars: The Force Awakens in self-imposed exile, but he's just one member of a sprawling ensemble. There's also Carrie Fisher, in her final screen performance, as General Leia Organa; the wildly talented Daisy Ridley as the Force prodigy named Rey who found a certain lightsaber in her last adventure; rising star John Boyega as Finn, the former Stormtrooper who swapped sides and found himself with a new surrogate family; Oscar Isaac as X-Wing ace pilot Poe Dameron, AKA "Space Fonzie"; Adam Driver as the surly and menacing Kylo Ren, the powerful son of Han Solo and Leia; Domhnall Gleason as General Hux, the stone cold madman pulling the strings at the top of The First Order; Andy Serkis as Supreme Leader Snoke, the mutilated figure of menace pulling the strings above Hux; and Gwendoline Christie as Captain Phasma, the awesome-looking Stormtrooper commander who will hopefully have something to do this time around.
In addition to the returning cast members, The Last Jedi will also introduce Kelly Marie Tran as Rose Tico, a Resistance mechanic forced to rise to the occasion, Laura Dern as Vice Admiral Amilyn Holdo, an ally of the Resistance, and Benicio Del Toro as "DJ," a mysterious "splicer" whose allegiances and motivations remain unknown.
Star Wars: The Last Jedi flies into theaters on December 15, 2017. Expect to see this poster everywhere you go for the next two months.