'The X-Files' Season 11 Trailer: Mulder And Scully Search For The Truth – And Their Son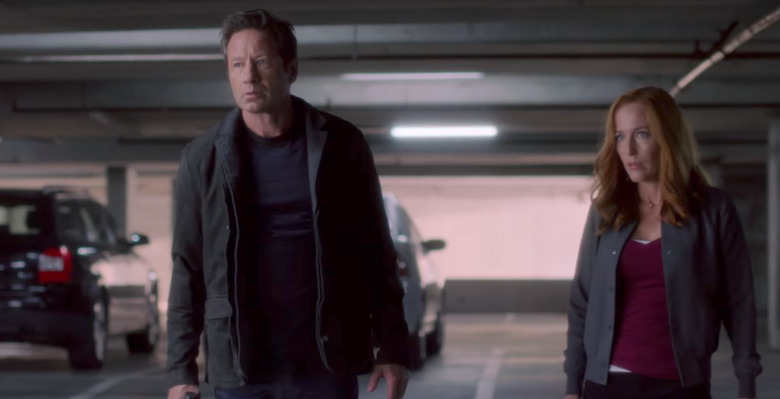 The truth is out there, and Mulder and Scully are inching closer and closer to it in The X-Files season 11 trailer.
The first footage of the rebooted The X-Files (the first revival season premiered last year) screened at New York Comic-Con this weekend, and it teases a conclusion to the decades-long conspiracy that David Duchovny's Fox Mulder and Gillian Anderson's Dana Scully have been caught up in, as well as the culmination of the decades-long relationship between the two lovelorn FBI agents.
The tenth season of The X-Files premiered on Fox to much anticipation but was a wildly inconsistent collection of mythology-heavy and monster-of-the-week episodes. And without confirmation that showrunner and creator Chris Carter's series would be getting another season, last year's gut-churning cliffhanger finale, in which Scully is implied to be kidnapped by the aliens that dispensed the virus that ravaged Mulder, was especially agonizing.
But here we are.
Watch The X Files Season 11 Trailer
At the beginning of the season, it looks like Mulder and Scully will trade places from where we last left off, with Scully bed-ridden and ill while Mulder scrambles to find her a cure.
"Obviously something unexpected has happened," Carter says cryptically in the first look of the season from Entertainment Weekly. "Everything is by design."
The trailer picks up with Scully back on her feet, but on a renewed search for her and Mulder's son, William. In their desperation, they turn to their former boss Walter Skinner (Mitch Pileggi) who asks the pair "How did it come to this?" It's drama and suspense galore in a bit of a perplexing trailer in which the stakes are raised, but we're not sure what for. Scully breathlessly warns of "hell on Earth," while the mysterious Cigarette Smoking Man returns in an exhilarating scene where he asks Skinner to "betray the whole human race."
Whatever the case, it seems like William will be a central figure in the whole alien-colonization conspiracy and will play a major role in what looks to be a mythology-focused season. And with star Gillian Anderson announcing her exit after season 11, it may also be the show's final season. As the conspiracy winds down, our brief flirtation with an X-Files revival may come to an end. But who knows? According to reports from the NYCC panel, season 11 will end on a cliffhanger — which just goes to show, the search for the truth will probably never be over.
There's no specific date for The X-Files' season 11 premiere, but it will return to Fox sometime in 2018.