'Mindhunter' Trailer: One More Look At David Fincher's New Netflix Series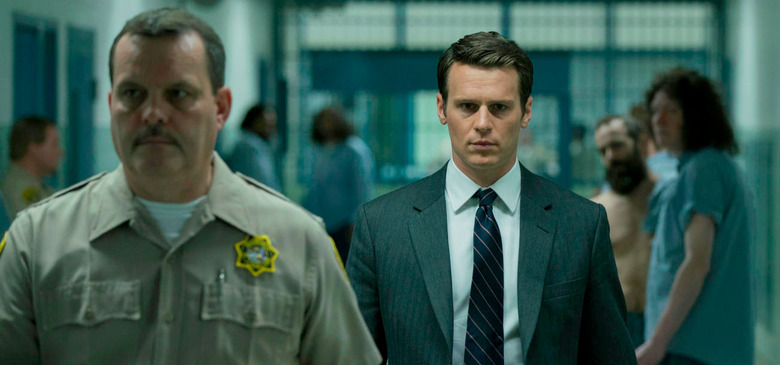 Hey! David Fincher has a new television series coming to Netflix this Friday. And hey! It looks like the spiritual follow-up to his 2007 masterpiece, Zodiac. Yep, Mindhunter definitely feels like something we'll all have to binge this weekend and the new (and presumably final) trailer for the show's first season only seals the deal.
Watch the latest Mindhunter trailer below.
Set in 1979, Mindhunter stars Jonathan Groff and Holt McCallany as two FBI agents who set out to interview and profile some of the most sadistic and terrifying killers clogging up the American prison system. After all, if they can learn how crazy works straight from the source, they can use that knowledge to solve future crimes, right? And like most projects with David Fincher's name on it, Mindhunter looks stark and dark and overflowing with menace. The tone of the footage we've seen so far recalls Zodiac more than Se7en – a level-headed, darkly funny procedural about ordinary folks walking around in the muck with a psychopath.
Mindhunter is based on the book Mind Hunter: Inside The FBI's Elite Serial Crime Unit written by Mark Olshaker and John E. Douglas. Joe Penhall and Jennifer Haley serve as writers on the series, which is executive produced by Fincher, Charlize Theron, Josh Donen, and Ceán Chaffin. And while Fincher is the main draw for many film fans, I'm mostly intrigued by Groff, an actor better known for playing more lighthearted characters in projects like Frozen and Glee. If anything can push him to the dark side, it's a Fincher-produced TV show on a streaming service that has never shown any interest in asking their talent to tone anything down.
Hopefully, Mindhunter fares a little better than the other Netflix series that had Fincher's name on it. While House of Cards still commands a large following, it was never as well directed as its first few episodes, where Fincher brought his A-game and delivered several hours of television that looked nothing short of astonishing. Hopefully, Mindhunter (which has been renewed for a second season already) will maintain that magic touch for the duration.
Mindhunter is set to premiere on Netflix on October 13, 2017. You can read the official synopsis (in that typically barebones Netflix style) below:
How do we get ahead of crazy if we don't know how crazy thinks? Two FBI agents (Jonathan Groff & Holt McCallany) set out on a sinister investigative odyssey to discover the brutal answers. MINDHUNTER.