'Castle Rock' Trailer: J.J. Abrams Dives Into The World Of Stephen King For Hulu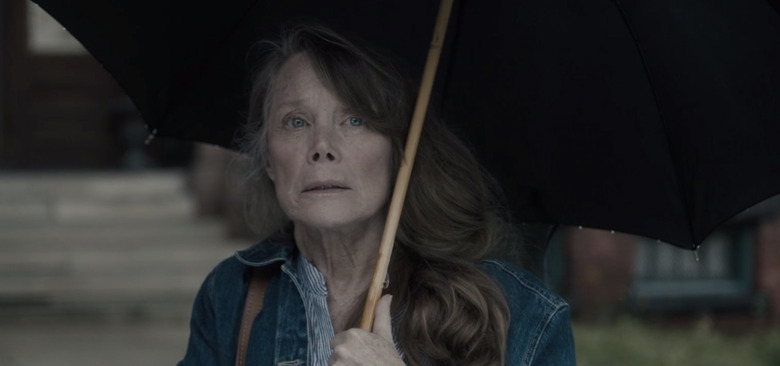 "You have no idea what's happening here, do you?"
At the tail end of New York Comic-Con this weekend, Hulu has unveiled the first Castle Rock trailer that actually features footage from the series executive produced by J.J. Abrams and set in the fictional location that has been the setting of many Stephen King stories over the decades. It doesn't really tell us what the series will be about just yet, but it does tease plenty of Stephen King characters and Easter eggs that will be present.
Watch the Castle Rock Trailer
It's wholly appropriate that there's only a single line of dialogue saying, "You have no idea what's happening here, do you?" because there's no indication whatsoever about how various Stephen King stories will be linked together other than by the titular Main locale itself.
Instead, we get a series of mysterious images, including a funeral procession, a lethal injection, a sinking vehicle with a stikcer that says Shawshank Department of Corrections, a dog that looks exactly like Cujo, anther dog digging up a body, a piano that's fallen through the floor of a rundown house, and more. Did you notice anything else alluding to a Stephen King story?
The new trailer teases the ensemble cast at the center of the series, with a large focus on Andre Holland (Moonlight) as attorney Henry Deaver, wandering around the various locations in the Maine town. Plus, there's Scott Glenn as retired Sheriff Alan Pangborn, a recurring character in Stephen King's books, and the only one who was mentioned by name during the New York Comic-Con panel (according to Deadline). But surely there will be plenty of other familiar characters making appearances.
In addition, previous stars of Stephen King adaptations are involved in the series, though they are playing completely different characters than they've played before, which weren't part of any Stephen King stories before. There's Melanie Lynskey (from the miniseries Rose Red) as Molly Strand, a real estate agent who has sold some spooky houses in Castle Rock; Sissy Spacek (star of the original Carrie) as Henry Deaver's mother Ruth; and Bill Skarsgård (Pennywise from the recent adaptation of It) as a death row inmate who happens to be a client of Henry Deaver.
Other cast members who we get brief glimpses of include Evil Dead remake star Jane Levy as Jackie, a morbid, death-obsessed girl who's appointed herself the historian of Castle Rock and Lost star Terry O'Quinn as Dale Lacy, who is said to be a pillar in the community.
Castle Rock was created by Sam Shaw and Dustin Thomason, who will serve as executive producers along with Abrams, Ben Stephenson and Liz Glotzer in collaboration with Bad Robot Productions and in association with Warner Bros. Television.
A psychological-horror series set in the Stephen King multiverse, Castle Rock combines the mythological scale and intimate character storytelling of King's best-loved works, weaving an epic saga of darkness and light, played out on a few square miles of Maine woodland. The fictional Maine town of Castle Rock has figured prominently in King's literary career: Cujo, The Dark Half, IT and Needful Things, as well as novella The Body and numerous short stories such as Rita Hayworth and The Shawshank Redemption are either set there or contain references to Castle Rock. Castle Rock is an original suspense/thriller — a first-of-its-kind reimagining that explores the themes and worlds uniting the entire King canon, while brushing up against some of his most iconic and beloved stories.
Castle Rock will arrive on Hulu sometime in 2018.