'Jack Ryan' Series Teaser Trailer: Amazon Turns John Krasinski Into Tom Clancy's Signature Spy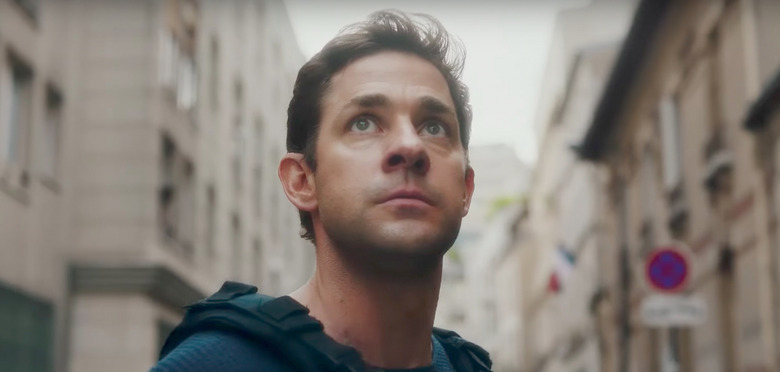 Don't expect The Office star John Krasinski to look at the camera and smirk in his latest series endeavor.
Jack Ryan is a new spy series from Amazon Studios bringing the titular CIA analyst created by author Tom Clancy into his first original series. The character has been played by the likes of Harrison Ford, Alec Baldwin and Ben Affleck on the big screen, but now the role is in the hands of 13 Hours star John Krasinski, looking to expand his acting horizons by thrusting himself into the middle of a dangerous terrorist plot with the potential for global catastrophe. The first trailer debuted at the 2017 New York Comic-Con on Saturday night, but thankfully, it's available to watch online too.
Watch the Jack Ryan series trailer below and see what you think.
There's not much action to be found just yet, but this is a teaser trailer after all. Plus, we have to remember that before Jack Ryan gets caught up in this terrorist plot overseas, he's nothing more than a CIA analyst, the kind of employee who isn't meant to draw his gun and proves to be much more effective behind a desk at a computer than staring down the sight of a firearm. But as Jack Ryan fans know, there's much more in store for the character as he gets deeper into danger and intrigue.
In Tom Clancy's books, enough time passes that a turn of events leads Jack Ryan to being named President of the United States of America, replacing a scandalous vice president who had already replaced the previous president after another scandal destroyed his political career. Later on, Ryan would even end up running for a second term, so the character has had quite the lifespan on the pages of Tom Clancy's books.
If the eight-episode first season run of Jack Ryan from Paramount Television and Bad Robot is successful, there's a chance we could see some of the character's less publicized missions end up adapted by Amazon. But then again, it doesn't seem like this series is adapting specific book titles, but instead using the character as the starting point for something original.
Jack Ryan is executive produced by Carlton Cuse (Lost) and John Krasinski, along with Graham Roland and Michael Bay's Platinum Dunes. The cast also includes Wendell Pierce and Abbie Cornish. Here's the official synopsis for the series from Amazon:
When CIA analyst Jack Ryan stumbles upon a suspicious series of bank transfers his search for answers pulls him from the safety of his desk job and catapults him into a deadly game of cat and mouse throughout Europe and the Middle East, with a rising terrorist figurehead preparing for a massive attack against the US and her allies.
Jack Ryan debuts exclusively for Amazon Prime members sometime in 2018.