'Replicas' Panel At NYCC 2017 Ventures Into 'The Matrix' And 'Bill & Ted' Territory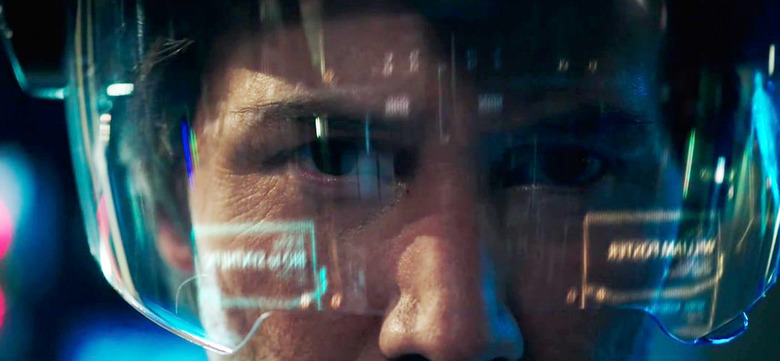 How many times can we see the Frankenstein concept of bringing back dead people play out on the big screen, you ask?  Short answer: countless times. Keanu Reeves is starring in Replicas, the latest in a long line of films, mostly told from a male perspective mind you, which tampers with death and recreation. If you haven't seen it already.
I have nothing against films that explore the idea of cloning. Though, I think BBC America's small screen gem Orphan Black did an exceptional job taking on themes of feminism, sisterhood, and the politics of science.
But according to Reeves, Replicas is more about how man manipulates nature for his own selfish needs, which makes me significantly less excited about it. "There's an idea of control, an impulse to create and manifest. This film is having a conversation with that."
Find out more about what unfolded during the Replicas NYCC panel below.
The actor took the stage at New York Comic Con Thursday evening, seated in front of a standing room-only audience. Truthfully, he could have probably said anything up there, especially to the people in the first few rows who were too busy drooling over the 53-year-old to pay attention to anything he was saying. (I ran into a few of his admirers in the restroom after the panel, and that was all they could talk about).
Admittedly, he looked good. Really good, in what has become his signature all-black attire and chin-length jet black hair. He was joined by director Jeffrey Nachmanoff and writer Stephan Hamel to discuss Replicas, which gives me serious Pet Sematary vibes. The movie is about a synthetic biologist (Reeves) who tries to bring his family back after they were killed in a tragic car accident— and suffers dangerous consequences in the process. That is actually almost exactly like Pet Sematary, minus the whole government intervention thing, which this movie apparently has. But while it surrounds a very controversial subject matter, Nachmanoff says the movie generally remains morally ambiguous. "There are some moral questions, ethical questions about what it means to recreate life and bring people back that we ask in the film," he said.
He did, however, ask the crowd whether they would ever cheat death. To which the response was a resounding, "NO."
Both Nachmanoff and Reeves did their best to try to dig into the film's more serious themes, even how it relates to the Human Genome Project, something that was met with utter silence from the crowd. At one point, Reeves sarcastically hung his head down in shame at some of his own comments, which the audience found hysterical. Nachmanoff tries to save the conversation by getting back to the film, "It asks what makes you you. Are you still you if you're brought back in a different body?"
Up until this time, it seemed like the only time the audience really responded to anything was when it was mentioned that a cast member or someone was from the same place they lived. Like when Nachmanoff said John Ortiz, who plays the villain in the film, is from Brooklyn, the Brooklyn crowd went WILD.
The audience genuinely gave praise when Reeves and Nachmanoff discussed how the film was shot entirely in Puerto Rico, soon before the devastating hurricane which still has many living without power. The team is actually helping raise money for the island through the Replicas and NYCC websites.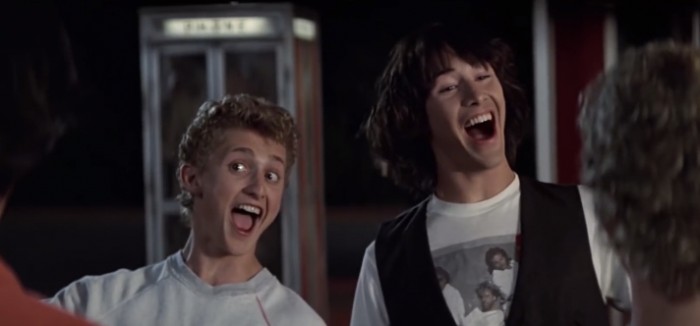 Keanu Reeves Discusses The Matrix and Bill & Ted
But nothing woke up the crowd harder than audience Q&A time, when folks got to ask all the questions that mattered to them—which had nothing to do with Replicas at all.  Are they working on another Bill & Ted film? Yes, Reeves confirmed, which was met with thunderous applause. "It's called Bill & Ted Face the Music," he revealed. "They're still trying to save the world, and they're still trying to finish the song.  But they're old with wives and children."
Full disclosure: I've never seen a single Bill & Ted film, but I'm kind of into the idea of an older, wiser Reeve maturing a famously dense though iconic character who may possibly be having a mid-life crisis along with his best friend. (Mind you, he never said anything about the character being wiser or more mature, but this is exactly where my mind went, hoping).
To the question of whether there would be another Matrix movie (which I would actually go outside and picket against); Reeves said "I don't know anything about it." Thankfully. The audience agreed with me on this one, though there was one lone person in the crowd who suggested somewhat aggressively that they'd be open to a redo of Matrix Reloaded. I wouldn't even cosign that.
But a third John Wick movie is already in the works. YES! Reeves said, "We have some good ideas, and we're excited to tell the next chapter."  He even joked about a fifth movie. Hey, I could be here for that too.