'Never Here' Poster: This Lynchian Debut Feature Burrows Into Your Brain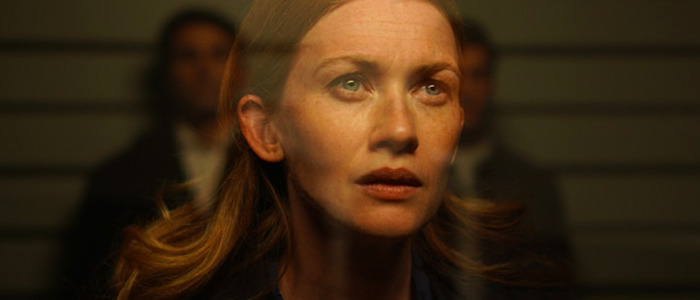 So much has happened in the news recently that it seems almost impossible that the Los Angeles Film Festival happened less than four months ago. But as the entertainment industry continues its push through the traditional festival season, we wanted to shine a little light on a smaller film from the LAFF that's getting a release this month and is worthy of your attention.
The movie is Never Here, a psychological drama from Vertical Entertainment that's stuck with me ever since I saw it back in June. It marks the narrative directorial debut of filmmaker Camille Thoman and stars Mireille Enos (The Killing, World War Z) and the late Sam Shepard (The Right Stuff, Black Hawk Down). Below, you'll find the exclusive first look at the Never Here poster – which happens to feature a quote from our festival review.
Here's the first poster for the movie, which /Film is happy to exclusively debut: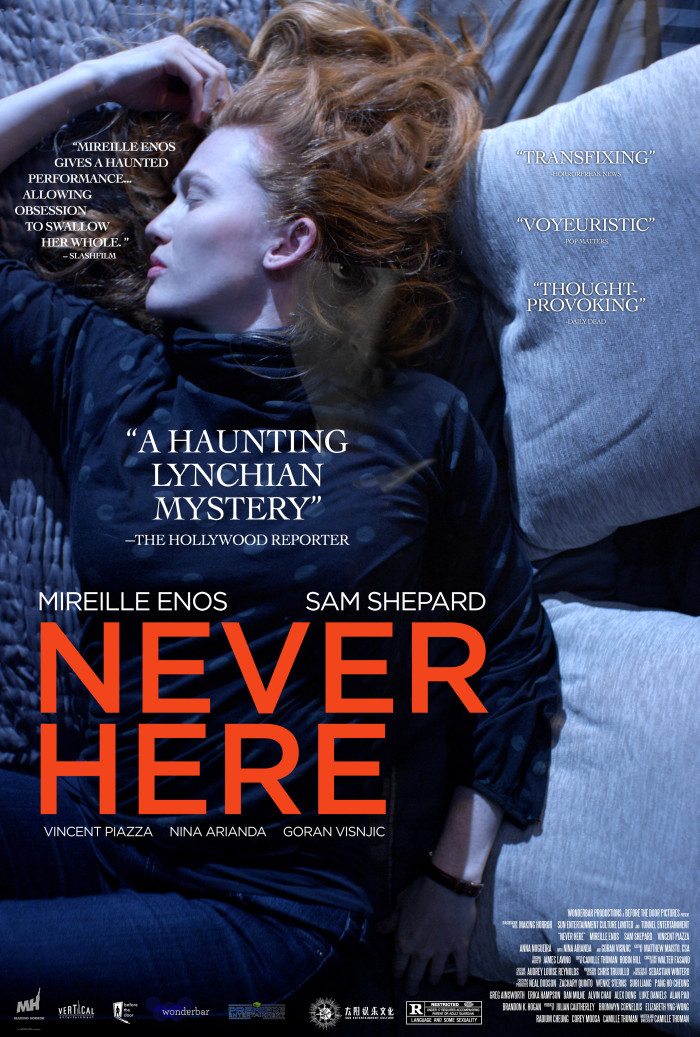 That quote on the top left comes from my review, which also calls the film a "low-key, atmospheric thriller" and praises its Hitchcockian and Lynchian vibe...while fully admitting there were some aspects of the movie that simply went over my head. It's a mind-bender of a movie, a slow burn that leaves a lasting impact. (My wife and I quote a particularly haunted line reading on a weekly basis.)
Instead of attempting to explain the plot to you, just watch the trailer – it does an excellent job of capturing the movie's unhinged energy:
For those who may not be hooked by that mysterious collection of footage and might need a bit more info before deciding to take the plunge, here's the official synopsis:
Installation artist Miranda Fall follows, photographs and documents the lives of strangers to create her art. One night her secret lover witnesses a violent act from Miranda's apartment window. To protect his identity, Miranda poses as the primary witness, making statements to the police about a crime she did not see. She begins to create a new piece of work, based on these circumstances. This simultaneously selfish and selfless act sends Miranda into a maze of doubt and fear, blurring the lines between artist and subject.
Writer-director Camille Thoman's debut feature immerses viewers in a taut psychological thriller, with sumptuous imagery and sonic clues that steadily seep into the subconscious mind. Lines of morality blur and nothing is as it seems in this eerily fascinating exploration of identity, voyeurism and loss of self.
Never Here arrives in theaters on October 20, 2017.