'Justice League' Trailer: Warner Bros. Goes All-In On Their Superhero Team-Up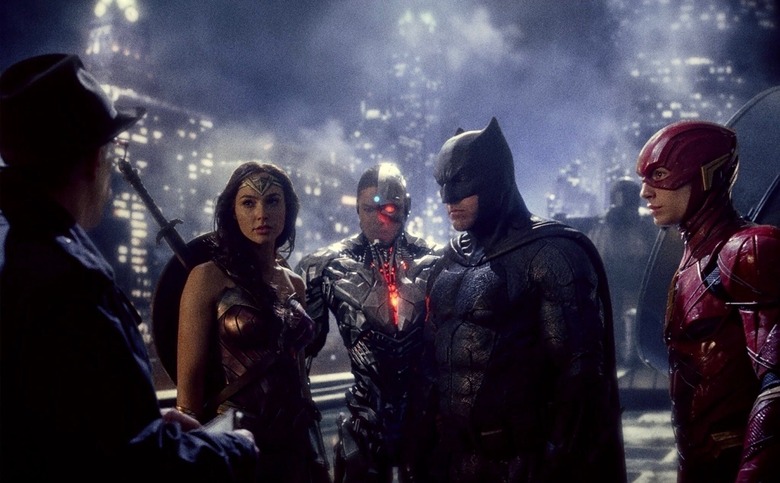 Someday, Justice League's long and complicated journey to the big screen will make for a compelling tell-all book. Until then, we can only sit here with one question on the tip of our tongues: will Warner Bros.' DC superhero team-up movie be any good? While you never can tell with marketing, the new Justice League trailer is here for us to poke at, observe, and dissect. So let's take a look.
On paper, this sounds like a license to print money: Batman, Wonder Woman, Aquaman, The Flash, and Cyborg (and Superman because, c'mon, he's totally not dead) team up to save the planet. But the reality is murkier. Batman v Superman: Dawn of Justice, while a hit, didn't win the hearts and minds of moviegoers around the world like The Avengers did. And then there's Wonder Woman, which found tremendous success by being as different from previous DCEU movies as possible. Justice League finds itself at a crossroads – this movie needs to set the new tone for these movies going forward and convince audiences that this is a universe worth their time and money.
Justice League Trailer
It's a bit of shame that the narrative around Justice League has been less about how cool it is to see these characters together for the first time on the big screen and more about the troubled production. First, there was the studio's somewhat overeager insistence that this film would lighten up in the wake of the frustrated reaction to Batman v Superman. And then there was the departure of original director Zack Snyder in the wake of a family tragedy. And then Joss Whedon, a director who knows a thing or two about ensemble superhero movies, was hired to drag the movie across the finish line.
So let's forget about the drama for just a second. Let's remember how great Ben Affleck was as Batman, elevating his every scene in a not-so-good movie. Let's cheer that we get to see Gal Gadot's Wonder Woman on the big screen again. Let's get excited about Jason Momoa as Aquaman (inspired casting) and Ezra Miller as The Flash (ditto). Okay, there's no getting around Cyborg's awful character design (poor Ray Fisher), but what if everything else works? Are we are allowed to hope? Because that's one thing the DC heroes have always been about (and have always stomped the Marvel heroes at doing) – inspiring hope.
Justice League opens on November 17, 2017. Here's the official synopsis:
Fueled by his restored faith in humanity and inspired by Superman's selfless act, Bruce Wayne enlists the help of his newfound ally, Diana Prince, to face an even greater enemy. Together, Batman and Wonder Woman work quickly to find and recruit a team of metahumans to stand against this newly awakened threat. But despite the formation of this unprecedented league of heroes—Batman, Wonder Woman, Aquaman, Cyborg and The Flash—it may already be too late to save the planet from an assault of catastrophic proportions.