'Game Of Thrones' Season 8 To Start Filming Soon, But Probably Won't Air Until 2019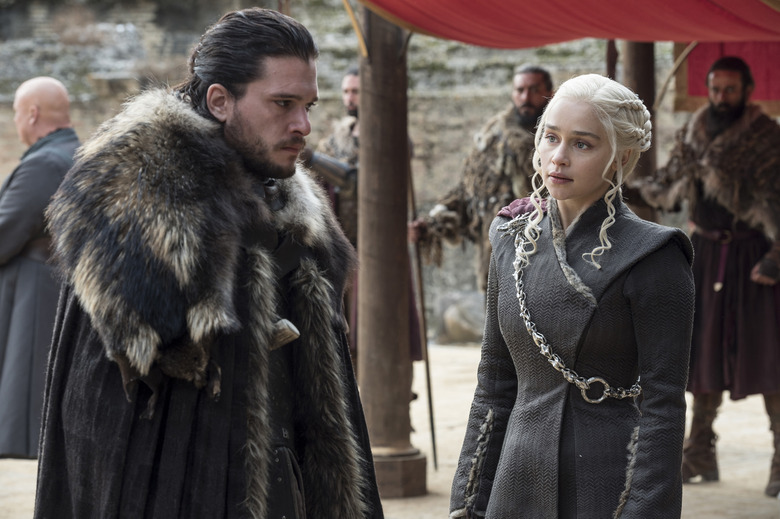 The night is long and full of hiatuses. Game of Thrones season 8 will finally wrap up HBO's epic fantasy series, and although the episode order is shorter, the break between this year's 7th season and the final season is much, much longer. Because of the length of the six final episodes, and the recently revealed shooting schedules for the cast members, it looks like we won't get Game of Thrones season 8 until 2019.
But some good news: The cast members of Game of Thrones have already received their scripts, and will begin shooting the final six episodes quite soon. So while we have to wait at least a year and a half for HBO to air the finished product on television, we can at least spend the time diligently stalking the cast and crew's social media and set pictures.
Actor Liam Cunningham, who plays the scene-stealing Ser Davos in Game of Thrones, revealed to TV Guide that although season 8 has the shortest number of episodes the show has ever had, the episodes are "definitely going to be bigger and what I hear is longer ... We're filming right up until the summer." He continued:
"When you think about it, up until last season we'd have six months to do 10 episodes, so we're [doing] way more than that for 6 episodes. So that obviously will translate into longer episodes."
Cunningham revealed that the cast members have received the scripts for season 8, and gave a hint at Game of Thrones' rigid production schedule at a New York Comic-Con panel for Amazon's Philip K. Dick's Electric Dreams (via Mashable):
"Yesterday something quite monumental happened, I got the scripts for the last season ... Kind of. They were delivered — there's about 450 things you have to go through to open them and I've only done about 250 of them, so I haven't read them yet. Tomorrow I fly back to Ireland, I take a left out of the airport, and the first table read of the first three episodes is on Sunday; second table read Monday... then we rehearse for the rest of the week and start shooting the week after."
So that gives us some broad strokes of when shooting for Game of Thrones begins: in roughly two weeks. That means, if Cunningham's earlier statement about shooting going into the summer is accurate, that the final season could take nine or 10 months to complete production. Which is a long time for just six episodes.
According to Entertainment Weekly, Game of Thrones production normally wraps in December after shooting for six months. The past seasons have premiered in the spring or summer of the next year. But with this much-later wrapping date and with the extensive post-production/dragon-making process — the final six episodes are reported to be Game of Thrones' most expensive season yet — that means we won't see Game of Thrones season 8 until mid- to late-2019 at least.
But for those fans who are itching for a peek at Game of Thrones, the waiting game might be easier this time around. As the story nears its close, there aren't as many disparate storylines with most of the characters coming together, said Ser Jorah actor Iain Glen. In fact, that may also be a factor in the longer production time, since there won't be multiple units shooting at the same time. Glen told fans at Comic Con Stockholm on Thursday:
"We're all starting to occupy the same territory, we're all starting to be in the same story lines and so they can't [have two filming units] anymore. I think this last season will take much longer to shoot because they can only use one unit because we're all in the same sort of scenes."
So bundle up and maybe re-read the A Song of Ice and Fire series. It's going to be a long winter.