Theme Park Bits: Halloween Horror Nights Lights-On Tour, Sea World's Continuing Woes, Disney Vs. Anaheim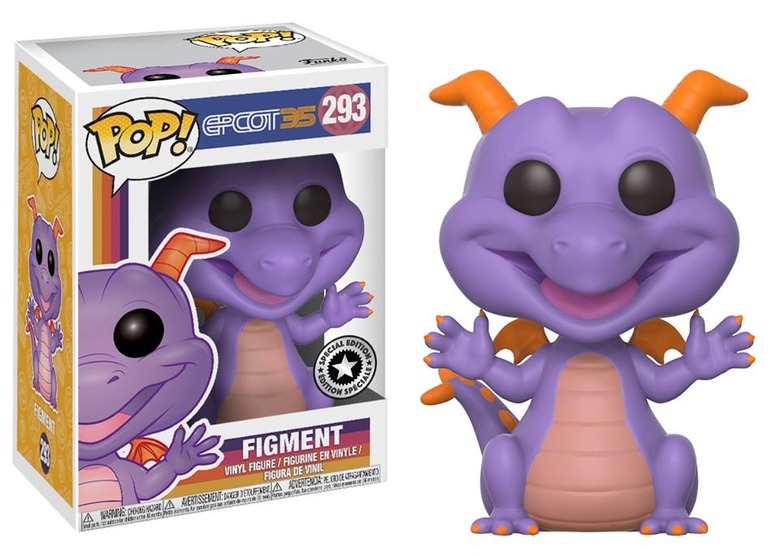 In this edition of Theme Park Bits:
Epcot's 35th-anniversary Funko Pop! Figment figure is now available online.
See what Universal Orlando's haunted houses look like with the lights on.
Hear new details on the ongoing federal investigation into Sea World.
Disney has reportedly been influencing local elections in Anaheim.
Would you like to work for a theme park, or maybe help design one?
Following up on last week's Epcot anniversary news, Disney Parks Blog posted a brief write-up about what went down October 1 in the celebration at the park. The next day, Josh Spiegel had an interesting feature delving deeper into the park's history, while also giving voice to some of the fan frustration Epcot elicits. Meanwhile, collectors can now rejoice, as the Funko Pop! Figment figure mentioned here last week is available online.
The Swan and Dolphin have completed their $140 million redesign project https://t.co/SLvkFDOgNT pic.twitter.com/bd6QIPThtT

— LaughingPlace.com (@laughing_place) September 29, 2017
In other Walt Disney World news, the Swan and Dolphin Resort has put the finishing touches on a multi-million-dollar redesign of its facilities. This project has been going for the last three years; The Laughing Place has a full breakdown of what the redesign entails.
According to Mousesavers, outside certain blackout periods, WDW Annual Passholders can usually obtain a substantial discount at the Swan and Dolphin using the rate code AP. The Disney Blog also reports that Annual Passholders are now enjoying a nearly three-month extension on their 20% dining discount, which was originally set to expire at the end of the Magic Kingdom's 45th anniversary year on October 1.
It's not often you get to see the haunted houses of Halloween Horror Nights by day. In the 15-minute video above (which is interspersed with pictures and audio commentary), The Tim Tracker takes you behind-the-scenes with him on Universal Orlando's Unmasking the Horror tour, for a lights-on look at the Horrors of Blumhouse, Hive, The Fallen, and Dead Waters. There are also glimpses of select areas in and around The Shining, American Horror Story, and Scarecrow haunted houses.
RUMOR: Guardians of the Galaxy – Mission Breakout Opening in 2019 at Disneyland Parishttps://t.co/z4kxJkynUy pic.twitter.com/PudoNPPz7Q

— WDW News Today (@WDWNT) October 5, 2017
Rumors continue to fly that Guardians of the Galaxy – Mission: BREAKOUT! may soon be coming to Walt Disney Studios Paris. The good news is, it could start a new Marvel Land in the park. The bad news is, Towers of Terror around the world may continue to fall (or at least be converted into a different ride building).
The Disney Store has overhauled its website, and its stores are following suit. The location in L.A.'s Westfield Century City shopping mall recently premiered a new look that will soon begin spreading to other stores nationwide. The cool thing is, this location features a screen for live-streaming parades from inside Disneyland Park. Merchandise that was previously only available at Disney parks is also making its way to store shelves.
A fun experience for the whole family? Check! Come visit the all-new Orca Encounter at #SeaWorld #SanDiego: https://t.co/bsWDomsbeq pic.twitter.com/Fahn4ogPNF

— SeaWorld (@SeaWorld) September 5, 2017
People who hold fond memories of petting dolphins or being in the splash zone at Sea World's orca shows will want to steel themselves for this next bit of news. Back in August, Inside the Magic reported that Sea World was under federal criminal investigation for allegedly misleading investors. The company went public in 2013, months after the documentary Blackfish premiered at the Sundance Film Festival. That documentary did a lot to sway public opinion about the captivity of killer whales, so much so that it has had a noticeably adverse effect on park attendance.
This week it made headlines in Orlando Weekly that the former president of Sea World Orlando is now working with federal investigators. Regardless of the outcome of all this, Sea World has already been forced to adjust its business practices. For years, Shamu was the face of the park chain, but now the orca breeding program has ended, and theatrical shows with the existing orca population are being phased out, in favor of less stunt-driven, more educational shows, like the new Orca Encounter at Sea World San Diego. This has not stopped protests, however; over the summer, actor James Cromwell (L.A. Confidential) and other PETA protesters were arrested for disrupting one such show.
Theme parks are all about the illusion, so at the risk of further breaking that illusion, it is worth mentioning that Disney the corporate entity has reportedly been embroiled in a recent money battle with the city of Anaheim, funneling over a million dollars into a "byzantine network of political action committees" in an effort to swing a city council election in its favor. Late last month, The Los Angeles Times ran a fascinating, in-depth report examining the conflict from both sides.
This is a big story with a lot to dig into, but for those interested, you can read the two parts of that report here and here. Suffice it to say, the theme park business is a business like any other, and in that sense, perhaps no one's hands (not even Mickey Mouse's four-fingered gloves) are entirely clean.
How one election changed Anaheim's relationship with Disney https://t.co/0UiDTh7TEw pic.twitter.com/x8gDmcMyFk

— Los Angeles Times (@latimes) September 26, 2017
On a brighter note, if you or someone you know is not just content to visit theme parks, but would actually like to help design them, the California Institute of Arts will soon be offering a new bachelor's degree program in themed entertainment, complete with pedigreed instructors such as Michael Jung, Creative Executive at Walt Disney Imagineering. This news also comes from the Los Angeles Times (by way of Inside the Magic).
If you have other skills to employ, besides theme park design, you can always apply for a position with Universal Studios at UniversalOrlandoJobs.com. On Thursday, October 5, the company held a job fair, and additional job fairs are expected in the weeks to come.
BREAKING: Stitch's Great Escape at Magic Kingdom is Now "Alien Encounter" Character Greetinghttps://t.co/YImaPH5oK1 pic.twitter.com/WFRlTZzfiS

— WDW News Today (@WDWNT) September 30, 2017
Who out there remembers Alien Encounter at the Magic Kingdom? In the years since it closed, this attraction has developed something of a cult following. It was replaced by Stitch's Great Escape, a decidedly less popular attraction, and now that ride is in the process of being converted to a character greeting spot.
If you are one of the people who has been holding out hope for a return to terrifying alien encounters in Tomorrowland, your wishes are about to be fulfilled ... in name only? As WDW News Today and Inside the Magic report, Stitch's Great Escape will now become Stitch's Alien Encounter Character Greeting. Alas, this is probably nothing more than a cute callback to the ride building's history. Stitch can already be met at Disney parks all over the world ... in Tokyo, he even makes regular appearances with his girlfriend, Angel. So the question of whether or not another Stitch greeting was needed is another matter entirely.
Characters you can meet in Arabian Coast at #TokyoDisneySea. There's also Sindbad's Storybook Voyage: https://t.co/MSZFrdNLJG @tdrexplorer pic.twitter.com/WmAQMAwgGz

— Joshua Meyer (@TheGaijinGhost) October 4, 2017
Finally, while Final Fantasy may be coming to Universal Studios Japan next year, there is a chance that Kingdom Hearts, the crossover action RPG co-starring Disney characters, might have a presence in the Disney parks at some point. About a month ago, Nerdist speculated that the release of Kingdom Hearts III next year could lead to meet-and-greets with Disney characters in Kingdom Hearts costumes.
Donald Duck and Goofy make an appearance in Kingdom Hearts attire at Cast Appreciation Party at Epcot!https://t.co/lNv7VY5ffQ pic.twitter.com/HaVXAiK7z2

— KH13 · for Kingdom Hearts (@KH13com) September 4, 2017
As you can see above, Donald and Goofy already appeared in that very garb at a Cast Appreciation party in Epcot. If nothing else, now that October is here, the sight of these rare costumes makes for a fun Halloween treat.