'Fast And Furious' Spin-Off With Dwayne Johnson And Jason Statham Arrives In 2019; Shane Black Could Direct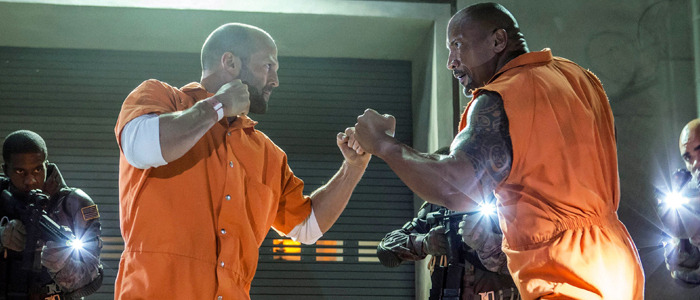 The crackling chemistry between Dwayne Johnson and Jason Statham in Fate of the Furious is finally paying off. The two actors will be getting their own Fast and Furious spin-off centered around their characters, Diplomatic Security Service agent Luke Hobbs (Johnson) and former villain Deckard Shaw (Statham).
All of Universal Pictures' recent moves — and Tyrese Gibson's nonsensical Instagram postings — are starting to come together with this news. With Fast and Furious 9 pushed back to 2020, that leaves room for Universal to switch gears to a Hobbs and Shaw spin-off, which will presumably consist of them flexing their rippling muscles through tight T-shirts and fighting off goons with a baby on their arm.
The starring vehicle for Johnson and Statham will have a script penned by Chris Morgan, who has written nearly every Fast and Furious script since Tokyo Drift, and a scheduled release date of July 26, 2019, according to The Hollywood Reporter. The film remains untitled.
No director has been named yet for the spin-off, but Variety reports that The Nice Guys director Shane Black is one of the directors being eyed to helm the project. Black would be an inspired pick, as the director has a keen understanding of offbeat buddy comedies, which this Hobbs and Shaw spin-off will assuredly be.
Universal has apparently been pondering a spin-off of the two muscleheads since the shooting of this year's Fate of the Furious, with TheWrap's Umberto Gonzalez reporting that a short tag had been filmed in which Hobbs and Shaw consider going off on their own adventures away from Dominic Toretto's (Vin Diesel) team — a backdoor pilot for a spin-off, as it were. But sources say that Diesel caught wind of the scene being shot without his knowledge, and ordered it to be cut.
While the unlikely friendship between Johnson and Statham has only been growing, all has not been well in the Fast family. Talks of this spin-off may have been one of the elements that fueled the Johnson-Diesel "candy ass" saga, while Fast and Furious co-star Tyrese Gibson has been hinting at and bemoaning Johnson's spin-off on social media for months.
But the spin-off's biggest affront to the Fast family is one that hasn't been said by any of the stars: Justice for Han. Statham's character Shaw was the main villain of Furious 7, terrorizing the Toretto crew in retribution for rendering his brother — the Fast & Furious 6 Big Bad — comatose. Deckard Shaw is revealed to be behind Han's (Sung Kang) death in Tokyo, a fact that most of the crew seem to have inexplicably forgiven him for by the time he redeems himself in Fate of the Furious. Honestly, I could not bring myself to enjoy Shaw's redemption in Fate (baby-protecting fight scene and all!) because of his actions with Han, the true best character in the Fast and Furious franchise. I will only be on board with this spin-off if it entails Han coming back from the dead and becoming Shaw's worst nightmare.
The untitled Fast and Furious spin-off is scheduled for a July 26, 2019 opening. Fast and Furious 9 is set for April 10, 2020.