Todd McFarlane Says His 'Spawn' Film Will Actually Earn Its Hard R-Rating, Unlike 'Deadpool'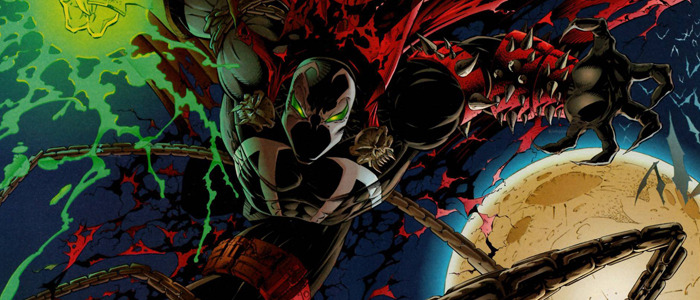 New York Comic Con kicked off today, and in advance of new trailers for anticipated blockbusters like Pacific Rim Uprising and Justice League, comic creator and soon-to-be-director Todd McFarlane hyped his upcoming film adaptation of Spawn, the formerly-human antihero who preys on the most evil members of society. He also threw some shade at Deadpool for some reason. Read McFarlane's latest Spawn movie update below.
Spawn was the subject of a movie back in 1997, but this new film is supposedly going to be a hard R take on the character. Deadline was at NYCC and quotes McFarlane as saying the film will be "dark and R-rated" – and not R-rated like that pansy movie Deadpool, "with a couple F-bombs and a couple bare asses." This ain't your daddy's Spawn movie, so prepare yourselves accordingly. "It's going to be dark," McFarlane said. Yep, I think we got that. Dark. Gritty. Understood. Not like the massively popular Deadpool. Got it.
The Spawn creator promised that he'd be posting daily updates on Facebook about the making of the movie, and that the film will have a $10 million budget.
"I will have a shark in black water," he said, "and if you're swimming he will come and you'll be gone and he will fuck you up." That's the second piece of shark-related imagery he's conjured when talking about this film; after the movie was officially announced at this year's San Diego Comic-Con, McFarlane compared the film to Steven Spielberg's Jaws:
"There's two big roles in the script. There's obviously sort of Spawn himself, although in a weird way it's not the biggest role, and then there's the cop. The cop is this character Twitch who's been there since issue #1. Twitch is the role in this one, and I sort of refer to him as my sheriff Brody, who is the sheriff in the Jaws movie. Although it was called Jaws, Jaws didn't really talk a lot in his movie, right? He just kind of showed up at the opportune time to make the movie worthwhile."
McFarlane has never directed a film before, but that doesn't bother producer Jason Blum, the mastermind behind the ultra-successful Blumhouse Productions, the company behind Get Out, Split, Paranormal Activity, and more low-budget/high profit movies. Just a few days ago, Blum explained why he thinks McFarlane is the right person to sit in the director's chair despite him having zero experience behind the camera. When an audience member asked him why he thinks he can direct, he responded:
"I didn't use to draw comic books and I drew comic books and I won awards. I don't know how to read music and I have a Grammy Award. I'm spending my own money so who cares if it doesn't work out. It's a $10 million budget movie, and (a studio) would just get a 22-year-old punk director. I just want to be the old punk directing it."
Spawn is slated to begin pre-production after Christmas and begin rolling in February of 2018.