'Future Man' Trailer: Josh Hutcherson Goes Back To The Future For Seth Rogen And Evan Goldberg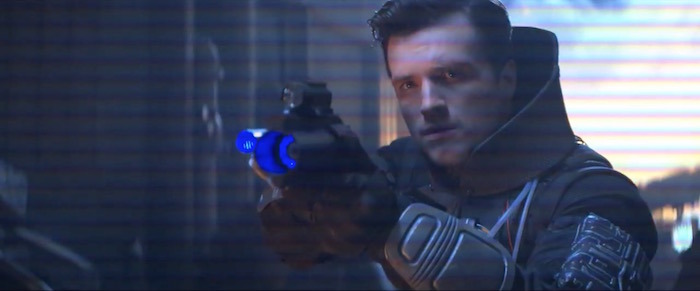 With This is the End, Seth Rogen and Evan Goldberg achieved a tricky balancing act – they made a crude comedy that also functioned as a clever and frequently thrilling horror story. That particular skill set looks like it'll come in hand for their new Hulu series Future Man, which looks to blend dick jokes and action-packed science fiction shenanigans.
Will the blend work this time around? How far can Rogen, Goldberg, and series star Josh Hutcherson push these disparate genres until they shatter? The Future Man trailer offers our first look at what could be one of 2017's weirdest TV shows.
The plot is pretty much a modern riff on The Last Starfighter, which Hutcherson's character, Josh Futturman, is quick to point out to the time traveling commandos who pop up in his room after he is the first person to complete a difficult video game. You see, that video game's depiction of a future where humanity is on the verge of extinction and wages daily war against an evil threat is actually a vision of things to come – and the game was a recruitment tool sent back in time to find new resistance fighters. Unfortunately, Josh is just a lowly janitor with no actual skills as a soldier. Whoops.
There are pop culture references a'plenty in this preview (The Last Starfighter and Back to the Future get deliberate callouts, but there is definitely tons of The Terminator here as well), but the humor seems to extend far beyond "remember that movie you like?" There is slapstick and goofy dialogue and crude innuendos and all kinds of wacky nonsense. And all of this seems to be layered on top of a decades-spanning science fiction adventure that looks like it has the potential to be genuinely solid genre storytelling. After all, if Ricky and Morty can blend raunchy comedy with ingenious sci-fi, maybe Future Man can achieve a similar balance. After all, Rogen and Goldberg have walked a similar tightrope with AMC's Preacher.
Plus, I've been waiting for Josh Hutcherson to try something new and "straight man to a crude science fiction universe" looks like the proper use of his innocent deadpan.
Every episode of Future Man's first season will arrive on Hulu on November 14, 2017. Here's the official synopsis:
Future Man stars Josh Hutcherson (The Hunger Games) as "Josh Futturman," a janitor by day/gamer by night who is recruited by mysterious visitors to travel through time in order to prevent the extinction of humanity.
Future Man is created and executive produced by Kyle Hunter and Ariel Shaffir (Sausage Party). Executive produced and directed by Seth Rogen and Evan Goldberg. Executive produced by Matt Tolmach, James Weaver and Ben Karlin. Future Man is produced by Point Grey Pictures, Matt Tolmach Productions and Turkeyfoot Productions, in association with Sony Pictures Television.