'Star Wars: The Last Jedi' Trailer: The Skywalker Saga Continues...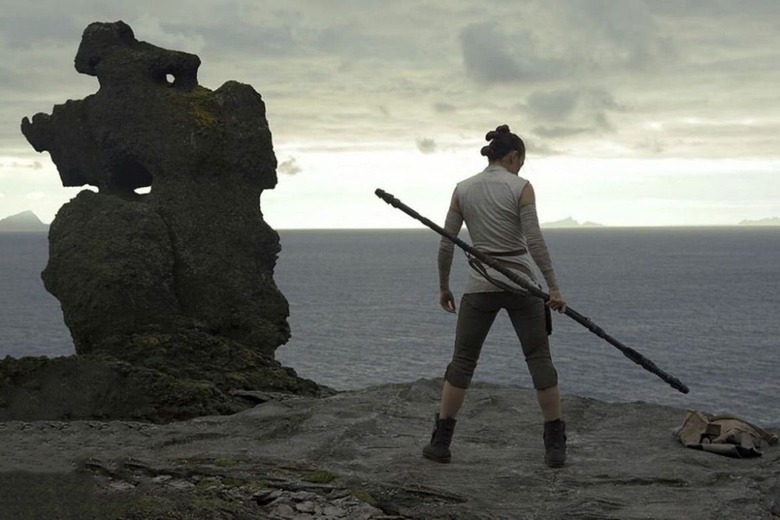 Just as Mark Hamill foretold, Disney and Lucasfilm unveiled a new trailer for Star Wars: The Last Jedi during Monday Night Football. After a brief, contemplative teaser back in April during Star Wars Celebration, we finally have a longer, better look at what writer/director Rian Johnson has in store for us in a galaxy far, far away. Enough talk: watch the new trailer below!
Star Wars The Last Jedi trailer
So yeah – that's a pretty intense trailer, full of incredible imagery, dark reveals, and huge action. That final moment, where one character offers his hand to another, is surely going to get people talking long before the movie even hits theaters...as if we needed an excuse to talk about Star Wars more than we already do. In any case, The Last Jedi looks weirdly dangerous. There's a sense of unease to this footage, the feeling that anything can go wrong for all of these characters. We see it in the dramatic battles, but we also hear it in Luke's voice. He knows how bad things will get. He's been there.
Johnson, the filmmaker behind movies like Brick, The Brothers Bloom, Looper, and some of the best episodes of Breaking Bad and Terriers, brings a darker flavor to this sequel than what we saw in J.J. Abrams' Star Wars: The Force Awakens back in 2015. But while The Force Awakens used A New Hope as a template to restart the franchise after the prequels, Johnson seemingly has more freedom to do his own thing with The Last Jedi. He's testing these characters – new fan-favorites and longtime veterans alike – and putting them through the ringer, and there's an intensity to this footage that we haven't quite seen in this universe before.
Even if Johnson doesn't directly follow the template set by The Empire Strikes Back, the fact that this feels like the wild card middle entry where anything goes and characters can be left in a pit of hopelessness (awaiting the redemption of Episode 9, of course) makes this an immediate companion piece to the beloved 1980 entry in the Skywalker Saga. We're excited by default. But we're especially excited because this is the "dark middle chapter." And because a filmmaker as thrilling as Johnson is at the helm.
Star Wars: The Last Jedi stars Daisy Ridley as new Jedi-in-training Rey, Mark Hamill as a broken and guilt-riddled Luke Skywalker, John Boyega as the reluctant hero Finn, Kelly Marie Tran as Resistance mechanic Rose Tico, Oscar Isaac as ace fighter pilot Poe Dameron, Adam Driver as the scarred and haunted villain Kylo Ren, Domhnall Gleeson as the blustering General Hux, Gwendoline Christie as the First Order henchwoman Captain Phasma, Benicio Del Toro as a mysterious "slicer" (hacker) named DJ, Carrie Fisher as the level-headed General Leia Organa, Laura Dern as the purple-haired Vice Admiral Amilyn Holdo, Andy Serkis as the enigmatic Supreme Leader Snoke, and Joonas Suotamo as the heartbroken Wookiee warrior Chewbacca.Star Wars: The Last Jedi arrives on December 15, 2017. What do you think about this new trailer? Sound off in the comments below and look for our full trailer breakdown soon!