Watch Paul Thomas Anderson's New Music Video For Haim's 'Little Of Your Love'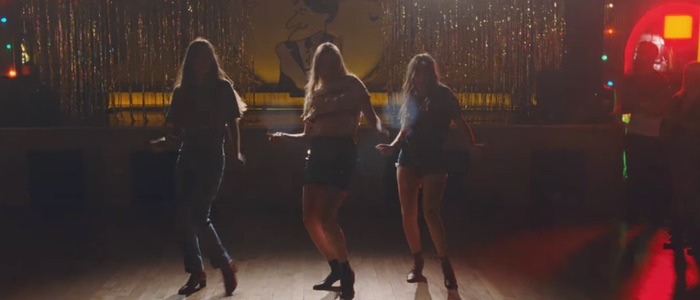 Before 2017 is over, we'll be treated to a brand new Paul Thomas Anderson film, which will also be the (alleged) swan song of Daniel Day-Lewis. However, those seeking some new Anderson material before the end of the year are in luck: the Inherent Vice filmmaker has helmed a new video for the band Haim, and it's delightful. Watch the Paul Thomas Anderson Haim music video below.
Haim, the three-sister pop rock band, recently released their second studio album, the excellent Something to Tell You. Just before the album was released, the band released the short film Valentine, which was helmed by none other than Boogie Nights director Paul Thomas Anderson. Less a music video and more of a behind-the-scenes look at the band working on early versions of songs like "Right Now," "Something to Tell You" and "Nothing's Wrong", Valentine was shot on 35mm and highlighted both the band's talent and Anderson's use of fluid motion to record the band at work.
"You can really hear the room mics are really loud and us stomping around," Danielle Haim told Rolling Stone regarding the short film's production. "Paul was adamant about wanting to hear Alana click on her pedal. You can hear that click when she does it and you can hear our heels and we were like, 'Wow, this is crazy I can't believe we pulled this off in a day.'" The short film wasn't the first time Haim had worked with Anderson – the four had collaborated before on the music video for the song "Right Now", and now Anderson and the band are at it again with the video for "Little of Your Love," which you can check out below.
The nearly 4-minute long video is a heck of a lot of fun, something we could all use on a day like today. In the video, band members Este Haim, Danielle Haim, and Alana Haim busting a move with a crowd of very eager extras inside a disco ball-lit bar. It's a simple concept made fluid and engrossing through Anderson's cinematic eye, which keeps shifting from one Haim sister to the next while never losing focus. It gives one a great idea of what a musical feature directed by Anderson might look like. It may not be as a deep or provocative as There Will Be Blood or The Master, but that doesn't mean it's not worth watching. Also, if you look really closely, you can see Daniel Day-Lewis dancing in the background (note: this is a complete lie, please don't look for him).
Anderson's next film, untitled as-of-now but rumored to be called The Phantom Thread, focusing on a dressmaker commissioned to design clothing for members of high society and the royal family in 1950s London, is set to hit theaters on December 25.