'The Kids In The Hall' May Return, Courtesy Of 'SNL' Mastermind Lorne Michaels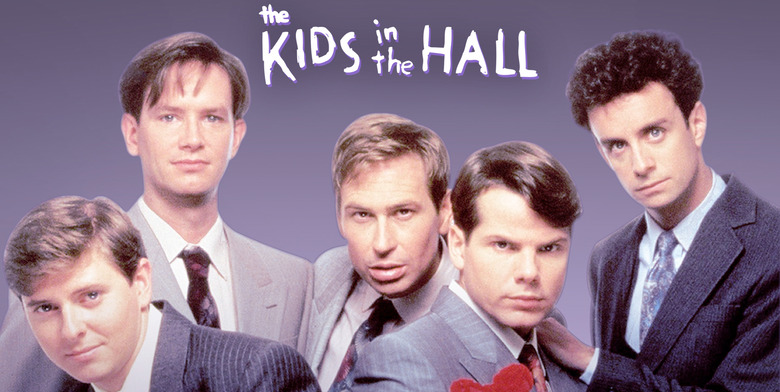 When it comes to sketch comedy, most audiences are familiar with Saturday Night Live first and foremost, followed closely by Mad TV. But some audiences might remember the likes of In Living Color, The State, Upright Citizens Brigade, SCTV and The Kids in the Hall. If all goes according to plan, one of those shows might be getting some kind of revival.
The Kids in the Hall is a Canadian sketch comedy troupe who made waves from the late 1980s to mid-1990s with their live comedy tour. But they really picked up steam after getting their own self-titled television show. Now they might be able to make a comeback with a The Kids in the Hall revival series, perhaps even on Netflix.
The original iteration of The Kids in the Hall featured comedians Dave Foley, Kevin McDonald, Bruce McCulloch, Mark McKinney, and Scott Thompson. The series aired both on HBO in the United States and CBC in Canada, but came to an end in 1995. The troupe came back together for their cult-favorite movie Brain Candy and have had reunion tours intermittently since then, with their last one being in 2010 for a miniseries revival called Death Comes to Town. Since then, the cast has still been performing, but not as a group. But that could change if longtime Saturday Night Live executive producer Lorne Michaels has his way.
Cast member Kevin McDonald (who you've probably seen or heard in countless TV shows and movies) was recently speaking with
(via
) to promote one of his stand-up shows over the weekend, and he revealed that a possible revival of the sketch comedy series is in the nascent stages of development. McDonald said:
"We got a Kids in the Hall group message to all of us. Lorne Michaels wants us to do what Mr. Show did, and do like six episodes of sketches for something like Netflix."
For those who aren't familiar, Mr. Show with Bob & David was a sketch comedy series starring Bob Odenkirk and David Cross that also aired on HBO that ended up getting a limited series revival at Netflix. Since fans loved seeing that duo get back together, Lorne Michaels is thinking that fans of The Kids in the Hall would love to see a reunion of the comedy troupe for a limited series of their own.
As of now, it's very early in the planning stages. Kevin McDonald said, "It's so at the beginning, we're not able to even get conference calls together. There's always one or two of us that are kind of busy. And because we are who we are, there's always one of us against it. But I think, right now, there's no one against it. ... And I'll try to get it going, because I'm the one who's supposed to get it going. ... It's super exciting!"
In more recent years, sketch comedy shows have focused on smaller casts, with the likes of Inside Amy Schumer, Key & Peele, The Kroll Show and Portlandia focusing on a single comedian or a duo starring in a variety of sketches. It would be nice to bring back an ensemble cast like The Kids in the Hall to shake things up a bit. In the meantime, here's a favorite from their original series: