Ryan Gosling Can't Stop Laughing On 'Saturday Night Live', Watch The Best & Worst Sketches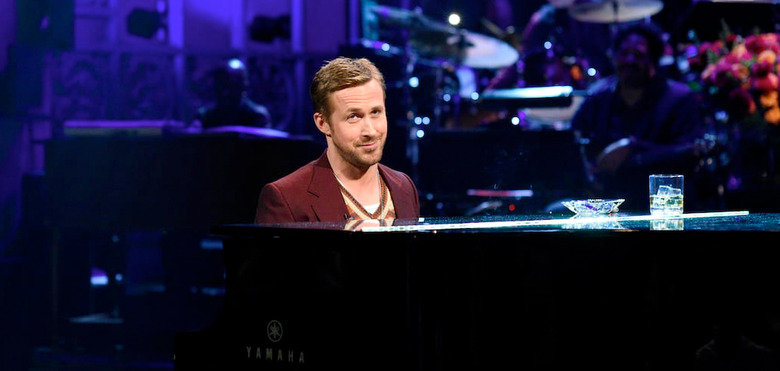 Last night, Saturday Night Live kicked off their 43rd season with host Ryan Gosling returning for his second time as host. Gosling's first time hosting SNL resulted in some fantastic sketches, and while there were a couple sketches that were truly great, the season premiere overall felt rather lackluster. The cast certainly put their best foot forward, but this episode felt like a shaky beginning for the late night sketch series.
The good news is Kate McKinnon continues to prove why she won the Emmy for Best Supporting Actress in a Comedy Series, Ryan Gosling is adorable when he can't stop giggling (which happened a lot this time), and Emma Stone popped in for a hot minute. Join us below as we run through the best and worst sketches from the Ryan Gosling-hosted Saturday Night Live.
The Best
Papyrus – It's kind of a miracle that this sketch even exists, because the focus of this pre-recorded sketch is something so minuscule that you wouldn't think it warrants something like this. But that's actually what makes the sketch so great. It's almost as if this sketch was created just for the cinephile and graphic design crowd. It's just perfect.
Another Close Encounter – When this sketch first started, I was certain that this wouldn't live up to the original close encounter sketch that Kate McKinnon's unfortunate character first appeared in. The attempts to replicate the magic of that sketch with other hosts had amusing results but nothing close to that first time. But as soon as Kate McKinnon started playing with Ryan Gosling's ass, even thrusting her face into it as the actor continually laughed, that's when this became a great follow-up.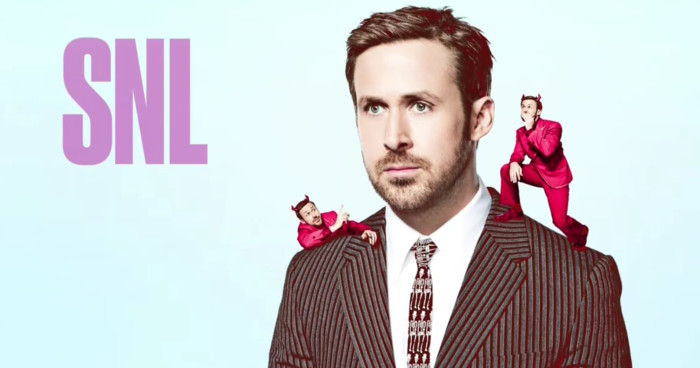 The Average
Levi's Wokes – For some reason, people think this is Saturday Night Live making fun of social justice and social consciousness when it comes to issues of race, gender, etc. But that's not the case. This commercial is parodying how brands attempt to desperately seem cool by trying to be "woke" in their advertising and products. This is purely a satire of brand identity and does is not trying to lessen the impact of cultural progress. With that out of the way, we can acknowledge that this sketch elicited a few chuckles out of me, but it wasn't all that great.
Italian Restaurant – As much as I like the dedication that Ryan Gosling and Cecily Strong have to this bit of pretending that this fake Italian restaurant set up by Pizza Hut for a commercial gag was their favorite place to eat, I have one big problem with this sketch. Saturday Night Live has done this before and with much better results. If you don't remember the pre-recorded hidden camera coffee commercial sketch from 1991 featuring Chris Farley, watch it here and then come back and compare it to this sketch. There are differences to be sure, and this new sketch tries to differentiate itself a bit, but it's just not enough.
The Chaos President – Since Alec Baldwin is fresh off an Emmy win for his portrayal of Donald Trump during the 42nd season of SNL, fans were excited to see him return for the season premiere. Unfortunately, this particular sketch wasn't the best return for Baldwin. It felt like there was too much time between laughs when Sarah Huckabee Sanders (Aidy Bryant) was talking with Trump. Thankfully, the sketch gained some new life when Kate McKinnon literally popped up as Jeff Sessions, with her dimwitted Forrest Gump style portrayal stealing the show from Baldwin as Trump.
Dive Bar – Kenan Thompson can only take a sketch like this so far. First, if Kenan is going to do this big showman stick, I'd prefer we just get a new rendition of What's Up with That? But since Bill Hader and Jason Sudeikis aren't around anymore, that's not in the cards. The only thing that kept this from being one of the worse sketches of the night is how Ryan Gosling and Kenan Thompson kept breaking throughout.
The Worst
Henrietta and The Fugitive – While I'm all about strange sketches, this one didn't connect for a multitude of reasons. Though the fact that this sketch was played up for drama in the style of a classic movie, there were too much gaffes during the sketch that didn't allow it to find any footing.
The Fliplets – While this premise is a solid one, something about the pacing and timing felt off, and the sketch never really had a good rhythm despite having a good formula for punchlines. Mikey Day and Alex Moffat delivered great reactions to Ryan Gosling's character, but I don't think Gosling did as good of a job as he could have, and that seemed to possibly come from his dedication to the cue cards in this one.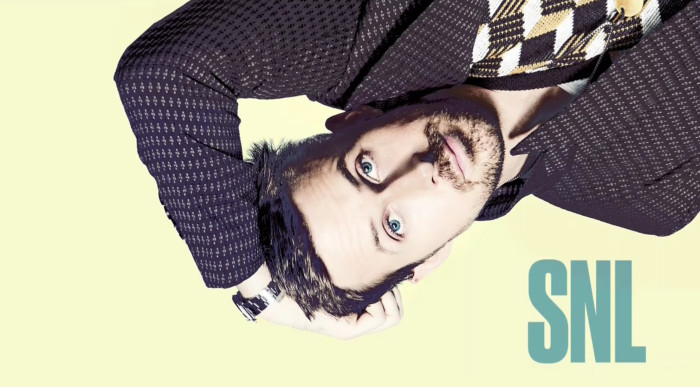 Weekend Update (White Fudge Ding Dongs)
We got to see some of Michael Che and Colin Jost over the summer thanks to Weekend Update: Summer Edition, and it seems like that warmed them up enough to come back to the desk with a vengeance. Jost and Che really dug into the political stuff more than the rest of the sketches in this episode, and they hit harder than the cold open with Alec Baldwin too. But easily my favorite sketch was that White Fudge Ding Dongs line about what this iteration of Weekend Update is called in China.
Angela Merkel on Reelection – Normally I'm on board with almost every single Kate McKinnon character she brings to the Weekend Update desk, but something felt off about her portrayal of Angela Merkel this time around. I'm not sure if the voice wasn't quite right this time or if the writing just didn't allow Kate McKinnon to shine, but this one was just all right.
Guy Who Just Bought a Boat on Dating – Take a douchebag who is self-aware about his penis size and mix him with Kevin Nealon's Mr. Subliminal from the early 1990s and you've got Alex Moffat's Guy Who Just Bought a Boat. It's a simple, repetitive gag, but Moffat's dedication to the character made it work, and Ryan Gosling's arrival along with him worked fairly well too.
The Host
In case you didn't hear, Ryan Gosling saved jazz. And his opening monologue just wanted to remind everyone about that, at least before Emma Stone comes out to correct him. I loved the misdirection of this sketch as Gosling would try to talk about Blade Runner but then just couldn't help himself from getting back to how he saved jazz. There's even a great reference to that scene in La La Land where he's talking about trying to save jazz while there's a jazz band playing right in front of him that he and Emma Stone aren't entirely paying attention to. I wish the Emma Stone cameo had a little stronger punch, but it was a solid monologue.
As for Gosling himself, he didn't feel like he was quite as strong as the first time he hosted. The biggest problem this time around was that Gosling just couldn't keep himself together during sketches. During nearly every single live sketch, Gosling broke character because he was laughing. Sure, it was funny half the time, but at some point you just want them to do the sketch without breaking. It's the same reason Jimmy Fallon and Horatio Sanz breaking during sketches stopped being funny after awhile.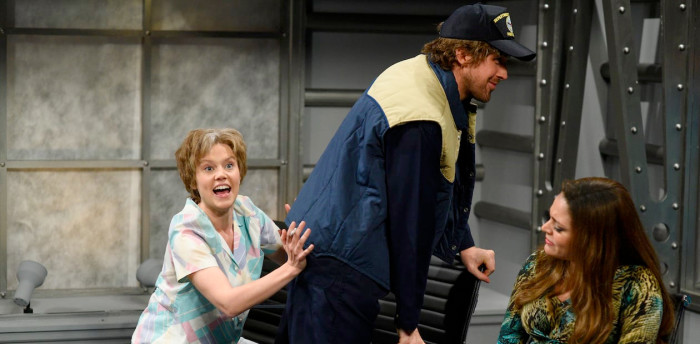 The MVP
Kate McKinnon – There's no question that Kate McKinnon deserved that Emmy she won in September, and this episode is a prime example of that. Not only did she steal the cold open from Alec Baldwin, but she knocked it out of the park with her physical comedy and perfect character work in the follow-up to the Close Encounter sketch that was so great in Ryan Gosling's hosting debut. At this point, McKinnon is a comedy goddess, and it's going to be a sad day when she leaves SNL.
The Final Word
For a season premiere, this wasn't the most exciting episode of Saturday Night Live, nor was it Ryan Gosling's best work, but when the cast and writers have been off for the whole summer, it's going to take some time to get back in the groove. There were a lot of average sketches this week that didn't quite meet their full potential, but it's clear there's still greatness to be mined in the writers' room. Here's hoping they have their A-game ready for when Gal Gadot comes to host on October 7.