Liam Neeson Pulls Back On Proposed Retirement From Action Movies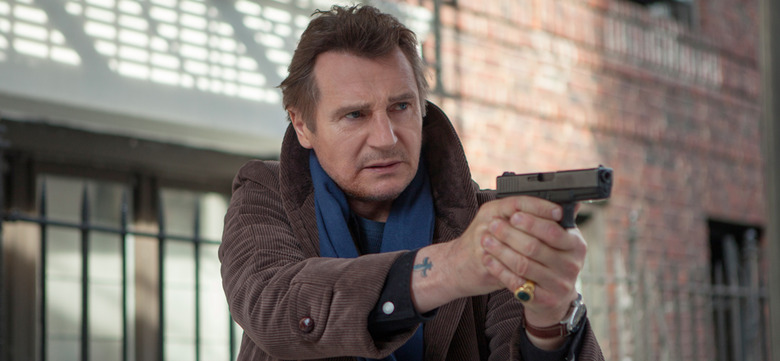 Earlier this month, Liam Neeson indicated that his streak of action movies might be coming to an end. During an interview at the Toronto International Film Festival, the star of Taken, Unknown and The Grey said, "They're still throwing serious money at me to do that stuff. I'm like: 'Guy's I'm sixty-f***ing-five.' Audiences are eventually going to go: 'Come on.'" Around the web, everyone took this as Neeson saying he would be stepping back from the action genre now that he's in his mid-60s, but apparently that's not the case.
In a more recent interview with Variety, Liam Neeson said that he has no intention of retiring from action movies anytime soon. When Neeson was asked about his recent statement about getting too old to continue his run as an action star, effectively retiring from the genre, the actor went in the complete opposite direction of his previous statement:
"It's not true, look at me! You're talking in the past tense. I'm going to be doing action movies until they bury me in the ground. I'm unretired."
Though Liam Neeson retiring from action movies at 65 would make sense, let's not forget that Arnold Schwarzenegger and Sylvester Stallone are still making action movies at ages 70 and 71 respectively. Their action roles haven't been quite as frequent as Liam Neeson's work in the genre since Taken took the actor's career in a surprising direction, but it's still not out of the question for these stars to keep kicking ass in their later years.
Even if Liam Neeson did ultimately decide to retire from action movies, we still have The Commuter to look forward to in January 2018, which looks like it might be more intriguing than the actor's usual action thriller fare. But for those who just want to see Neeson kicking ass, don't forget that there's a movie called Hard Powder on the way where he plays a snowplow driver out for revenge.
There seems to be enough of an audience who will see Liam Neeson in almost any kind of action thriller, probably the same audience who keeps turning out to see Nicolas Cage make his bargain bin quality movies every year. But at least Neeson knows that at some point that probably won't be the case. Back in 2015, Neeson thought he only had a couple more years left in him for action, but now he can't stop, won't stop, Non-Stop.
Personally, I think Neeson should retire from action movies after making The Revenger, an action comedy that the actor became attached to over two years ago. Though plot details were under wraps, the title suggested that the film from director Ruben Fleischer and writers Thomas Lennon & Robert Ben Garant would see Neeson lampooning the genre that brought new life to his career. We're not sure if that project is still on his future docket or if it's fallen by the wayside, but that would be a smart way to end his run of action movies.