A 'Men In Black' Spin-Off Is Happening, Will Arrive In Summer 2019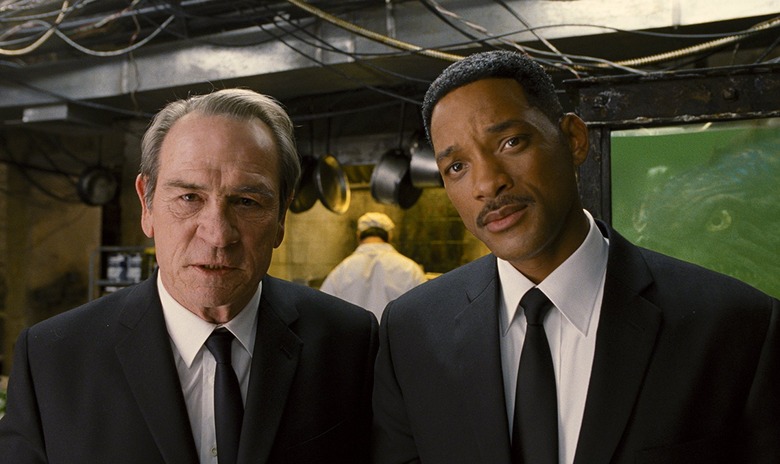 Wipe your minds of the idea of a Men in Black and 21 Jump Street crossover, because the next Men in Black big screen project is a spin-off film.
Sony is officially expanding its Men in Black universe with a spin-off film, but one without original stars Will Smith and Tommy Lee Jones. Still, there will still be plenty of suits and aliens – though hopefully less time travel than we saw in Men in Black 3.
The Men in Black spin-off is being developed by Sony Pictures with Iron Man and Transformers: The Last Knight screenwriters Matt Holloway and Art Marcum penning the script, according to Deadline.
While stars Smith and Jones, who have stuck with the franchise for nearly two decades, aren't expected to reprise their roles as Agent Jay and Agent Kay, respectively, the Men in Black spin-off will build on the world that they helped bring to life.
Deadline reports:
Holloway & Marcum have scripted a contemporary sci-fi pic about the secret black clad force that protects earth from the alien scum of the universe, focusing on new characters chasing villains that put the picture on more of a global scale than the two previous films. The ambition is akin to the way that Jurassic World rebooted and expanded that franchise.
The news of the spin-off comes after talks of a Men in Black and 21 Jump Street crossover has seemingly been killed during the fallout of the 2014 Sony hack. The crossover movie even went so far as to bring on a director and make a logo, but according to Deadline, that film is still in development, even though it's been put on the backburner while this new untitled Men in Black spin-off film takes off first.
Producer Walter F. Parkes, who is actively meeting with potential "top" directors alongside co-producer Laurie MacDonald, told Deadline:
"It's so rare to get to the end of the script and know you're holding a movie in your hands – but Art and Matt have written a spinoff that somehow is true to the core of the MIB world, and yet expands the franchise to a fresh new place."
The last time we saw the Men in Black on screen was 2012's MIB 3, which came nearly 10 years after the previous sequel and featured a confusing and convoluted time travel plot. The suits still fit Smith and Jones like a glove, and the two stars charmed their way to dethroning The Avengers at the box office, earning $624 million globally. However as the two stars got older and explored prestige and indie dramas, discussions came and went of "reinvigorating" the franchise with a female agent or the aforementioned crossover. It seems that Smith, now 49, and Jones, now 71, won't be donning the old suits and sunglasses again.
Parkes, MacDonald, and executive producer Steven Spielberg expect to land a director for the Men in Black spin-off soon, Deadline reports. The film is scheduled for a May 17, 2019 release date.