'Haunters: The Art Of The Scare' Clip: Watch A Scene From This Incredibly Entertaining Haunted House Doc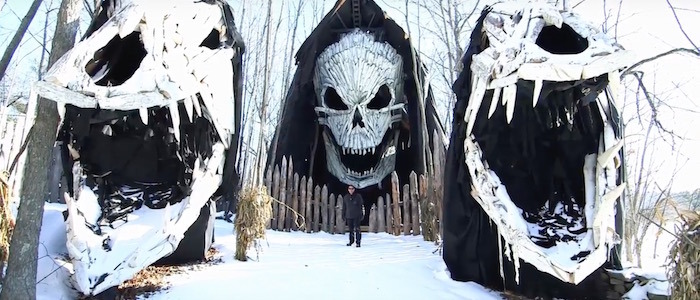 If you're a haunted house fan (or even just a fan of Halloween), you're going to want to check out Haunters: The Art of the Scare when it arrives on Blu-ray and digital download next week. Director Jon Schnitzer's incredibly entertaining documentary about haunted attractions and the people who operate them is funny and freaky and endearing and sometimes tragic. And it features a character so outrageous that he's bound to stir up debate amongst everyone who watches it.
We're pleased to premiere a new clip from Haunters, which showcases the construction of a genuinely impressive haunted house environment, some moody music, and the kind of hilariously mundane, natural punchline that makes the entire movie such a treat.
The clip shows off the extensive construction process required to build a jaw-dropping prop for Haunted Overload, a haunted attraction located in Lee, New Hampshire. That song is "Dead Hearts," written and performed by the band Dead Man's Bones. And the man at the center of it all is Eric Lowther, whose deadpan response at the end of the clip feels like Haunters in a nutshell: the people who have dedicated their lives to scaring the pants off of you are sometimes awkward, sometimes hilarious, frequently low-key folks who vanish into a crowd when they're not constructing elaborate mazes full of monsters.
Haunters: The Art of the Scare held its world premiere at Fantastic Fest 2017 and it's a blast. Well, it's a blast if the subject matter appeals to you. Still, I think the character studies at the heart of the doc will fascinate those who stay away from haunted houses every October. From the story of a woman who has made a literal career as a legendary scare actor to shocking tale of the charming (and possibly insane?) owner of an "extreme" haunt, this is a delightful and thoroughly entertaining movie that offers a vivid snapshot of what this very specific industry looks like in 2017. If you want to know more, you should definitely check out the trailer.
Here's the official synopsis for the film:
Haunters: The Art Of The Scare is a heart-warming and heart-stopping documentary about how family-friendly haunted houses for Halloween have spawned a growing subculture of extreme horror simulations. What kind of person dedicates their life to turning other people's nightmares into reality, and how far is too far?  Explore the rise of terror as entertainment, by going behind-the-screams and into the lives of Shar Mayer, legendary scare actor, Donald Julson, a traditional boo-scare maze designer, and the infamous Russ McKamey, as he creates the most controversial full-contact haunt of all time... in his own backyard.  Also featuring John Murdy (Universal Hollywood Halloween Horror Nights), Jon Braver (Delusion), Josh Randall (Blackout), Eric Lowther (Haunted Overload), Bruce Stanton (Reign of Terror), Sylvia & Jen Soska (American Mary & GSN's HELLEVATOR), Jessica Cameron (Truth or Dare) and many more talented artists.
Haunters will be available for purchase on Blu-ray and digital on October 3, 2017. Look for my interview with Schnitzer before then.