Kumail Nanjiani And John Cena Are Teaming Up For A Buddy Cop Comedy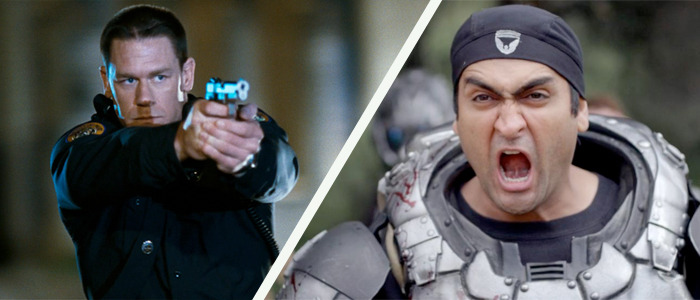 The success of a buddy cop movie not only hinges on a good script (as all movies do), but on the strength of the duo at the center of the movie. Mel Gibson and Danny Glover in Lethal Weapon, Gene Hackman and Roy Scheider in The French Connection, and Sylvester Stallone and Kurt Russell in Tango & Cash are all prime examples of fantastic partners in justice. But putting two partners together can be infinitely more difficult when comedy is involved, and now a new duo will be put to the test.
Universal Pictures has picked up an untitled buddy cop comedy from the mind of Zombieland director Ruben Fleischer, one that will have wrestler turned actor John Cena teaming up with Silicon Valley co-star Kumail Nanjiani.
Deadline has news of the John Cena and Kumail Nanjiani movie set up at Universal Pictures, though no plot details are known at this time other than the presence of the aforementioned actors, whose stars have been rising quickly and assuredly over the past few years.
Kumail Nanjiani is fresh off the success of his indie romantic comedy The Big Sick. Based on the true story of how he met his wife Emily V. Gordon, the Pakistani comedian not only starred in the movie, but co-wrote it with his wife (who was played in the movie by Zoe Kazan). It's one of the most acclaimed movies of the year, and there has been some Oscar buzz for the film as awards season gets closer. Nanjiani has also been a comedian for years, becoming much more prominent on screen since joining the ensemble on the HBO series Silicon Valley, and recently landing the coveted gig of hosting Saturday Night Live.
As for John Cena, with recent roles in movies such as Trainwreck, Daddy's Home and the upcoming animated movie Ferdinand and Transformers spin-off Bumblebee, the wrestler is becoming a reliable talent outside of the ring. With an eye towards finding the same sure-footing in Hollywood as fellow wrestler Dwayne "The Rock" Johnson, it's clear that John Cena intends to stick around on the big screen for awhile. Whether he has the same staying power or worthy comedic chops as Johnson remains to be seen, but putting him in a movie like this will be a fine test.
Directing the movie will be Ruben Fleischer, who is currently preparing to shoot the Venom movie for Sony Pictures. He'll also be producing the movie alongside David Bernad through their own Universal Pictures Television-based production banner The District. Bernad just came off working with John Cena in the HBO Sports mockumentary Tour De Pharmacy, which was written and produced by Murray Miller, who is also attached to write this new buddy cop comedy for Cena and Nanjiani.
Though I'm still unsure of John Cena's ability to successfully lead a movie, the fact that Kumail Nanjiani is being put in a movie like this as a co-lead is enough to pique my curiosity. At the very least, Cena deserves a chance to prove himself and stretch his wings. Dwayne Johnson didn't make the best movies early in his career, and Cena already seems to have gotten some of those terrible movies out of the way before proving himself in more recent projects. Here's hoping that he and Nanjiani make for an entertaining duo.