Cool Stuff: Deflower Your Wall With This 'Almost Famous' Print By James Flames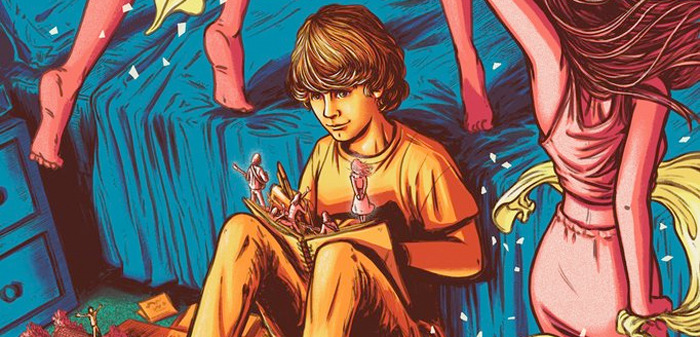 "Your time has come. Opie must die!"
Almost Famous is quite the popular film among the /Film crew, counted as an all-time favorite for several members on our staff. Therefore, we're happy to call your attention to a brand new print available today at Bottleneck Gallery honoring a true coming-of-age scene from Cameron Crowe's splendid cross-country journey through the world of rock and roll.
Check out the Almost Famous print by James Flames below.
The style of the print calls back to the trippy style of the 1970s, the period in which the film is set. Furthermore, it features references to several key elements and moments from Almost Famous. There's the band's bus Doris speeding across one of William's notebooks on the floor. Elsewhere there's a pop-up style image of Russell Hammond (Billy Crudup) standing on the roof of a real Topeka house claiming he's a golden god. And if you look at the record spinning on the turntable, it's "Fever Dog" by Stillwater, who is playing from the notebook that William is holding while the band-aids prepare to deflower him.
The version on the right is the regular one which will have a hand-numbered edition of 175 and will cost you $50. Meanwhile, the version on the right is even more gloriously in the style of the 1970s as it's a Lava Lamp Holofoil variant with a hand-numbered edition of 50, and it will cost you $65. Both versions of the prints measure 24x36 inches and will be on sale at 12pm Eastern time today, September 26, at Bottleneck Gallery.