20 Years Later, 'L.A. Confidential' Ranks As One Of The Best Movies Of The '90s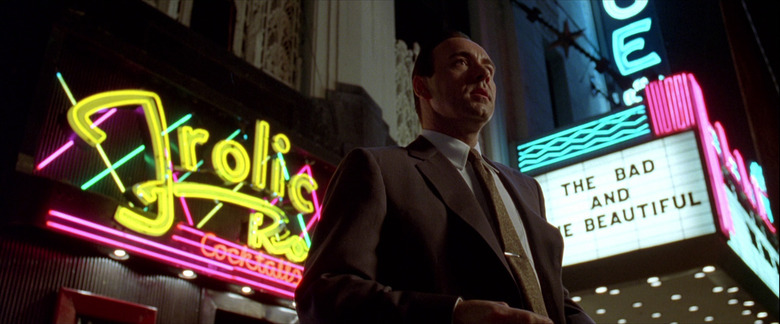 Two years ago, the Library of Congress inducted L.A. Confidential, the 1997 neo-noir film directed by the late Curtis Hanson, into the National Film Registry. The movie hadn't even reached its twentieth anniversary yet, but it did last month, even as word came that CBS is developing a television adaptation of James Ellroy's original novel.
Having witnessed firsthand the divisiveness of David Lynch with my look at another L.A. movie, Mulholland Drive, it is tempting to stir the pot a little further now, and set up a false dichotomy, where I say, "There are two kinds of people in this world: Titanic people and L.A. Confidential people." Because of course, L.A. Confidential lost Best Picture to Titanic at the Academy Awards. Now we're here to talk about the real Best Picture of 1997. This film's seedier aspects might give it less mass appeal, but it nonetheless stands as a towering cinematic achievement.
We're about to go "off the record, on the QT, and very hush-hush," and examine  L.A. Confidential 20 years later.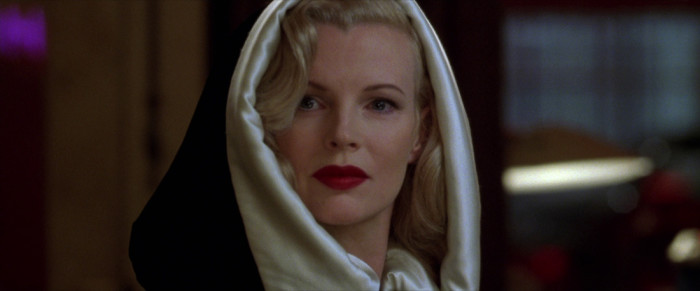 Though it was Kim Basinger who got most of the love on Oscar night, L.A. Confidential is actually a film that was instrumental in the career of several actors. Seminal film noir, yes, but through a stroke of serendipity, it also managed to catch a few fresh talents right as they were breaking big.
I haven't read enough of his early novels to pinpoint if this is exactly when it started, but I do know that after L.A. Confidential, author James Ellroy, the "Demon Dog of American Crime Fiction," would slide into a pattern of building his book narratives around three perspectives. The film version of L.A. Confidential surely persists as one of the better literary adaptations of the past twenty years. I know it introduced at least one cinephile and bibliophile to Ellroy's work, sending yours truly on the reading trail with the likes of The Black Dahlia, White Jazz, and American Tabloid.
In Curtis Hanson's film, the three perspectives take the form of Sergeants Jack Vincennes and Edmund Exley, along with Officer Bud White. Played by Kevin Spacey, Guy Pearce, and Russell Crowe, respectively, these three cops are drawn into the mystery of a massacre at a coffee shop named the Nite Owl.
The faces of Pearce and Crowe, both of whom hail from Down Under, were mostly unknown to American audiences at the time. But L.A. Confidential would do wonders for their visibility, almost catapulting them to fame. In three years' time, they would both kick off the new millennium by taking the sole lead in their own films, with Pearce starring as the ever-forgetful Leonard Shelby in Memento, and Crowe serving up sword-and-sandals swagger as Maximus Decimus Meridius in Gladiator.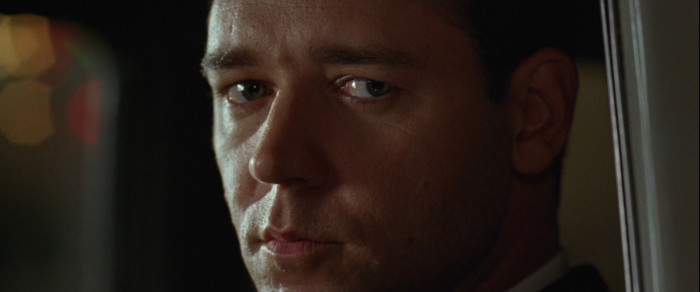 For his part, Spacey's star was already on the rise. Before he got all doughy and started hamming it up as Frank Underwood on Netflix's House of Cards, his filmography was notable for its late-1990s hot streak, in which he appeared in such films as Seven and The Usual Suspects, earning a Best Supporting Actor Oscar for the latter. But it was L.A. Confidential that cemented Spacey as leading man material, paving the way for American Beauty in 1999. For his performance as Lester Burnham, Spacey would take home the Best Actor Oscar, just as Crowe would for Gladiator. Like so many other great films, L.A. Confidential managed to bring together a perfect storm of talent at just the right time.
There is a very good reason why Basinger won Best Supporting Actress for this film. She has never been better than she was as Lynn Bracken, the token "hooker with a heart of gold" and platinum blonde locks modeled after silver screen legend Veronica Lake. The use of Lake's name helps invoke the familiar femme fatale archetype of many a film noir, since she starred in a few of those herself. Known for her signature style of peek-a-boo hair, Lake actually helped inspire the look of Jessica Rabbit in Who Framed Roger Rabbit.
While comic book movie fans might associate Basinger more with the role of Vicky Vale in Batman, Lynn Bracken is a character that leans into her specific qualities as an actress more. The airy voice, the statuesque beauty, these allow her to perfectly embody a character who has been molded into the living image of a Hollywood dream girl, so she can exist as an object for men (not unlike the way the real Veronica Lake became a pin-up girl).
Unlike a historical epic with a pre-determined ship-sinking, one thing L.A. Confidential has going for it is the element of surprise. And this is where we get into spoilers for this 20-year old movie. Do yourself a favor and go watch it now, if you haven't already.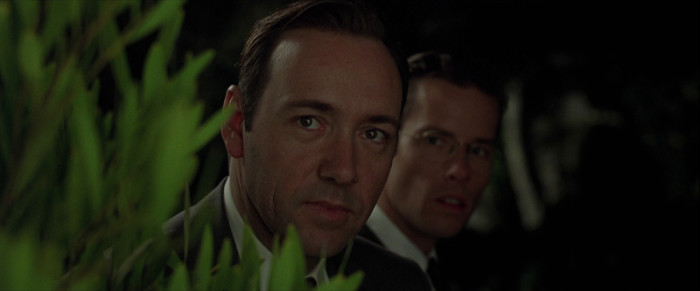 When I saw L.A. Confidential for the first time at the theater, I remember the crowd collectively gasping as Dudley Smith, played with chilling effectiveness by James Cromwell, whips around with a gun and shoots Spacey's character in his kitchen. As we have already detailed, Spacey was the most well-known of the three lead actors. So to see him meet his end at the hands of his own trusted police captain came as an audible shock to people sitting in that theater. While not as epoch-making as Marion Crane in Psycho, Jack Vincennes would surely have a place on the list of cinema's most surprising death scenes.
On Inside the Actor's Studio, Spacey related an anecdote to host James Lipton about how he met to discuss his L.A. Confidential role at the Formosa Cafe, the same real-life diner where the film's humorous Lana Turner scene takes place. With the muse of Dean Martin looking down on him, Spacey started down the path to Jack Vincennes, affecting a slick, "ring-a-ding" air that would help give the audience a false sense of security, even as his sell-out celebrity cop was forced to grow a conscience and get involved in the mystery.
Rather than delivering up a twist for the sake of twists, however, the stunning betrayal that leads to his character's death only serves to enforce the film's themes. The same goes for the moment when Pearce's "political animal," Exley, gives into Lynn Bracken's purposeful seduction, showing his true colors as a man just as much ruled by base desires as the next guy (who happens to be his fellow officer, Bud White).
To quote Dudley Smith, L.A. Confidential is a film with "an eye for human weakness." The world its characters inhabit is a place where corruption is universal. Noir thrives on exposing society's seedy underbelly.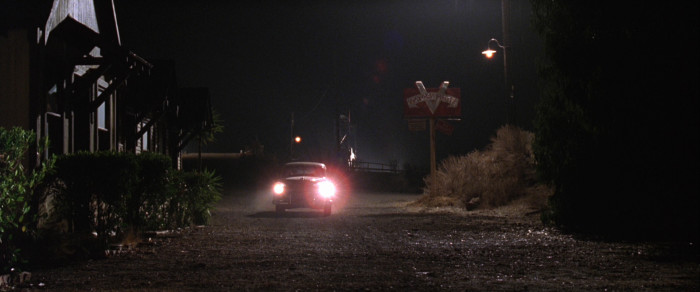 Again, the Exley twist serves a greater purpose in that his tryst with Bud's girlfriend sets off the consequence of pitting our two surviving heroes against each other. Even when they realize they have been set up, and band together to take down Dudley, the film strands them in a seemingly hopeless trap at the Victory Motel.
Earlier this year,  Jack Giroux wrote about how the Victory Motel scene is one of the best movie gunfights of all time. "Watching the light come in through the bullet holes and the faceless adversaries lurking in the dark makes for some incredible images," he wrote. At the theater in 1997, this is another instance where I remember hearing the crowd collectively exhale. It had been holding its breath throughout that gunfight.
L.A. Confidential is that kind of movie. It leaves you breathless.