Quentin Tarantino Is Totally Down To Direct A 'Star Trek' Movie And Already Has Ideas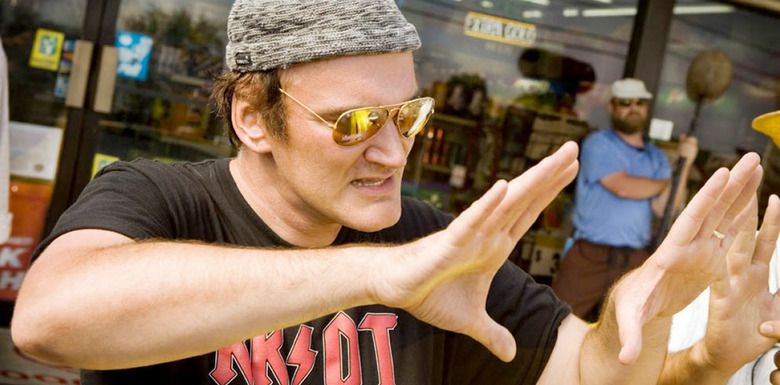 We're not sure when we'll be getting another Star Trek to follow up Star Trek Beyond, but we do know that Paramount Pictures isn't too happy with franchise producer J.J. Abrams after he decided to head back to Lucasfilm and Disney to direct Star Wars: Episode IX. The good news is that they don't have to wait for him to get the sequel off the ground since Justin Lin proved to be a fine successor to the director's chair. And there might be one more that you never would have considered
Quentin Tarantino is known for making movies like Pulp Fiction, Inglourious Basterds and Django Unchained, films that are all at once wild, violent, and complex with rich characters and crisp dialogue. Not all of those traits sounds like they would fit in with a mission involving the crew of the U.S.S. Enterprise, but if the opportunity presented itself, Tarantino has revealed that he would seriously consider boldly going there.
This rumbling about Quentin Tarantino directing Star Trek comes from one of those annoying TMZ ambushes at an airport where the director was asked whether he would consider getting behind the camera for the iconic sci-fi franchise. Tarantino responded simply with, "It would be worth having a meeting about."
But why did TMZ think it made sense to ask Quentin Tarantino about Star Trek? Well, there's an audio clip on YouTube that's been making the rounds online after being published a couple weeks ago (even though it's actually from a 2015 episode of the Nerdist podcast), and it features Quentin Tarantino saying that he'd be more interested in directing a Star Trek movie than a Star Wars movie. The director even went on to talk about what makes Star Trek more appealing:
Besides expressing his discontent with Star Trek Into Darkness, Tarantino noted that there are plenty of classic Star Trek episodes that could be turned into feature-length movies, such as "The City on the Edge of Forever," the 28th episode from the show's first season. Furthermore, Tarantino also references the Star Trek: The Next Generation episode "Yesterday's Enterprise" as being an interesting story for a big screen adaptation.
However, if someone is going to get Quentin Tarantino to follow through on making a Star Trek movie, they better hurry up. The same TMZ video where the director said he would take a meeting about Star Trek also featured confirmation that he only intends to make two more films before he retires. If a Star Trek movie fell into his lap, would he be willing to expand his road to retirement by one more movie? There's only one way to find out.
Would you like to see Quentin Tarantino directing Star Trek?