'Five Fingers For Marseilles' Clip: Guns And Gorgeous Landscapes Dominate This South African 'Western'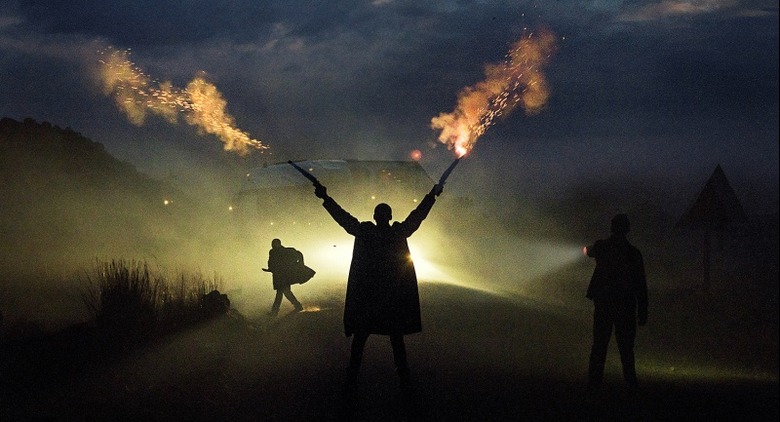 The western may have been born in Hollywood and built to tell tales of adventure in the untouched American landscape of the 19th century, but the genre has broadened its horizons over the years. Now, a western is more of a state of mind than a description of where a particular movie takes place.
Cast in point: the new movie Five Fingers For Marseilles, which evokes strong western vibes despite taking place in modern South Africa. Michael Matthews' directorial debut premiered at the Toronto International Film Festival this month and is set to play at Fantastic Fest this weekend. In the meantime, we're pleased to debut an exclusive new clip from the film, which finds a band of righteous outlaws reuniting after 20 years to combat a new threat to their community.
Here's the clip, which features a scene that takes full advantage of South Africa's arid beauty to stage a scene.
This is the kind of genre film that grabs my attention at film festivals. While Matthews and screenwriter Sean Drummond are clearly borrowing concepts and imagery from more familiar Hollywood movies, the location (not to mention the use the Sesotho language) makes this look fresh and exciting and worth seeking out.
Here's the official trailer for Five Fingers For Marseilles:
The film stars Vuyo Dabula, Hamilton Dhlamini, Zethu Dlomo, Kenneth Nkosi, Mduduzi Mabaso, Aubrey Poolo, Lizwi Vilakazi, Warren Masemola, Dean Fourie, Anthony Oseyemi, Brendon Daniels, Jerry Mofokeng, Toka Mtabane, Vuyo Novokoza, Ntsika Tiyo, Sibusiso Bottoman, Abongile Sithole, and Qhawe Soroshi. Here's the synopsis:
Apartheid South Africa: The community of Railway, attached to the remote town of Marseilles, are the victims of brutal police oppression and only the young "Five Fingers" are willing to stand up to them. Their battle is heartfelt but innocent, until hot-headed Tau kills two policemen in an act of passion. He flees, leaving his brothers and friends behind, but his action has triggered a conflict that will leave both Marseilles and the Five Fingers changed.  Twenty years later, Tau is released from prison, now a feared and brutal outlaw, "The Lion of Marseilles." But scarred and empty, he renounces violence and returns home desiring only to reconnect with those he left behind. At first, Tau finds Marseilles seemingly at peace – the battle for freedom was won, and now the remaining Five Fingers are prominent leaders of their town.  However, after reuniting with childhood love, Lerato, and her fiery son, Sizwe, it becomes clear that Marseilles is caught in the grip of a vicious new threat and to Tau's dismay, his childhood friends themselves may have allowed it in. When he and his loved ones become direct targets, he is reluctantly compelled to fight once and for all. Calling on partners-in-crime, both old friends and new, the Five Fingers rise again. Standing against once-allies and new enemies alike, they must put their lives at risk for the sake of Marseilles. It's their duty to protect it.  Even from each other.