Dylan McDermott & Dermot Mulroney To Appear On FOX's 'LA To Vegas' Together, Confusing Everyone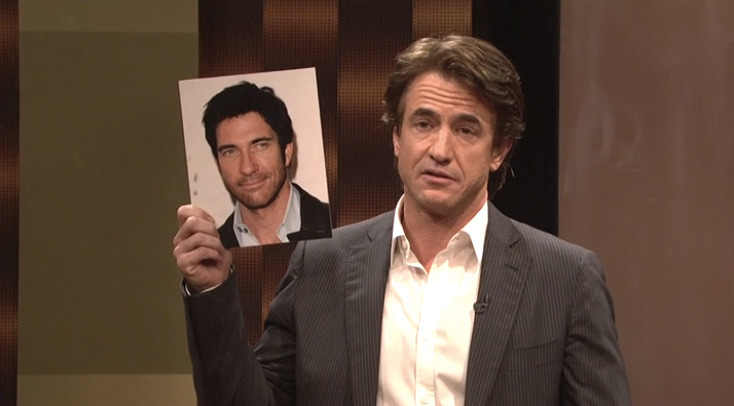 For years, audiences have had trouble telling apart actors Dylan McDermott and Dermot Mulroney. There's even an entire Saturday Night Live game show sketch with contestants trying to pinpoint which is which. Now audiences will be even more confused, because the two actors are going to appear together in a new TV show coming to FOX early next year.
LA to Vegas is one of FOX's new comedy programs that will debut on the network in the midseason. The series, which is executive produced by Adam McKay (The Big Short), Will Ferrell (Anchorman: The Legend of Ron Burgundy), Lon Zimmet (Unbreakable Kimmy Schmidt), and Steve Levitan (Modern Family), follows Dylan McDermott (the one from Miracle on 34th Street and The Practice) as the captain of a plane from Jackpot Airlines, which flies the same roundtrip flight from Los Angeles to Las Vegas for all those people looking for a big win on the strip. The part Mulroney is taking on the series will be a guest role that will allow the two actors to play off each other magnificently.
For those who haven't heard of the LA to Vegas TV series until now, here's the trailer from the upfronts:
McDermott plays Captain Dave, a narcissistic pilot whose fighter-pilot dreams never quite worked out. As for Dermot Mulroney (the one from My Best Friend's Wedding and New Girl), The Hollywood Reporter reveals he'll be playing Captain Steve, a charismatic pilot with better international routes and an attitude that really gets on Captain Dave's nerves. You can expect McDermott and Mulroney to hurl plenty of insults at each other, and hopefully there will be some kind of meta reference to the fact that audiences always confuse them.
This will be the first time that Dylan McDermott and Dermot Mulroney have appeared together in a movie or TV series, though we did come close with that aforementioned game show sketch:
With Dylan McDermott and Dermot Mulroney facing off, we can only hope that Derbel McDillet is next to get a guest spot on LA to Vegas, followed closely by Rupert Everett.
For those of you who may be looking for more information about LA to Vegas, here's the official synopsis:
Welcome to Jackpot Airlines, a budget carrier whose junket flight from LA to Vegas and back again, is filled with dreamers looking for that big score. Holding (or, more to the point, barely holding) these voyages together is Ronnie (Kim Matula), a long-suffering flight attendant who tries to keep her cool (oftentimes, with little success) whether she's dealing with a bi-polar bride-to-be or the dead body in Row 13. Managing the revolving door of bachelor parties and 21st birthdays gets even trickier when Ronnie develops a "location-ship" with Colin (Ed Weeks), a regular passenger and an economics professor, whose son and soon-to-be ex-wife live in Vegas. Further complicating her job every weekend is Captain Dave (Dylan McDermott), the narcissistic pilot whose fighter-pilot dreams never quite worked out; Bernard (Nathan Lee Graham), the always-positive career flight attendant who thinks there's no flight more magical than the LA-to-Vegas; Artem (Peter Stormare), the genial professional gambler who serves as the plane's resident (but unofficial) bookie; and Nichole (Olivia Macklin), the sweet-natured, part-time stripper who's a lot savvier than people realize. It won't be easy, but this unlikely group of miscreants and dreamers will eventually go from being strangers on a plane to a supportive, if unconventional, family...from Friday to Sunday...whether they like it or not.
LA to Vegas premieres on FOX sometime in 2018.