'Saturday Night Live' Sets Gal Gadot And Kumail Nanjiani As October Hosts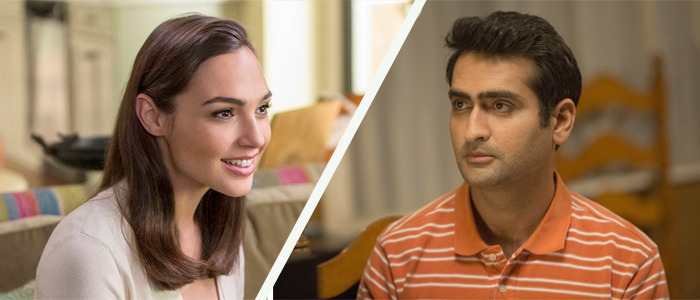 The end of this month will bring the 43rd season premiere of Saturday Night Live, fresh off winning several Emmys recently, including Outstanding Variety Sketch Series. They've got a lot to live up to after last season really brought out the best in the writers room and the cast, and it sounds like they'll be starting things off on the right foot with a great batch of hosts to start things off.
Ryan Gosling was already announced to host the season premiere on September 30, just in time to promote the forthcoming sequel Blade Runner 2049. Now NBC has announced two more exciting hosts to follow him in the two weeks following: Wonder Woman herself, Gal Gadot and The Big Sick star and co-writer Kumail Nanjiani.
Here's the announcement NBC posted on Twitter revealing the next two Saturday Night Live season 43 hosts:
Happy Fall! #SNL pic.twitter.com/gnHXjREPlN

— Saturday Night Live – SNL (@nbcsnl) September 21, 2017
Gal Gadot couldn't host Saturday Night Live at the end of the previous season because she was fresh off having a baby girl. But it all worked out for the best, because now Wonder Woman is an international sensation and everyone wants more Gal Gadot. Bringing the actress in to make her hosting debut should rake in some pretty big ratings, and hopefully the writers will have a clever Wonder Woman sketch for her to star in.
Meanwhile, I couldn't be more excited that Saturday Night Live is bringing Kumail Nanjiani in to host for his first time. Normally SNL goes for huge names when it comes to hosting, but the fact that Kumail Nanjiani has made big waves with his romantic comedy The Big Sick this summer, in addition to being a stellar part of the ensemble cast of Silicon Valley, probably turned plenty of heads. Plus, it helps that Kumail Nanjiani is quite the popular stand-up comedian and has appeared in plenty of sketch comedy over the years. Here's one of my favorite bits from his stand-up special Beta Male:
It's always great when you have a comedian who is ready for anything when it comes to sketch comedy. Plus, since Kumail Nanjiani is an accomplished writer in his right, he might have some ideas ready for the writers to play with as well.
Here's hoping that SNL can keep up the momentum from their previous season. We'll be missing Bobby Moynihan, Vanessa Bayer and Sasheer Zamata, which might shake things up a bit, but Alec Baldwin will still be appearing intermittently as Donald Trump, including the season premiere. Will we see any more stunt casting this season to continue lambasting the current presidential administration? We'll just have to wait and see.
Saturday Night Live returns for season 43 starting on September 30.