'Maze Runner: The Death Cure' Images Provide Our Best Look Yet At The Delayed Sequel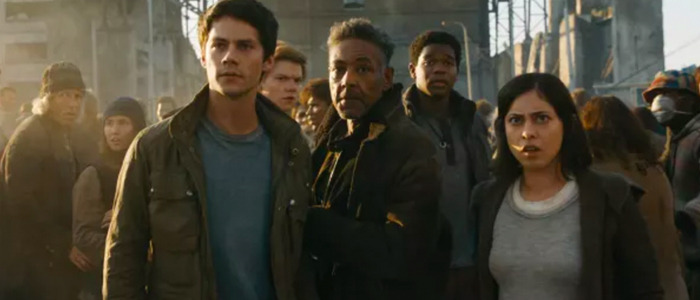 Maze Runner: The Death Cure has had a troubled production, to put it mildly. The third and final film in the Maze Runner series was originally set to be released earlier this year, but a near-fatal accident befell the film's star and put production on hold. Now Mazer Runner: The Death Cure is set for an early 2018 release, and this new batch of photos gives us our best look yet.
See the Maze Runner The Death Cure images below.
"I had lost a lot of function, just in my daily routine," said Maze Runner star Dylan O'Brien about the aftermath of the production-halting accident. "I wasn't even at a point where I felt like I could handle social situations, let alone showing up and being responsible for work every day. Long hours on set, delivering a performance and carrying a movie...it just makes your palms sweat." O'Brien was struck by a car while filming Maze Runner: The Death Cure, and while the details of the accident remain mostly sketchy – O'Brien himself doesn't like to talk about the particulars – they were serious enough to completely shut down production.
There was even some question about whether O'Brien would return to the production at all, but ultimately he decided to finish the franchise he started:
"Nothing inside of you wants to go back to that...It took a lot of deep searching past those gut instincts that I was having just because of the trauma that I experienced to realize that I did want to finish it...I wouldn't have been ultimately happy with [not returning to finish the film], I don't think. In the moment, it would have been a temporary relief because I would have run from it, but it would have always stuck with me a little bit...I knew it was going to be really hard...but [I thought] if I got through...this...I think I'll come out of the other side being really happy that I did it. And I did."
Maze Runner: The Death Cure resumed filming in March, and now Buzzfeed has the first real look at images from the film. Based on the young adult dystopian science fiction novels by James Dashner, the Maze Runner series follows a group of young people who find their memories wiped and their lives in danger as they're placed within a deadly maze. The third and final film finds O'Brien's character Thomas leading a group to save captured friends held in a deadly labyrinth.
The images offer a glimpse at O'Brien and costars Patricia Clarkson, Thomas Brodie-Sangster, Giancarlo Esposito, Dexter Darden, and Rosa Salazar in the grimy, dark, dystopian settings the film's world has created. For a while, Hollywood was greenlighting YA book franchises into films left and right, but now Maze Runner appears to be the last series standing. Once it concludes next year, there won't be any YA franchises left...until someone decides to reboot something, of course. Maze Runner: The Death Cure, also starring Nathalie Emmanuel, Aidan Gillen, Walton Goggins, Barry Pepper, and Will Poulter, opens on January 26, 2018.