Neil Gaiman Returns To 'The Simpsons' Treehouse Of Horror' In A 'Coraline' Parody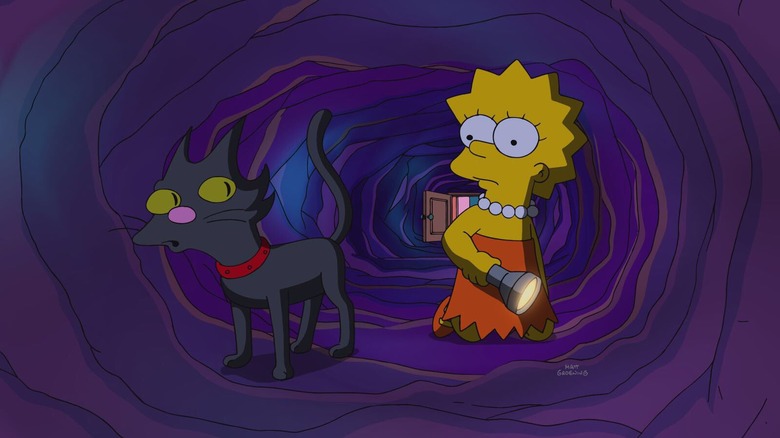 The Simpsons are reviving their collaboration with renowned science fiction and horror writer Neil Gaiman for the show's annual "Treehouse of Horror" episode in a positively purr-fect partnership.
But instead of a cameo from an animated version of the author himself, Gaiman will be voicing a character from a familiar story of his.
"Treehouse of Horror" is The Simpsons' most experimental time of the year, each episode of which contains three shorter vignettes that pay homage to or parody famous horror tropes. Everything from The Twilight Zone and Night of the Living Dead gets a nod, including past and current writers or directors who have made an impact on the genre.
One of those writers is Gaiman, who has appeared on the long-running Fox animated series before as himself in the episode "The Book Job" in 2011 — though that was notably not a "Treehouse of Horror" episode. Now one of the masters of the macabre is returning to The Simpsons in the genre he knows best: horror. And it will be an episode parodying one of his most eerie children's book adaptations, Coraline.
A Neil Gaiman associate let Twitter in on the secret that the American Gods and Good Omens writer was going to appear in 2017's "Treehouse of Horror XXVIII."
we kept this secret since last Oct but now it's out- @neilhimself will be on Treehouse of Horror 2017! what's your #Simpsons horror name? pic.twitter.com/RciYEkdniT

— Cat Mihos (@neverwear) September 21, 2017
I am on the Simpsons Treehouse of Horror this year. I do not play myself this time. Instead I voice a character who has not spoken before.

— Neil Gaiman (@neilhimself) September 21, 2017
Much frenzied theorizing took place over the next few minutes as fans tried to figure out who he was playing. Gaiman put a stop to the treasure hunt with a picture of his character, the cat from Coraline, with Lisa. Looks like his segment in "Treehouse of Horror" will be a parody or homage to the creepy stop-motion-animated adaptation of his children's book directed by Henry Selick.
The eagle-eyed among you may also be able to work out what film or story will be receiving the Simpsons Halloween treatment this year. pic.twitter.com/PX7gergwuo

— Neil Gaiman (@neilhimself) September 21, 2017
The cat looks a little less bug-eyed than the version we see in the 2009 film, but is an exact replica of the scene in which Coraline (now Lisa) is lead through the hellish rabbit hole from her world to the Other Mother's dimension. In the film Coraline follows a mouse, but the talking cat better suits — and looks like — Gaiman's sensibilities.
The interesting thing is, like Coraline, Gaiman's genre isn't strictly horror. While Gaiman uses some macabre elements in his stories like Sandman, Coraline, or Gutted, his writings are often fantastical or mythological with dashes of horror. Sometimes his works can become intensely disturbing — I still have nightmares from a certain orgy-murder scene in Sandman — but they wouldn't fall in the vein of a standard horror film. That could introduce a welcome amount of whimsy and surrealism into the episode that'll make it all the more worth watching.