Now Stream This: A Kurosawa Classic, The Best Horror-Comedy Ever Made And A Classy Spy Thriller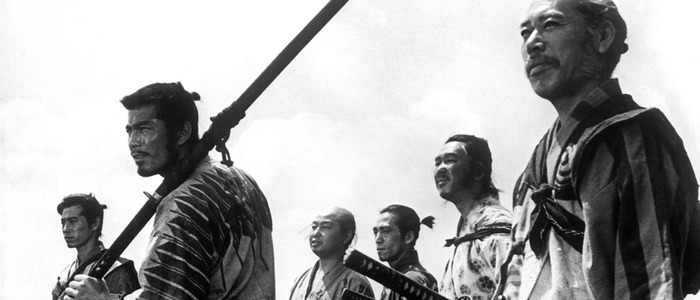 (Welcome to Now Stream This, a column dedicated to the best movies streaming on Netflix, Amazon, Hulu, and every other streaming service out there.) 
Summer is over. Good riddance, I say! Bring on chilly weather, heavy jackets and pumpkins as far as the eye can see. I'm talking thousands of pumpkins here, people. As the warm weather subsides and the cooler weather prevails, it's time to once again shun the outdoors, bundle up with your blankets and stream some movies. In this edition of Now Stream This, we have a classic from Akira Kurosawa, a spy thriller for people who have no interest in seeing the new Kingsman movie, Al Pacino hamming up, the best horror-comedy in film history, and more! Let's get streaming
Now Streaming on FilmStruck
Akira Kurosawa's epic 1954 classic is unparalleled, even though it's been adapted several times into several different films (mostly named The Magnificent Seven). The set-up is simple: a group of peasant farmers hire a band of samurai to protect their village from bandits. But with this framework, Kurosawa crafts a film brimming with excitement, pathos, honor and violence; a sweeping, absorbing experience. For 207 minutes, Kurosawa fully engrosses you in the cinematic world he's created. Toshiro Mifune is remarkable as one of the samurai who seems like he's all-talk but eventually proves honorable.
For fans of: Throne of Blood, The Magnificent Seven, hungry samurai.
2. An American Werewolf in London
Now Streaming on Amazon Prime Video
What's the greatest horror-comedy of all time? I'll give you the answer, and there's no room for argument here: An American Werewolf in London. John Landis' 1981 monster classic is funny, scary and often alarmingly violent. They just don't make them like this anymore, and they never really did to begin with. David Naughton is an American tourist who finds himself turning into a werewolf in the U.K., with bloody results. Rick Baker's state-of-the-art werewolf effects were so groundbreaking that they became the first-ever recipient of an Academy Award for Best Makeup.
For fans of: Innocent Blood, Animal House, Griffin Dunne as a lively corpse.
3. Tinker Tailor Soldier Spy
Now Streaming on Netflix
This week, Kingsman: The Golden Circle will assail audiences with style and bombast. But if you're looking for a much more reserved, refine spy film, you can't go wrong with Tomas Alfredson's icy Tinker Tailor Soldier Spy. Retired spy George Smiley (Gary Oldman, superb as always) begins suspecting there's a mole somewhere within British intelligence, and seeks to root him out. Cool and calculated, featuring a dynamite cast that includes Colin Firth, Tom Hardy, John Hurt, Toby Jones, Mark Strong, Benedict Cumberbatch, and Ciarán Hinds, Tinker Tailor Soldier Spy is one of the best spy flicks you'll ever see.
For fans of: The Night Manager, The Constant Gardener, blonde Benedict Cumberbatch.
Now Streaming on Amazon Prime Video
Whit Stillman adapts Jane Austen in this hysterical, brilliantly constructed comedy set in the late 1700s. Kate Beckinsale, reminding us all that she's been totally misused by countless Underworld sequels, is Lady Susan Vernon, a noblewoman determined to find a suitor for her daughter, whether her daughter likes it or not. Everyone is a delight here, but Tom Bennett steals the show as the charmingly clueless Sir James Martin.
For fans of: Metropolitan, The Last Days of Disco, tiny green balls.
Now Streaming on FilmStruck
Steve McQueen made his feature directorial debut with this 2008 drama centered around a prison hunger strike in Northern Ireland. Unflinching in the way it presents its subject matter, Hunger is hard to watch but still an immense testament to McQueen's talent for filmmaking. Star Michael Fassbender is fantastic, particularly in an unbroken 17-minute long shot that's already the stuff of movie legend.
For fans of: Shame, In the Name of the Father, long takes.
Streaming on Hulu October 1
Lord do I love some glorious trash, and Taylor Hackford's 1997 horror thriller The Devil's Advocate is something of a trashterpiece. Keanu Reeves, sporting a not-very-believable Southern accent, is a small time lawyer who gets wooed to come join a big law firm in that den of iniquity known as New York City. So Reeves packs up his wife (Charlize Theron) and moves to the Big Apple only to make a shocking discovery: his new boss, John Milton (a gloriously over-the-top Al Pacino) is the devil himself! This is a silly, silly film but it's a complete hoot to watch. It would actually make kind of a great double-feature with Darren Aronofsky's recently released, highly polarizing mother!
For fans of: mother!, End of Days, The Firm, Al Pacino shouting.
Streaming on Netflix 9/29
Stephen King is on a roll lately, with a sudden surge in adaptations of his books, including the hugely successful It. Now one of King's lesser novels, Gerald's Game, has a film adaptation, courtesy of Mike Flanagan. Falanagan is one of the most promising horror filmmakers working today, and he does a great job here taking King's concept and creating a nasty little thriller out of it. Carla Gugino and Bruce Greenwood are a married couple who try to spice-up their sex life by adding a pair of handcuffs. Things don't go according to plan. Gerald's Game will play at Fantastic Fest this week before dropping on Netflix.
For fans of: Dolores Claiborne, Misery, a little light S&M.
Now streaming on Shudder
Before he made Whiplash and La La Land, Damien Chazelle penned this Hitchcock-by-way-of-De Palma thriller that seems ludicrous on the surface but turns out to be surprisingly effective. Elijah Wood is concert pianist who finds his big comeback performance to be even more intense than expected. A sniper (John Cusack), waiting in the wings of the theater, has threatened to shoot Wood's character dead if he happens to play one wrong note during the performance. That may sound goofy, but director Eugenio Mira brings enough wild style to Grand Piano to make it highly watchable.
For fans of: Body Double, Whiplash, Femme Fatale, John Cusack literally phoning his performance in.
Now Streaming on Hulu; leaving 9/30
Not all horror remakes are bad. Chuck Russell's 1988 remake of the 1958 horror flick of the same name is sharp, creepy and often highly surprising. A sentient mass of purple goo arrives in a California town via meteorite and proceeds to dissolve a whole lot of people. One of the film's charms is how often it does things you wouldn't expect it to do, such as killing off characters you just assumed would make it till the very end.
For fans of: The Thing remake, The Fly remake, goo.
Now Streaming on Shudder
Ti West's spooky, funny ghost story pits two employees (Sara Paxton, Pat Healy) against supernatural forces that might dwell within the walls of the soon-to-be-closed hotel they work in. West, who directed The House of the Devil, amongst other things, specializes in slow-burn, moody horror, but The Innkeepers is surprisingly chipper, and Paxton is wonderful as the lead. Then when things get scary, they get very scary and very quickly, racing towards a disturbing conclusion that'll leave you uneasy long after the credits roll. Watch for a cameo from Lena Dunham.
For fans of: House of the Devil, We Are Still Here, ghosts in wedding dresses.