Check Out Chicago's 'Stranger Things' Pop-Up Bar Before It Closes This Month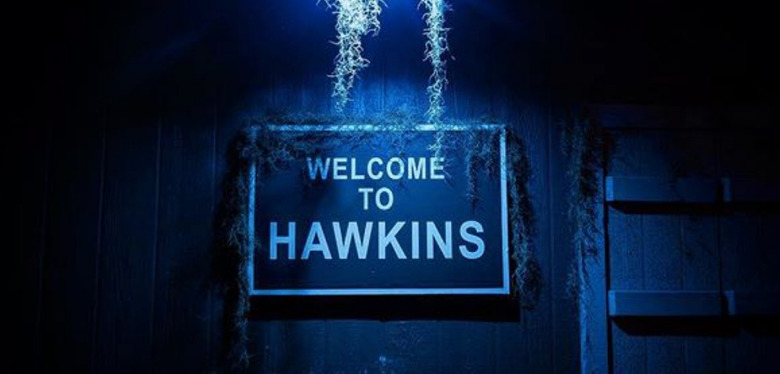 We've got roughly a month and a week before we can binge watch the entire second season of Stranger Things on Netflix. Fans are chomping at the bits to see more from the new season, especially since we haven't seen any new footage since the first trailer debuted at San Diego Comic-Con back in July. For those who are desperate to return to The Upside Down before the new season begins, you may want to hit up a new Stranger Things-themed hot spot in Chicago while it lasts.
The Chicago bar known as Emporium opened up a pop-up bar called The Upside Down that is not officially tied to Stranger Things, but once you see the decor inside, which includes a wall of Christmas lights with the alphabet painted on it, there's just no denying it. Get a look inside the Stranger Things Chicago bar below.
there's just some special about a stranger saturday in september! huge thanks to our amazingly talented friend @almostoffthemap for putting this quick flick together for us! ????????
The above video comes from the bar's official Instagram page. As you can see, there are plenty of nods to Stranger Things, not to mention the fact that a video of the series is playing behind the DJ at this bar. We can only hope that he's playing some kind of remixed version of the sick Stranger Things theme.
You'll also notice that the drink menu is full of drinks styled after the characters, events and places in Stranger Things. There's one called Eleven's Eggos while another is called She's Our Friend and She's Crazy, inspired by Dustin's famous line from the series. You can see plenty more details over here.
Now for the bad news. Netflix found out about this little pop-up bar in Chicago, and they've sent the playful equivalent of a cease-and-desist order to Emporium to close down. So there's no chance of it sticking around any longer after Netflix sent this letter to them (via DNAInfo):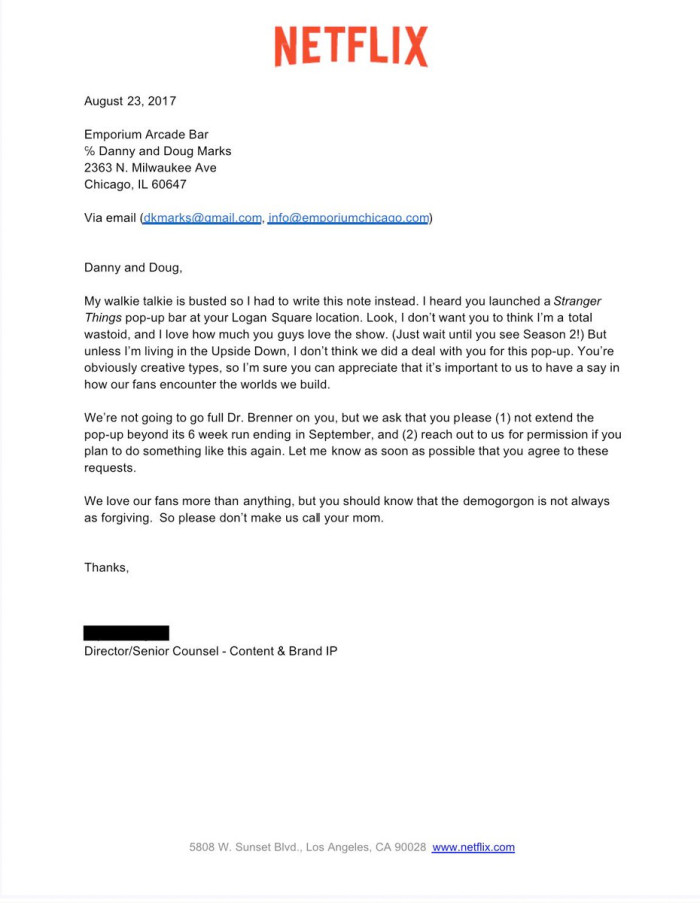 The good news is that since this is a pop-up bar, it was only staying open until the end of September anyway, so the bar isn't being forced to shut down early (though they were thinking about staying open until the season two premiere). At the very least, if you're in the Chicago area, you'll be able to check out this pop-up bar until it closes on October 1st.
Meanwhile, Stranger Things season two hits Netflix on October 27, 2017.