'Jumanji: Welcome To The Jungle' Trailer: The Rock Hits Reset On The Most Dangerous Game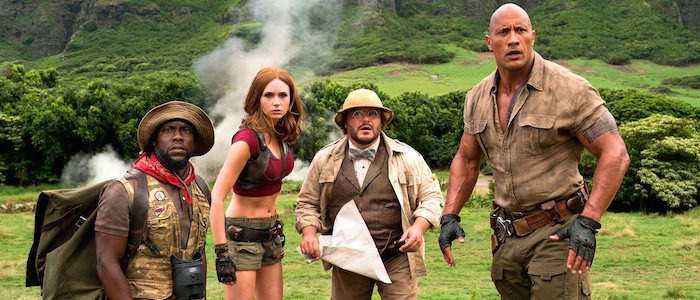 The first trailer for Jumanji: Welcome to the Jungle introduced the core concept that is driving this combination of reboot and sequel. Yes, there is still a mystical game that puts children in harm's way by plunging them into jungle-centric adventures. But while the original movie (and the original storybook) were based around a magical board game, the new film updates it to a video game...and goes a little Big on us by dropping the kids into adult-sized avatars shaped like Dwayne Johnson, Kevin Hart, Jack Black, and Karen Gillan.
If you're 12 years old, that probably sounds pretty rad. If you're not...well, let's watch the new Jumanji: Welcome to the Jungle trailer before we say anything else.
Jumanji: Welcome to the Jungle is directed by Jake Kasdan, the man behind the camera on the brilliant Walk Hard: The Dewey Cox Story and the not-so-brilliant Sex Tape. A big budget, visual effects-fueled extravaganza like this is very different than anything else in his filmography, so I remain very curious how he'll handle this material. The first Jumanji, while no masterpiece, benefitted from Joe Johnston's wry blend of comedy and genuine threat – it was often as frightening as it was goofy, especially to a youngster back in 1995.
And here's the new international trailer:
So, what do we make of the spiritual sequel, which takes the same basic concept and reinvents it for 2017? Well, it certainly looks bigger and louder and the mere presence of the infinitely charming Johnson suggests a lot more punching. There's no such thing as a bad performance from The Rock, who has the habit of giving it his all, even in awful movies. I'm less sure about Hart, Black, and Gillan, undeniably talented folks who often need to be paired with the right material to produce the best results. With all of them playing kids playing adults in a high stakes video game, I imagine things will get very silly, very quickly. Hopefully in a good way.
Jumanji: Welcome to the Jungle opens on December 20, 2017. I do not have a strong opinion on this one. If you happen to have a strong opinion, feel free to share it in the comments below.
In a brand new Jumanji adventure, the tables are turned as four teenagers are sucked into Jumanji's world – pitted against rhinos, black mambas and an endless variety of jungle traps and puzzles. To survive, they'll play as characters from the game: meek Spencer becomes a braveexplorer (Dwayne Johnson); hulky jock Fridge becomes a tiny genius (Kevin Hart); It-girl Bethany becomes a bookworm professor (Jack Black); and unathletic Martha becomes an amazonian warrior (Karen Gillan). To beat the game and return to the real world with their lives, they'll have to start seeing things in an entirely different way.