'The LEGO Ninjago Movie' Behind The Bricks: The Tiny LEGO Stars Introduce Themselves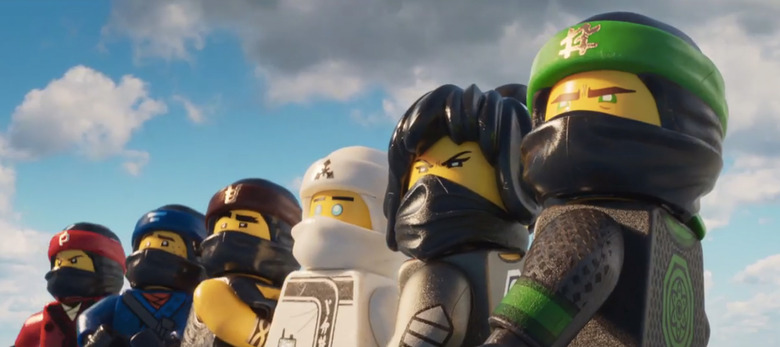 Not too long ago, we highlighted a new featurette for The LEGO Ninjago Movie that took us behind the scenes of the animated spin-off to The LEGO Movie. We got to meet the cast, see some improvisation done during dialogue recording, and see new footage from the movie. Now we get a different kind of glimpse behind the scenes, this time within the world of the movie itself.
A new fully animated featurette takes audiences "behind the bricks" of The LEGO Ninjago Movie, guided by the characters in the movie as if they were the real actors bringing the story to life. Not only does it provide some amusing introductions for the film's characters, but it shows off a bunch of new footage from the movie as well.
There doesn't seem to be as much hype around this movie as there should be, but I feel like this will fit right in line with the cleverness and originality of both The LEGO Movie and The LEGO Batman Movie.
Dave Franco stars as Lloyd, the green ninja and leader of the crew of Spinjitzu warriors, each given a special ability that only they have mastered. The team working with him includes Michael Peña as Kai, Fred Armisen as Cole, Kumail Nanjiani as Jay, Abbi Jacobson as Nya and Zach Woods as the robot Zane, and they're all taking on Justin Theroux as the villain Garmadon (who also happens to by Lloyd's father), who has a bone to pick with Jackie Chan's Master Wu, his nemesis.
The LEGO Ninjago Movie is co-directed by Charlie Bean, Paul Fisher and Bob Logan with a screenplay that the latter directors wrote with William Wheeler & Tom Wheeler and Jared Stern & John Wittington. The LEGO Movie directors Phil Lord & Chris Miller produced the film with franchise producers Roy Lee, Chris McKay and Dan Lin, along with Maryann Garger.
If you'd like to see more from The LEGO Ninjago Movie, check out the most recent trailer over here.
In this big-screen NINJAGO adventure, the battle for NINJAGO City calls to action young Master Builder Lloyd, aka the Green Ninja, along with his friends, who are all secret ninja warriors. Led by Master Wu, as wise-cracking as he is wise, they must defeat evil warlord Garmadon, The Worst Guy Ever, who also happens to be Lloyd's dad. Pitting mech against mech and father against son, the epic showdown will test this fierce but undisciplined team of modern-day ninjas who must learn to check their egos and pull together to unleash their inner power of Spinjitzu.
The LEGO Ninjago Movie is in theaters September 22, 2017.