Cool Stuff: 'Blade Runner 2049' Brings Another Limited Edition Whiskey To The Table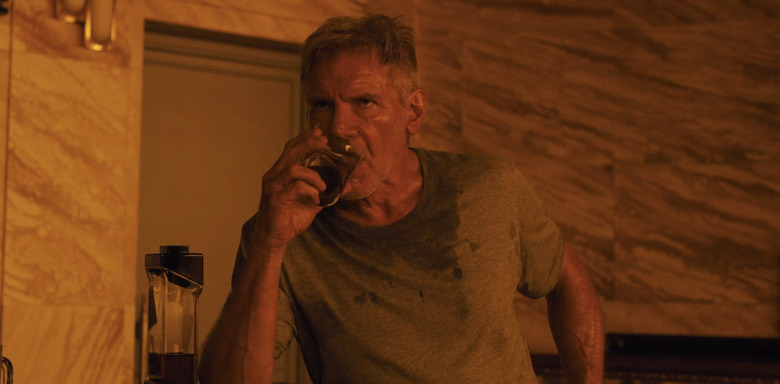 This year we've already heard about two different whiskeys being released by Old Forester and Glendronach distilleries as a cross-promotion with Kingsman: The Golden Circle. But there's one more movie-themed whiskey on the horizon inspired by another major fall blockbuster.
Blade Runner 2049 hits theaters in under three weeks, and along with it will be a special limited edition whiskey from Johnnie Walker, inspired by the liquor's own appearance in both the original Blade Runner and the forthcoming sequel. Find out more about the Blade Runner 2049 whiskey below.
Here's director Denis Villeneuve discussing the Blade Runner 2049 whiskey on the Johnnie Walker YouTube:
The scene featuring Harrison Ford sipping on some Johnnie Walker Black Label echoes a scene from the original Blade Runner where a young Rick Deckard pours himself a glass of the upscale liquor. As you can see, the bottle has a futuristic style to it, and that design has carried over to the Johnnie Walker Black Label The Director's Cut. Villeneuve says, "Like many fans, I remember the Johnnie Walker bottle from the first film, so it was a unique privilege to collaborate with Johnnie Walker on designing a totally original, custom bottle for the new movie."
The Blade Runner 2049 whiskey is crafted from Johnny Walker Black Label, but with "a contemporary twist." This particular recipe, which is 49% ABV, has "a dark, rich, smooth blend with clouds of smokiness and a touch of femininity." If you've ever had Johnnie Walker Black Label, then you know this will be something quite tasty.
The potentially bad news is that Johnnie Walker Black Label The Director's Cut will cost $89.99 per bottle. There are only 39,000 bottles available across 15 select countries around the world, so make sure you track it down as quickly as you can.