'The Punisher' Is Coming For You In A New Teaser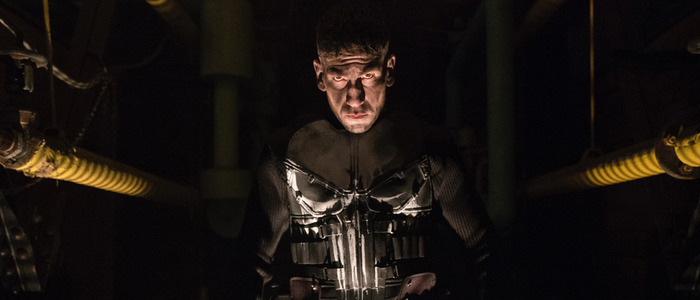 Netflix is about to unleash their new series that'll take viewers to as "dark and as brutal a place as you've ever seen in the Marvel world" with The Punisher, their latest Marvel show. Netflix and Marvel seem keen to put that brutality front and center with a new viral clip that hit Twitter today.
Presented with a found-footage feel, the clip in question finds Frank Castle (Jon Bernthal) taking tips from the Blair Witch as he lays waste to several individuals who happen upon him in the deep, dark woods. In all honesty, there's not a lot here to see here except lots and lots of death, and it's not really clear just who is filming all this. Is it the Punisher himself? Does he have a vlog? His blurry skull logo pops up at the start of the footage, so he clearly went through the trouble of watermarking it. Either way, he ends the video by warning the view that he's "coming for you," so watch out.
Surprise. #ThePunisher pic.twitter.com/OwVRkvxt3M

— The Punisher (@ThePunisher) September 18, 2017
The Punisher, who debuted in Marvel comics in 1974, is not exactly a complex character, yet filmmakers have had a heck of a hard time getting his story right. In 1989, Dolph Lundgren starred in a gloriously trashy Punisher movie that ignored most of the character's comic origins for big action movie trappings. In 2004, Thomas Jane slipped on The Punisher's skull t-shirt to play the character in a film that borrowed from Garth Ennis' Welcome Back Frank arc while choosing to ignore everything that made it interesting. Then in 2008, Lexi Alexander helmed the neon-lit freakshow that was Punisher: War Zone, which had Ray Stevenson as New York's most infamous vigilante.
These films all had their own individual merits here and there, but none of them worked overall. It seemed that Frank Castle was doomed to remain unadaptable. Daredevil season 2 changed all that, creating perhaps the first truly successful on-screen interpretation of the character. Most of the success was due to Bernthal's stellar performance, finding just the right note between crazy and determined to play the hyper-violent character. And now he has his own spin-off.
The new teaser footage doesn't give us much of an idea of what the new Punisher series is about (except death), but does continue to hammer-home that the show will be "very, very R-rated." Daredevil's Deborah Ann Woll joins Bernthal in the cast, once again playing Karen Page, who developed something a special friendship with Frank in Daredevil season 2. Shippers everywhere are likely already preparing Tumblr posts on this very topic.
Marvel's The Punisher drops on Netflix sometime in 2017.