Amazon's 'Jack Ryan' TV Show Teasers Follow The Money, Reveals Full Trailer Premiere Date [Updated]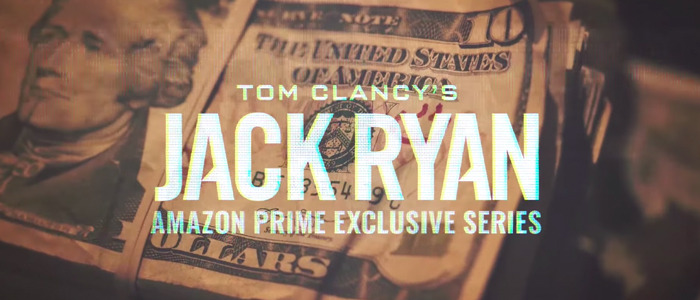 Update: A new Jack Ryan teaser has been released by Amazon ahead of the full teaser trailer premiere at New York Comic Con.
Shows about spies have been a near-constant presence on television since the medium's early days, and while we've seen properties like Get Smart and The Man From U.N.C.L.E. make the jump to the big screen in recent years, Amazon is about to reverse that trend by bringing one of cinema's biggest spies to TV. The company has just released the first brief teaser for Jack Ryan, based on the Tom Clancy-created character that's appeared in five movies so far, and you can check it out below. But if you're looking for your first glimpse at The Office star John Krasinski locked and loaded as the title character, you'll have to wait just a little while longer.
Jack Ryan TV Show Teasers
Update: A new teaser was released of Jack Ryan, titled "Hobbies." The teaser depicts flashes of a map of the world with locations marked in the same red pen as the "$10 Bill" video, and a man hot wiring a cellular device — presumably as a tracker of sorts.
The trailer also advertises the premiere date of the full Jack Ryan teaser trailer, which will be revealed at New York Comic Con on October 7, 2017.
Instead of giving us a sense of what to expect from the human players in this version of the story, this teaser puts its attention on the "character" of money, tracking a single $10 bill as it navigates from a little girl's bedroom into the hands of terrorists. It's no mistake that this look at the new series focuses on money, since part of Ryan's backstory is that he worked as an investment broker before becoming a CIA agent. But I'm really looking forward to the more traditional teaser trailer that's slated to debut at this year's New York Comic-Con early next month, so we can see a bit of Krasinski in action as he follows in the footsteps of actors like Alec Baldwin, Harrison Ford, Ben Affleck, and Chris Pine and provides the latest interpretation of Jack Ryan.
We know Ryan will be battling ISIS in the first 10-hour season, which Krasinski has likened to watching a 10-hour movie:
Carlton Cuse's whole plan is we're gonna shoot it on a movie budget, we're gonna have the same stunts as movies, it's gonna feel like a movie but you're gonna watch it every week. His whole idea was he just felt that two hours wasn't enough time to tell a Jack Ryan story because Tom Clancy's books are so detailed and rich, and the character of Jack Ryan if he has a superpower is his intelligence, so there's a lot of problem solving and things that take time, and that's the beauty of the spy genre.
Cuse, the showrunner of projects like Lost, Bates Motel, and The Strain, will be leading the charge behind the scenes, so I'm hopeful that this show won't suffer the same pitfalls as Jack Ryan: Shadow Recruit and will actually be a coherent, character-driven, action-packed exploration of one of the best franchise spies cinema has ever produced.
When CIA analyst Jack Ryan stumbles upon a suspicious series of bank transfers his search for answers pulls him from the safety of his desk job and catapults him into a deadly game of cat and mouse throughout Europe and the Middle East, with a rising terrorist figurehead preparing for a massive attack against the US and her allies.