The New 'Halloween' Will See The Return Of Jamie Lee Curtis; Synopsis Released [Updated]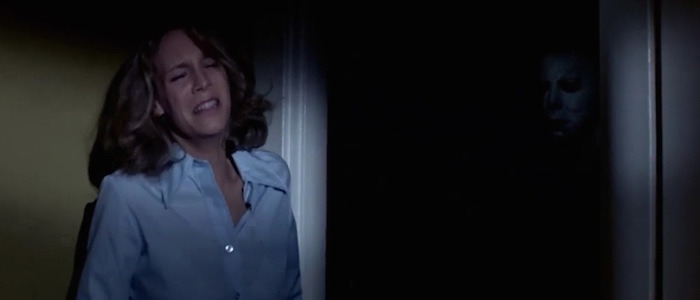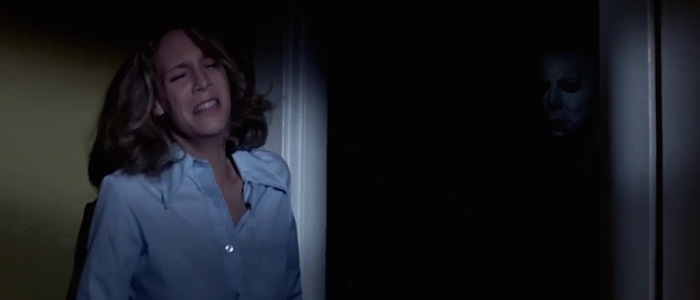 Update: A new synopsis for Halloween has been released and we've added it to the article below.
If the upcoming Halloween reboot wanted to get our attention, this is a great way to do it. Jamie Lee Curtis, who had her big break as the "final girl" in John Carpenter's 1978 horror masterpiece, will return as Laurie Strode in the new movie, which is due out in 2018.
And if you're scratching your head and wondering how this is possible...that just means you've seen all of the Halloween movies. We'll get to that in a moment.
The news of Curtis' casting was revealed on Twitter, where the iconic scream queen (wearing the same outfit seen in the original movie) struck a pose...with the unstoppable killing machine known as Michael Myers lurking in the background, of course. The image also doubles down on the originally announced October 19, 2018 release date, which isn't surprising since producer Jason Blum recently said "You can kill me, you can behead me, you can chop my hand off" if he didn't have the new film in theaters by next year.
Jamie Lee Curtis returns to her iconic role as Laurie Strode in HALLOWEEN, released by Universal Pictures on Oct. 19, 2018. #HalloweenMovie pic.twitter.com/oC8jQUvdrh

— Miramax (@Miramax) September 15, 2017
Curtis herself shared the same image, adding "Same porch. Same clothes. Same issues. 40 years later. Headed back to Haddonfield one last time for Halloween. Release date 10/19/18."
The Halloween reboot was already on our radar thanks to some inspired filmmakers getting involved, like Blum, whose Blumhouse production company is responsible for popular horror movies like Get Out, Split, Paranormal Activity, and The Purge. And then there was the hiring of the endlessly malleable David Gordon Green to direct and co-write alongside Danny McBride (yes, that Danny McBride). In fact, it was McBride who explained earlier this year why we're actually going to see Curtis return as Laurie Strode – they're ignoring almost all of the sequels, with apparently only parts one and two existing in this new continuity:
You know, it's not a remake. It's actually, it's gonna continue the story of Michael Myers in a really grounded way. And for our mythology, we're focusing mainly in the first two movies and what that sets up and then where the story can go from there.
In other words, the new Halloween will be a "rebootquel," acting as both a sequel to and a reboot of the original franchise. After all, Curtis starred in the first, second and seventh movies in the series before being killed off in 2002's truly wretched Halloween: Resurrection. While many horror purists will undoubtedly take issue with the bulk of the series canon being erased for this new movie (I have a soft spot for some of those middle sequels!), there's no denying the excitement of seeing Curtis return one more time for a proper send-off. She's always been loyal to this series and it's only right for a new movie to give Laurie the final chapter she actually deserves.
Jason Blum. David Gordon Green. Danny McBride. Jamie Lee Curtis. And Michael Myers, of course. After years of Halloween floundering around the wilderness, tossing off terrible sequels and enduring an awful reboot series from Rob Zombie, the new Halloween is positioning itself as a proper event, complete with John Carpenter's approval. About time.
Update: A new synopsis has been released, offering our first inkling of plot details (although it's still not much):
Jamie Lee Curtis returns to her iconic role as Laurie Strode, who comes to her final confrontation with Michael Myers, the masked figure who has haunted her since she narrowly escaped his killing spree on Halloween night four decades ago.
Master of horror John Carpenter will executive produce and serve as creative consultant on this film, joining forces with cinema's current leading producer of horror, Jason Blum (Get Out, Split, The Purge, Paranormal Activity). Inspired by Carpenter's classic, filmmakers David Gordon Green and Danny McBride crafted a story that carves a new path from the events in the landmark 1978 film, and Green also directs.
HALLOWEEN will be produced by Malek Akkad, whose Trancas International Films has produced the HALLOWEEN series since its inception. Green and McBride will executive produce under their Rough House Pictures banner.
HALLOWEEN will be distributed worldwide by Universal Pictures.