'The LEGO Movie Sequel' Will Tackle Gender Issues By Way Of Duplo Blocks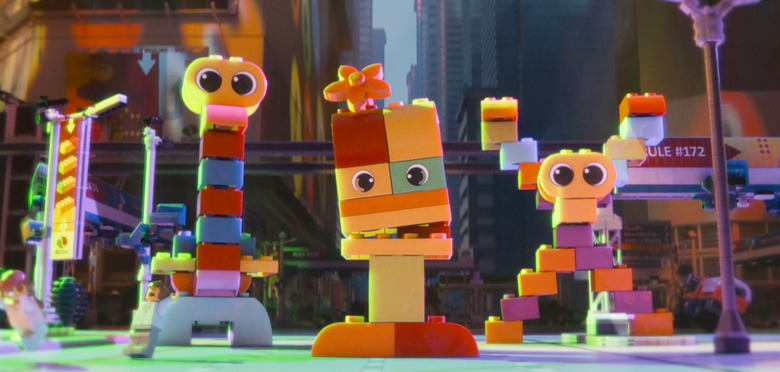 The LEGO Movie was an incredible and imaginative movie, and a big part of that came from the surprising journey from the animated world of the building blocks to the real world that was the source of the LEGO city known as Bricksburg. But as we saw at the end of The LEGO Movie, that city is about to get shaken up by the arrival of characters from the planet Duplo.
As anyone who ever had toys as a kid knows, Duplo is the LEGO line of toys made explicitly for younger kids. The sets are more elementary and the pieces are too big for little ones to choke on. Those toys arrived at the end of The LEGO Movie when The Man Upstairs (Will Ferrell) allowed his son to play with his highly sophisticated inter-locking brick system, followed immediately by suggesting that his little sister could get in on the fun as well.
Thankfully, that ending wasn't just a gag played for laughs. Instead, that will be a key part of how The LEGO Movie Sequel continues the story of Bricksburg and its residents. 
Collider recently caught up with producers Dan Lin and Chris McKay while they duo were out promoting the upcoming release of The LEGO Ninjago Movie, and they revealed some interesting details about The LEGO Movie Sequel.
First of all, even though Phil Lord & Chris Miller aren't directing the movie this time, they were credited with developing the story and producing the movie. However, now that they're not working on the Han Solo spin-off any more, they have some extra time on their hands, which they've been using to rewrite The LEGO Movie Sequel script while the movie is in production.
Secondly, The LEGO Movie Sequel will pick up where the first movie left off. We'll see Duplo attacking Bricksburg first, and then the story will pick up years later in the aftermath of the attack. Personally, I hope that means we'll be getting a LEGO riff of a post-apocalyptic sci-fi world where LEGO creations have been torn apart, leaving pieces strewn all over the place.
But beyond that, The LEGO Movie Sequel will be tackling some pretty big issues, including that of gender. We'll let Chris McKay elaborate on that theme in the sequel and how the Duplo will be part of presenting it:
"The Duplo represents Finn's sister, Finn being the little boy from the live-action. The Duplo is her. The Man Upstairs said, 'You've gotta play with your sister. That's the thing you've gotta promise me. I'll let you play with my world, but now you've gotta let your sister come in and play with your world.' Now, she's coming in, and that's the major thing that the movie is about. What's different and similar about gender, when a boy plays vs. how a girl plays? What kinds of stories are there?"
It should come as no surprise that The LEGO Movie comes with lessons about social order since the first movie was about identity, believing in yourself, going against the grain, and being special simply by being yourself. These movies could have easily been lame comedies just trying to cash in on brand names, but they have a richness to the subtext that works for children and adults alike. Chris McKay credits Phil Lord & Chris Miller with those kind of refreshing ideas:
"Chris and Phil are super fucking smart and really thoughtful and sensitive writers. The kinds of questions and the interesting ideas that they're getting into with this movie, it's going to be like the first LEGO Movie was, where it's about something else that's really profound. I'm really excited about where the movie is gonna go because it's about these things that are actual notions that people have that might even be unconscious biases, where people don't even realize that that's the way they're looking at the world. You can do that in a movie like this, and still have it be a great musical with fun songs, and have action and all of the other crazy things we're gonna get into with that movie. It's gonna be a really special movie."
That last part is important for any parents out there who think this movie is just going to preach values to their kids. This will still be a wholly entertaining movie, but like any good children's movie, it will also have important messages for their generation to hear in their formative years. The idea of gendered toys is such an archaic pillar of childhood, and I can't wait to see how Lord & Miller approach this issue. Plus, it will expand upon the setting of the first movie being revealed to be nothing more than a boy's imagination by bringing his sister's imagination into the equation. Dan Lin explains:
"Every one of our movies, so far, have been told from the point of view of one kid's imagination. The LEGO Movie 2 will be the first one told through two kids' imaginations – Finn and his sister. It's going to be really interesting juxtaposing those two different visions."
So the idea of gender will come through the lens of the imaginations of a young boy and a young girl. It might be potentially problematic to have two male writers tackling an issues such as this without any female guidance, the duo have earned some faith from audiences, so I'm more than willing to see what they come up with, and I'm hopeful that Phil Lord & Chris Miller, along with Trolls director Mike Mitchell, can knock this sequel out of the park as well as they did 22 Jump Street.
The LEGO Movie Sequel opens February 8, 2019.