The Morning Watch: John Carpenter's 'Christine' Music Video, A New 'Futurama' Episode & More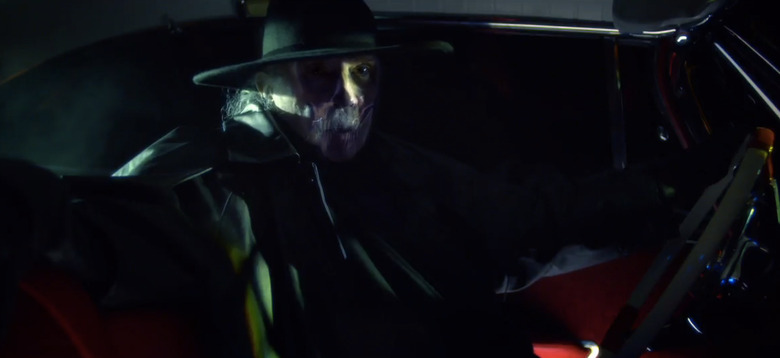 We may receive a commission on purchases made from links.
(The Morning Watch is a recurring feature that highlights a handful of noteworthy videos from around the web. They could be video essays, fanmade productions, featurettes, short films, hilarious sketches, or just anything that has to do with our favorite movies and TV shows.)
In this edition, John Carpenter has directed a new music video for a track off the director and composer's new album Anthology: Movie Themes 1974-1998. Plus, a new episode of Futurama debuted this week, though not in the form you'd think. And The Late Late Show with James Corden had some fun with Stephen King's It.
First up, John Carpenter has delivered his first narrative project as director since the 2010 film The Ward in the form of a music video for a track from the Christine soundtrack. The music video features the signature vehicle from the Stephen King adaptation, this time stalking a girl. However, the car isn't exactly possessed in the same way it was from the movie. This time there's someone behind the wheel, someone you'll probably recognize.
Be sure to pick up Anthology: Movie Themes 1974-1998 when it arrives on October 20th.
Thanks to Nerdist and the Futurama: Worlds of Tomorrow video game, fans of the animated series from Matt Groening and David X. Cohen were treated to a new episode of the series. However, this particular episode doesn't come with any visuals, as it debuted by way of the Nerdist podcast, SoundCloud, Spotify and YouTube.
In this episode, the Space Express crew is on a routine mission to Junkleon 7 when it encounters Klaxxon — a nefarious life form composed entirely of soundwaves from 21st-century podcasts. Can the crew save Earth from Klaxxon's harmful soundwaves?
Since the latest adaptation of Stephen King's It is all the rage right now, the late night circuit just had to create comedy out of the hype. The Late Late Show with James Corden took an easy stab at it by having Pennywise mistakenly called to fix someone's computer. You know, like the I.T. department? Get it? Honestly, it's a pretty amusing sketch and it's much funnier than I thought it was going to be.