'John Wick: Chapter 3' Will Shoot You In The Face On May 17, 2019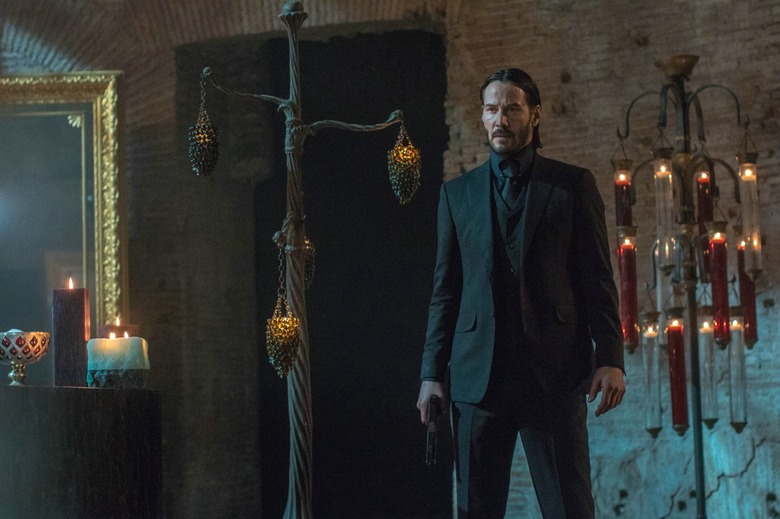 "People keep asking if I'm back and I haven't really had an answer...but yeah, I'm thinking I'm back."
Seven months after John Wick: Chapter 2 arrived in theaters and promptly blew everyone's faces off with its distinctive blend of action movie mania, Lionsgate has set a release date for John Wick: Chapter 3. And this release date finds the little series that could graduate to the big leagues.
Lionsgate and Summit have announced that the third entry in the greatest American action series of the 21st century (I'll go there) will open in theaters on May 17, 2019. The first John Wick opened in October 2014 and its sequel in February 2017, where they took advantage of less crowded movie seasons to clean up at the box office. The first film made $88 million at the international box office. The second made $171 million. It seems that the public got wise to these movies' genuine greatness in the time between entries.
In any case, it appears that the Hollywood powers that be think that Keanu Reeves' un-retired hitman is a powerful enough force to stand alongside the much larger movies that tend to call the summer home. With Star Wars: Episode 9 fleeing May 2019 in the wake of its directorial shake-up, the month was wide open...and the filmmakers behind the world's most skilled killer and dog lover and wife mourner and headshot enthusiast saw an opportunity.
Chad Stahelski, who co-directed the first film and helmed Chapter 2 solo, is set to return alongside screenwriter Derek Kolstad. The second film ended with a major cliffhanger, with John finding himself the most wanted man on the face of the planet and no allies left in his corner. But if there's one thing we know about John Wick, it's that he doesn't go down smoothly. As long as he access to bullets (or even a pencil), he will kill anyone and everyone to survive and exact brutal vengeance.
And most importantly, this means another opportunity for Stahelski and Kolstad to build on the fascinating and increasingly complex mythology they constructed in the first two movies. Come for the exquisitely choreographed action, stay for that weirdest, wildest world-building you've seen in any mainstream action movie.
Although there have been rumblings that Chapter 3 will be the final John Wick movie, Lionsgate sees this as a world they can continue exploring. A television spin-off set in the John Wick universe is in the works, along with a movie set in the same world and a prequel comic book. While details are scarce, here's everything we know about the sequel so far.
I've written thousands of words on why the John Wick movies are remarkable cinema. So bring on part three. Bring on more scowling Keanu and cute dogs. Bring on more mysterious assassin hotels and awesome character actors. Bring on more bone-crunching stunts and outrageous action scenes. I'm ready. Let's do this.