'Stranger Things' Season 2 Script Pages Introduce The Arcade And A New Character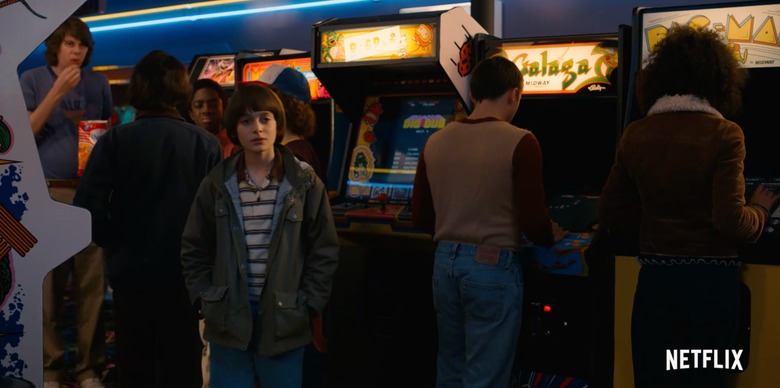 As the leaves start to turn yellow, the coming of the second season of Stranger Things draws closer. With that comes new locations for the gang to run around in — including the popular arcade we saw in the trailer — and new characters to help fight supernatural beings in Hawkins, Indiana.
To tide us over until October, Stranger Things showrunners Matt and Ross Duffer have released script pages from the second season of the Netflix horror series. Included in them are more detailed descriptions of the arcade setting and the new character played by Sadie Sink.
The Duffer brothers' Stranger Things season 2 script pages were released to Entertainment Weekly and they take place in the town's arcade, The Palace. It's a shock we haven't seen the arcade until now — this is the '80s after all — but maybe the core group was a little distracted last season.
The scene features Will (Noah Schnapp), Mike (Finn Wolfhard), Dustin (Gaten Matarazzo), and Lucas (Caleb McLaughlin) trying to haggle with Keith (Matty Cardarople), an older boy who works at The Palace, over the identity of a mysterious "Mad Max." Below are the two script pages. You can see the high-resolution images here.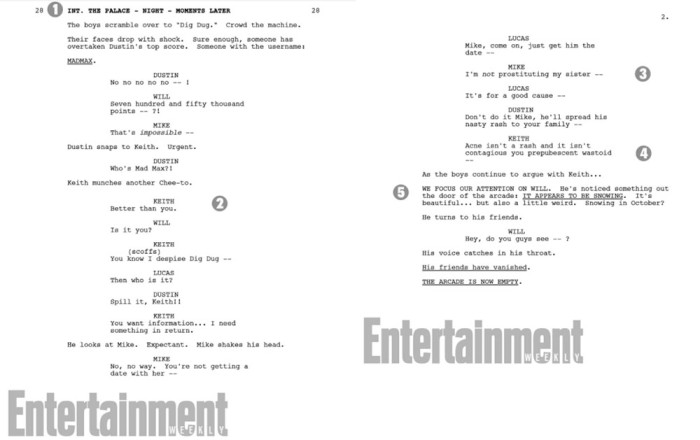 EW also released the Duffer brothers' annotations of the scripts, with the numbers coinciding with their notes below:
1. "Our very first idea for season 2 was to introduce a local arcade (named The Palace, in a nod to WarGames!). We love board games but in truth have spent more time playing videogames (too much time, our mom might say), so we wanted to weave them into the fabric of the show. An added bonus: every game in the arcade worked, so we got to play between takes!"
2. "Keith is a new character who works at The Palace.  He's several years older than our boys, but he's somehow less mature. The only thing he likes more than Cheetos is Nancy."
3. "We always try to make sure that — when faced with a dilemma — our boys have different perspectives and solutions. This makes for fun conflict and helps further define their characters. The problem they're facing in this scene is not exactly life or death: Are they willing to hook Keith up with Nancy in exchange for Mad Max's identity? We like that Mike stands up for Nancy here; he may be a jerk to her in person, but deep down, he's very protective of his sister. We feel this is very typical sibling behavior. Not that we would know anything about that...."
4. "The slang 'wastoid' became popular after The Breakfast Club, which was released February 1985, four months after our new season takes place. But it's such a great insult that we couldn't help but fudge history a bit here. It was also a fun way for us to tip our hat to the great John Hughes."
5. "'Focus our attention on Will' is really a sign of things to come this season, as our main storyline centers on Will and his recovery. Just because Will was rescued from the Upside Down doesn't mean he's safe..."
Not much is revealed about Sink's character Max, except that she has enough of a bad reputation that she's called "Mad Max" — a fun reference to The Road Warrior, which was released in 1981. And it seems like the boys don't know that Max is actually a girl.
The preview ends with the shot we've seen in the trailer of Will's PTSD symptoms manifesting, sending him back into the Upside Down again.
Stranger Things season 2 premieres on Netflix on October 27.